Haunt season is starting to ramp up this week with several huge announcements. First Haunt at Knott's Scary Farms has been teasing tons of new information, including new and returning haunts, via their official Facebook page (click here)! Now, Knott's is making it even more enticing and….titillating, to be an annual passholder. The park announced that they will be having a special preview of Haunt, and it would include a special appearance of someone with a history…someone with a bit of a dark side to her.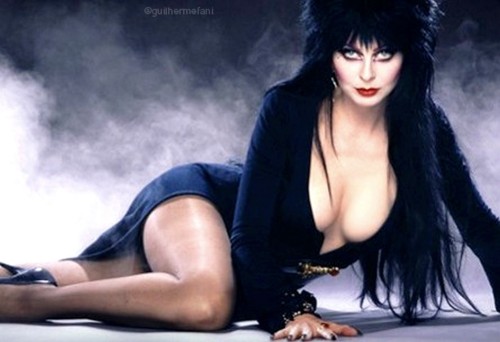 On July 10th, Elvira-Mistress of the Dark, will be making a special appearance at Knott's Berry Farm, and it will be only for passholders. Not only will passholders get to take a peek at Elvira's….umm…essence, but they'll also be in for a treat as Knott's will be giving a special preview of Haunt. Elvira has a special place in Haunt History, and made an appearance last year. Chances are, she won't be making many this year.
What does this mean? Could we see some special events happening? Will the whole line up of the houses and scare zones be revealed? Will they just send the Green Witch out to put a curse on everyone in the audience? You could only be so lucky!
No details are known at this time, with the exception of date and time.
Passholders will get the special preview of the Charles M. Schulz Theatre on July 10th at 7p.m. Wristbands will be handed out starting at 10:00 AM at the Haunt Museum earlier that same day. After that, it's all up to the Tricksters to decide what to do with you.
Knott's has been pretty heavy with the releases lately on their official Facebook Page, so be sure to follow along by clicking here!
Stay tuned to BTT for more updates via Twitter at @BehindThrills!
For more information about Haunt at Knott's Berry Farm, visit the official website by clicking here!