In just 6 short weeks the world will turn its focus to the small city of San Diego as one of the biggest gatherings of geek fan-dom takes place at San Diego Comic-Con 2013. If you've been to Comic-Con you know one of the biggest draws and biggest money makers is the HasbroToyShop booth.  Housing today's biggest toys lines (including Transformers, My Little Pony, GI Joe and much more), it's no wonder than when SDCC exclusives come around they are in high demand.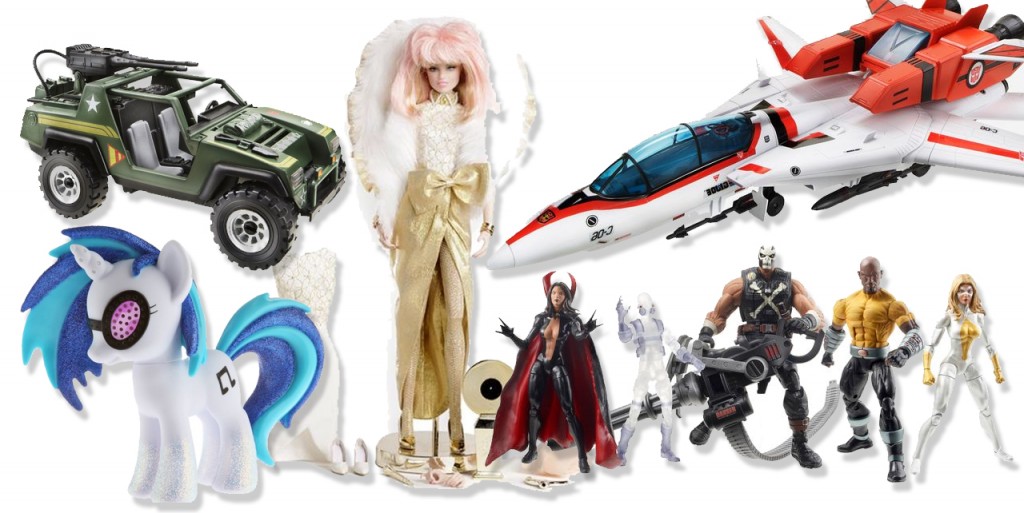 All pictures and descriptions curtsey of USAToday who released the announcement. Full article can be found HERE.
MY LITTLE PONY: DJ PON3 ($49.99)
With the popular Friendship Is Magic animated series on Hub Network, comic book and toy line, My Little Pony has become a phenomenon of a franchise, growing a loyal following of female fans and male Bronies.
A fan favorite who first appeared in the first season of Friendship is Magic, DJ Pon-3 ($49.99) makes her debut with a Comic-Con exclusive — and a shiny one at that. In addition to a musical note as her "cutie mark," her sunglasses and unicorn horn are embellished with Swarovski crystal elements that tie into the year's theme of the Crystal Empire.
Even DJ Pon-3's special packaging lights up, says Hasbro's Donna Tobin, senior vice president, global brand marketing for My Little Pony. "Everything about her offering really enhances her character."
In the cartoon, "she had a little throwback to the '80s — she put a needle on an actual vinyl record," Tobin adds. "A younger girl might not have picked that up but our older fans picked it up immediately and loved it. And we love that about her, too."
Hasbro hosts a panel at Comic-Con featuring voice talent from the show, previews a fall line of toys at its booth and offers a poll where fans can elect their favorite pony from the "mane six" — Twilight Sparkle, Fluttershy, Pinkie Pie, Rarity, Rainbow Dash and Applejack — and record testimonials at a video booth before the vote goes live at Hubworld.com/vote4ponies on July 22.
The friendship and tolerance themes of My Little Pony fall right in line with the camaraderie and spirit of the Comic-Con faithful, Tobin says. "We appeal to fans of all ages, and what better opportunity to bring this particular character that fans are already embracing to them in a very special way."
JEM AND THE HOLOGRAMS: GLITTER'N GOLD ($140)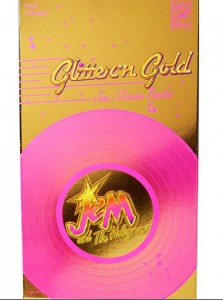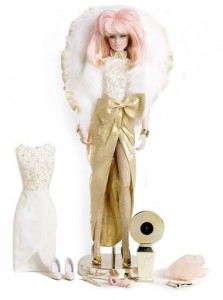 Jem, the pink-haired '80s cartoon rocker, made a "truly outrageous" return to pop culture last summer at Comic-Con with a high-end collectible figure from Hasbro and Integrity Toys.
She sold out quickly, so Jem's coming back glammed out with a special "Glitter N' Gold" figure ($140) that's a nod to a version from her original era. This time, though, she comes with more detail, a better and more realistic sculpt, and accessories including an extra dress and a record trophy.
The only thing not carried over from the '80s? A cassette tape, which probably to anybody younger than teen years would cause head scratching.
There was so much feedback and excitement for Jem on the convention last year that Hasbro felt "Glitter N' Gold" was right up their alley, says Samantha Lomow, senior vice president, global brand marketing.
"We really listened to the fans about what they would be looking for. This was inspired by some of those on the floor conversations."
Old Jem cartoons are still shown on Hub Network, but Hasbro does have future plans for Jem and her alter ego Jerrica Benton. "Stay tuned for now," Lomow teases.
Even though she is pushing 30 years old, Jem continues to resonate today, mainly because of the duality in character between the over-the-top Jem and conservative Jerrica.
"She is the embodiment of that personality today in pop culture," Lomow says. "Jem was ahead of her time in a lot of ways. It really did celebrate girl empowerment and girl power in a very fashionable way. There is this desire of parents today to share Jem with their kids because it is still relevant."
MARVEL LEGENDS: THUNDERBOLTS SET ($89.99)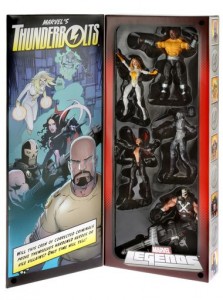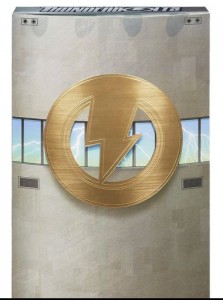 TRANSFORMERS VS. G.I. JOE: HOUND AND JETFIRE ($99.99)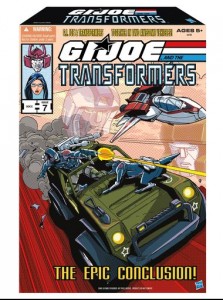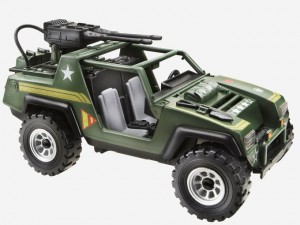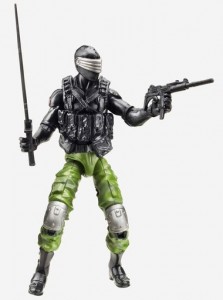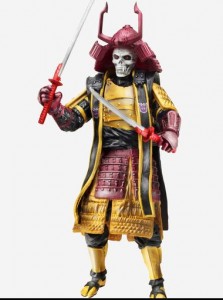 Iconic cartoon/toy/comic franchises over the last 30 years, G.I. Joe and Transformers are two franchises that have recently hit Hollywood but are always favorites at Comic-Con among those who grew up with them and younger folks getting to know the real American heroes and transforming alien robots.
Putting them together, though? That's like the ultimate peanut butter and jelly sandwich for children of the '80s.
This year's G.I. Joe/Transformers exclusive ($99.99) is the third and final installment in a special series of annual mash-ups, and while the two previous exclusives focused on Decepticons — a Skystriker jet with a Starscream paint job, and a Shockwave deco on a G.I. Joe Retaliation movie H.I.S.S. Tank — the 2013 edition focuses on the good guys.
"What better way to go out with a bang than with the Autobots coming to save the day?" says design manager John Warden.
Paying homage to a G.I. Joe/Transformers comic-book miniseries in the '80s, the set includes a Skystriker in the colors of the Autobot Jetfire and a G.I. Joe V.A.M.P. vehicle retooled to reflect Hound, a cult favorite whose original automobile form was that of an Army Jeep.
"We look to these two brands in particular to make a big statement," DePriest says.
The comic medium has been the experimental forum to prove a very high concept: that these universes of characters can go together. But we've just never put them together in toy form."
To pair with the vehicles, the set stars the Cobra femme fatale Baroness with the Decepticon character Ravage, G.I. Joe ninja Snake Eyes with an Autobot logo on his outfit, the Autobot Blaster in his boom-box form and his tapes, and a robotic samurai warrior with a skeleton head in the colors of the Decepticon Bludgeon.
"John's wanted to do a samurai for years," DePriest quips.
"He appeals not only to the original '80s fans but also late '80s and '90s," Warden says. "That's another big piece of Comic-Con: It's appealing to all generations."
________________________________________________________________________
Now there are still more goodies to be seen in the coming weeks from Hasbro. They've yet to release a traditional Transformers or GI Joe exclusive, and also missing in the press release was a Marvel Universe 3.75″ set announcement.
Do your wallets hurt yet? Ours sure do.
FOR MORE ON SDCC 2013 be sure to follow us on Twitter @BehindThrills