The Starliner once sat proudly at Miracle Strip Amusement Park in Panama City Beach Florida. It was the beacon of the entire park, and could be seen by any driving by. Over time the coaster was sold and dismantled, and rebuilt in other locations. Now the coaster sits in storage, collecting dust and rotting away. The owners of Miracle Strip want to bring it back, but they need the help of every coaster lover out there to bring this once great coaster back to life and back home.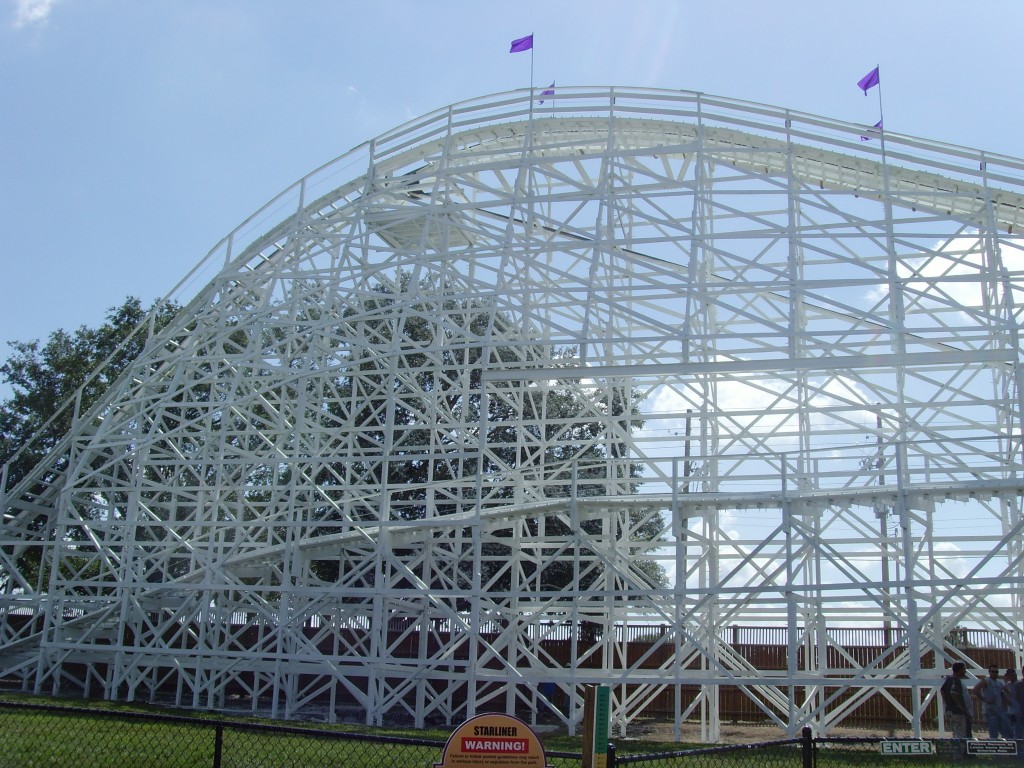 The Starliner was one of the first coasters in Florida. It was built in 1963 by the Philadelphia Toboggan Company and designed by John Allen. It was a classic wooden out and back and one of the biggest in the country, at the time. It opened at Miracle Strip Amusement Park in Panama City Florida, where it stood for over forty years! When the park was closed in 2004, the Starliner was stored with many of the other rides from Miracle Strip, and awaiting their fate. In 2005 Kent Beuscher bought the Starliner and had it relocated and rebuilt at Cypress Gardens in Winter Haven. Fate would not be kind to the Starliner, as in 2008 Cypress Gardens closed for good, and along with it, the Starliner. In 2010, Legoland announced they would make the site of the former Cypress Gardens their new home, and for a brief second the Starliner had a fighting chance. A new park that was planning on keeping several of the old rides? Surely, the Starliner would be one of them?
Deemed to big of a ride for the target demographic of kids ages 2-12, the Starliner never reopened with Legoland Florida.  Instead the park was gong to tear down the Starliner, leaving it forever for the junk heap, but fate wasn't done with the coaster yet. Instead it was bought by Ride Werks, and now sits in storage.
Miracle City reopened in 2010, as a much scaled down "Miracle Strip Pier Park". The owners of the park have stepped up a campaign to not only keep the Starliner alive, but to return it home. This is where your help is needed. The park is selling pavers that will make up the walkway to the Starliner. Each paver will have a name and city on it, and each paver will have a unique story to tell. The story will be how you helped to save the Starliner.
The pavers are going for about $50 dollars, with all proceeds going to help rebuild the classic wooden coaster. Once the Starliner was deemed as the tallest, oldest coaster in Florida. While the tallest category now belongs to Sheikra at Busch Gardens Tampa, the oldest now belongs to Space Mountain at Disney's Magic Kingdom. With help, and luck, the Starliner could reclaim that title.
For more information, and to help save the Starliner, visit the official Miracle Strip Starliner page by clicking here!