The shadows are growing in the gardens, and they are getting more daring as they ready to come out to play.With haunt season still over three months away, details are scarce about the actual event, but tickets are now on sale. Do you dare to snap up tickets before the shadows come to life?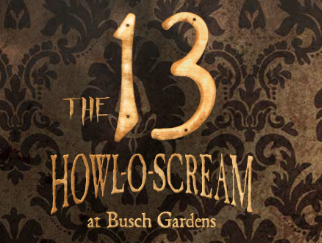 Its the 13, the unlucky year and it happens only once a century.
Coming back for it's 14th year, Howl O Scream at Busch Gardens Tampa will be bringing back the madness, mayhem, chainsaws and of course the sliders. For 14 nights beginning September 27th the park will transform into an adult geared Halloween event that will bring you face to face with haunted mazes, scare zones, shows and coasters in the dark. The event is a separate ticket, meaning that it is not included with theme park admission. The event is also not family friendly and not intended for kids under 13…ironically enough.
There aren't many details about theme or houses so far this year, but in the past two years the event has been "The Dark Side of the Gardens" bringing guests face to face with demented creatures and one very nasty "Trickster" last year.
This year is the 13th year of the century, which looks to play a huge role in the theme of this years event.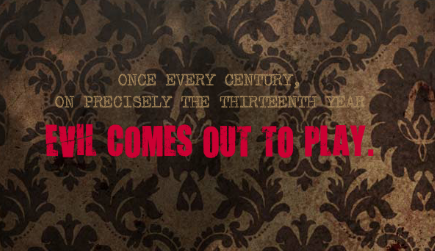 Evil comes out to play, is being teased in what looks like a dilapidated house or hotel. Could we see hell being unleashed? Could there be a new figure waiting to pounce out?
Much isn't known about the event yet, but we have a pretty good idea fron the Howl O scream forum at Halloween Extreme in May, that Nightshade Toy Factory won't return and Alone may not either…though if it does it should be drastically different.
Watch the forum here and decide fir yourself:

The event usually features around 6 haunted houses, one upcharge house, anywhere between 3-5 scare zones, and two shows. If this year is anything like the years in the past you can expect to see at least one new house and several returning favorites.
Normally the event kicks off the last full weekend of September (and the same night as Halloween Horror Nights Orlando) with a "Freaky Preview" for passholders, in which they get in for free. While the "Freaky Preview" is gone, Platinum passholders never fear, you still get in free for one of the first two nights of the event. The only difference is the extra two nights of the event.
For a limited time, any single-day admission to Howl-O-Scream 2013is $47.  Or, if you're scared to go alone, you and three friends can save on a pack of four tickets toHowl-O-Scream on Thursdays for only $30 per person.  Busch Gardens Tampa pass members can take advantage of their exclusive discount on any single-day admission to Howl-O-Scream for only $37.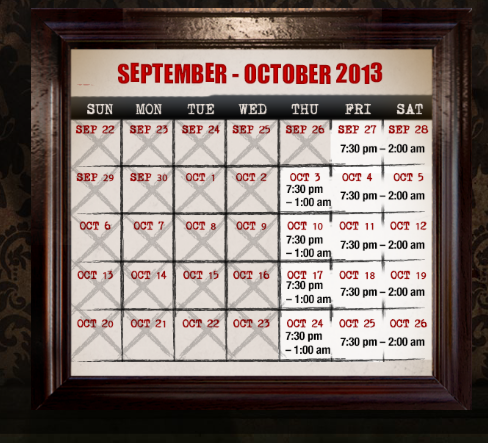 Stay tuned for more details about the 13 at Howl o Scream
For more information about Howl O scream at Busch Gardens Tampa, visit the official website by clicking here!