Just a few short weeks ago Universal Orlando surprised guests by opening the amazing new Fast Food Boulevard, the new themed food court area in the all new Springfield area of the park. Since the debut the area has been getting rave reviews (get our rave review by clicking here) and has been serving tons of Duff Beer, Krusty Burgers and Flaming Moes to eager guests. Since the opening people have been coming out of the woodwork to celebrate everything from donuts and more, and we just happen to have caught a glimpse of a few of them.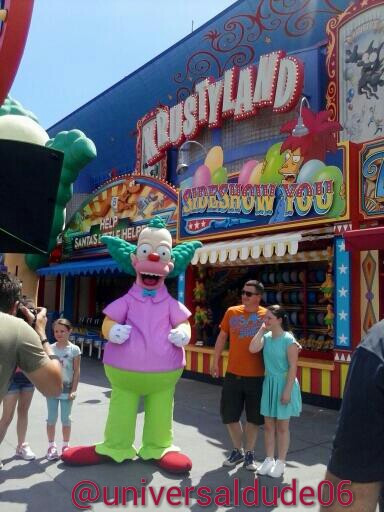 The all new Krusty The Clown walkaround character was busy with a photo shoot as he strolled around checking on business at Krustyland.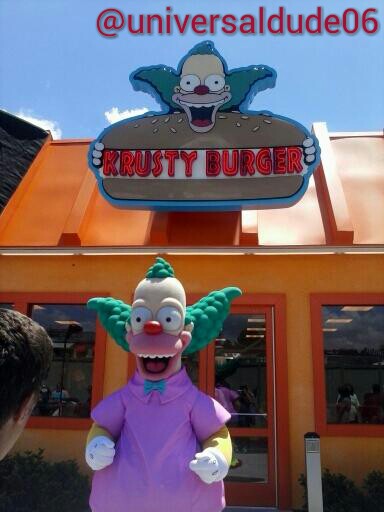 He then strolled by Krusty Burger to make sure that "quality standards" were being upheld.  Krusty is one of two new characters being introduced to Springfield. The other is arch nemsis Sideshow Bob, the villain that guests face off against in The Simpsons Ride.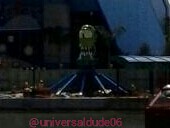 While part of Springfield is open to guests, the other part is still under construction. As announced the new area, when complete will include a Duff Gardens area, Lard Lad Doughnuts, A taco truck, and an all new spinning ride featuring dastardly aliens Kodos and Kang. Today they aliens appeared in the park….well at least the part you need to worry about…the head. The ride will be a spinning ride similar to One fish, two fish at Islands of Adventure.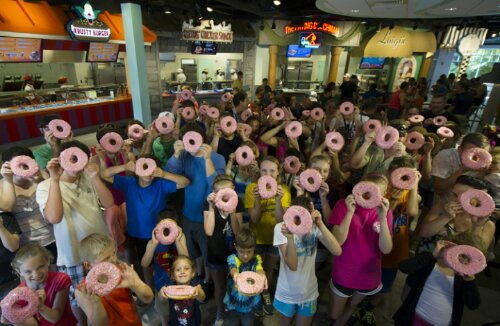 If that's not enough, on Friday, 100 lucky guests were able to celebrate National Donut Day with a hot and "Krusty" Lard Lad Donut! The Lard Lads are absolutely huge and are a very tasty treat.
There is no definite opening date for the rest of Springfield, although we are hearing that the entire area could be ready by July.
For more information including tickets, visit the official Universal Orlando website by clicking here!