Universal Orlando is bringing Springfield to life in a big big way! The fictional home of the Simpsons started springing to life in 2008 with the addition of Simpsons:The Ride. However in the past few months, the area around the ride has been growing. New restaurants taken directly from the TV Show and Moe's Tavern have opened to rave reviews, and in the coming weeks a new area with more restaurants, photo ops and a new ride will be completing the transformation from a random empty street at Universal Orlando into Springfield, U.S.A. It should come as no surprise that with the new area being built, new residents have already started to move in. One is an upstanding citizen and business owner…the other? Well, he's a bit on the crazy side.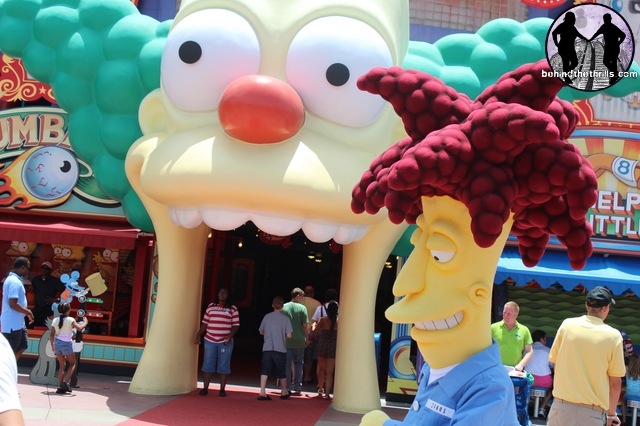 Sideshow Bob and Krusty the clown now make Springfield U.S.A. at Universal Orlando their home. The new characters were unveiled a few days apart from each other and tend to hang out around the Kwik E Mart in the Springfield area. While in the ride, and on the show, Sideshow Bob tries to kill Bart and Krusty every chance he gets, they are civil enough with each other to take a few photos.
Sideshow Bob and Krusty are two of the new characters that will be out greeting guests. In the coming weeks guests will see static (non moving characters) figures of Millhouse, Duff Man, and Chief Wiggum in Springfield. There will also be a huge Lard Lad statue as well.
More pictures of Krusty and Sideshow Bob:
The new Springfield U.S.A. will be opened later this Summer at Universal Orlando. Springfield's Fast Food Boulevard, featuring Moe's Tavern, Krusty Burger and more is now open!
For more information about Springfield at Universal Orlando, visit the official website by clicking here!