Where does music take your imagination? If you're a fan of Midnight Syndicate it takes you to old mansions that time forgot, into darkened dungeons,  where demented demons dwell or to a carnival that brings in happiness, but has something sinister lurking behind the curtains. Since 1997 Midnight Syndicate has taken listeners to places they may be too frightened to travel to alone, but it's nothing compared to where they're going to take listeners next. For the groups latest studio album, they are taking listeners to a golden age, an age where mad scientists plot, creatures lurk and monsters reign supreme.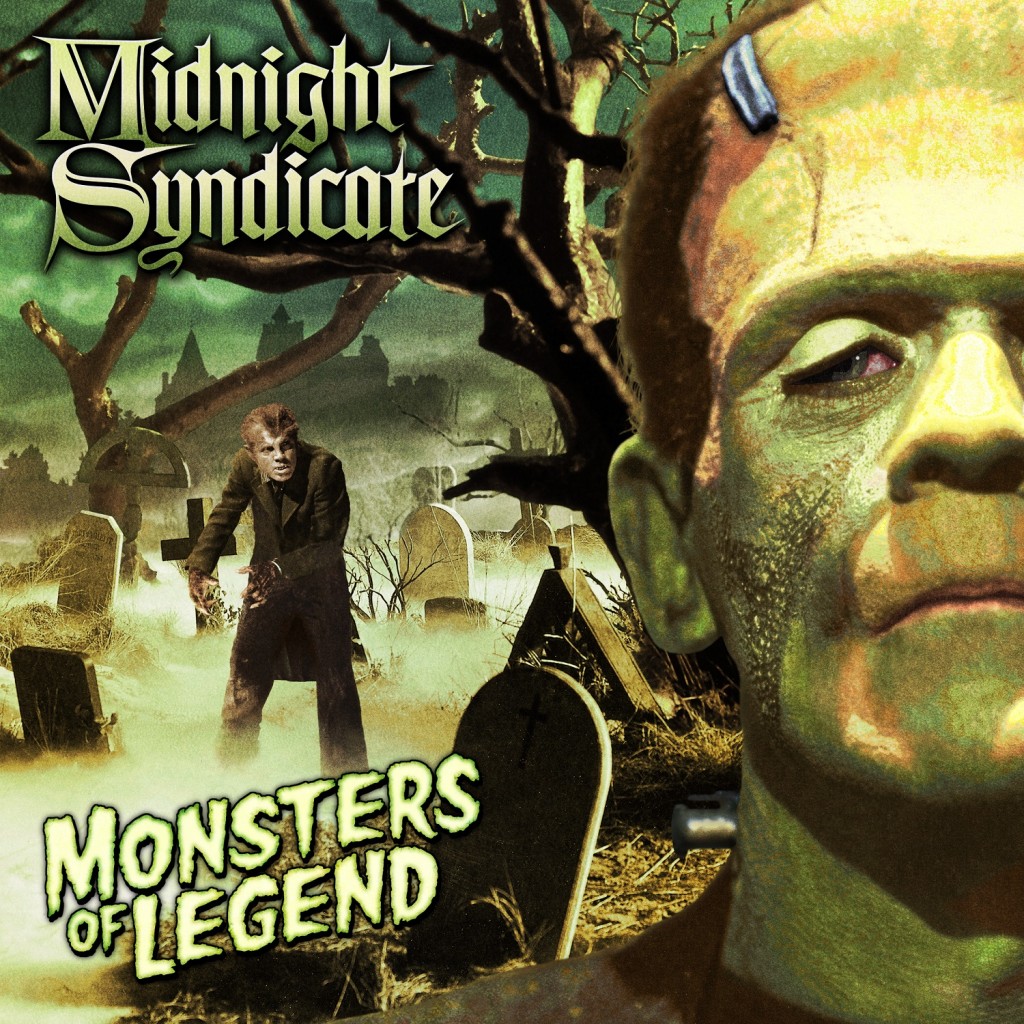 Gavin Gozka and Ed Douglas team up once again for Midnight Syndicate's tribute to the golden age of monsters-Monsters of Legend. The duo, who many credit as having the "first haunted house music", will be paying homage to the classic monsters and fear they instilled with their sixteenth studio album which will be released on July 19th.
"We want to make you feel like you are a character in one of those classic horror films – that you've entered a world where any one of the iconic characters from the Universal Horror and Hammer Films could be right around the corner," said composer Edward Douglas.
The knack that Midnight Syndicate has is drawing you into a world that you normally wouldn't venture into on your own. On their last studio album, the highly acclaimed "Carnival Arcane" the group took listeners into a world of an old turn of the century carnival that was bright and charming on the surface. However, the more time you spent at the carnival, the more secrets you uncovered. Unlike the rest of their albums, it told a specific story. With the new album, Ed and Gavin aim to draw you in, but using the familiar faces of your favorite old monsters.
"Listeners will hear the influence of the Universal Monster, Hammer, and Euro Horror films from the 30s through the 70s, not only in the music but in the images the songs conjure," added Gavin Goszka.  "As we did on Carnival Arcane, we're always trying to take things up a notch both musically and with the sound design. There is a lot going on in this one. Plenty to pull you in, spark your imagination, and keep hold of you anytime you're looking to visit that mysterious place in your mind's eye."
If you don't know the band's name, you definitely know Midnight Syndicate when you hear them. They've been providing soundtracks for your favorite haunted attractions for years now, and have been featured prominently on websites for Halloween Horror Nights in Orlando and the various "Haunts" for Cedar Fair parks. Midnight Syndicate's music has been used as creepy backgrounds, atmospheres and outright soundtracks for many haunted houses all over the world. They've also been part of Monday Night Football, video game soundtracks and by artists Insane Clown Posse, Three Six Mafia, Twiztid and The Misfits. Ed Douglas directed and released the first Midnight Syndicate film "The Dead Matter".
Monsters of Legend will be available July 19th. Stay tuned for more information, and reviews in the coming weeks.
To preorder, or for more information, visit the official Midnight Syndicate website by clicking here!