SeaWorld has been very busy on Twitter this morning and creating quite the hub-bub. Antarctica: Empire of the Penguin just opened in Orlando and Aquatica San Diego just opened in San Diego – but SeaWorld isn't ready to stop. It looks like SeaWorld is already ready to announce a Sea of Surprise!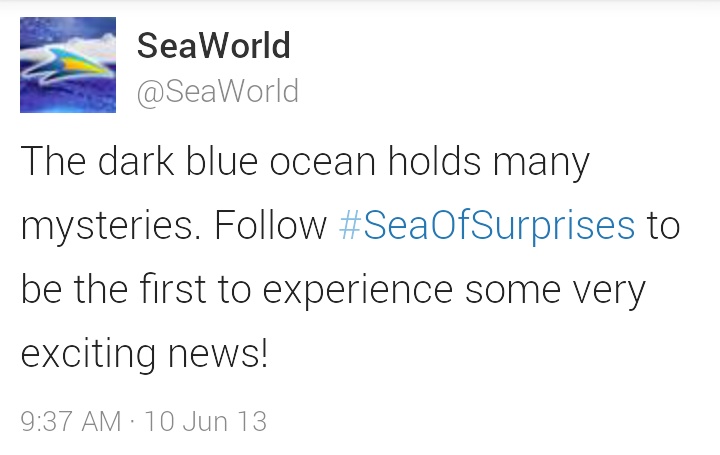 So, when is SeaWorld making an announcement and what are they announcing?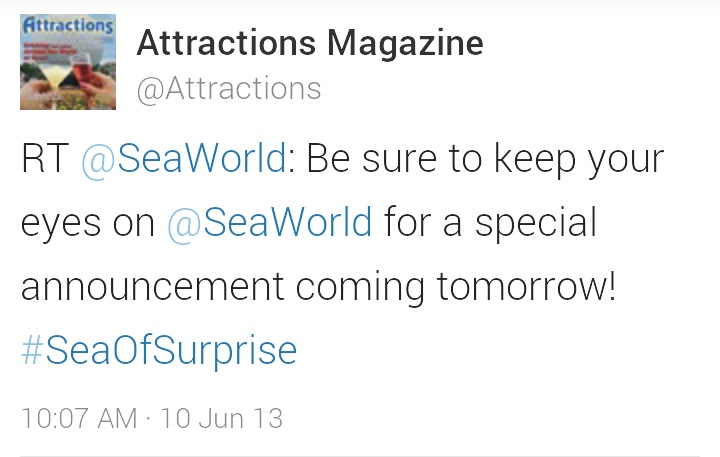 SeaWorld tweeted this morning that they would be making the announcement tomorrow. It seems that tweet has been removed from their Twitter feed, but our friends at Attractions Magazine re-tweeted it. It seems kind of strange that SeaWorld would make an announcement on the same day as one of the parks within their company.
Then SeaWorld released this video confirming the earlier tweet:
Under reading some of the tweets from #SeaOfSurprises, I found it odd that @ClydeSeaWorldSD also tweeted the exact same thing as @SeaWorld did. Now, keep in mind that SeaWorld utilizes the same Twitter account for the entire brand (SeaWorld San Antonio is an exception to this and has their own Twitter account). While you're more likely to see the majority of tweets regarding the park here in Orlando, is it possible we might be seeing an announcement for San Diego? We're not jumping to conclusions or anything here, but the San Diego park has been expanding quite rapidly over the past few years with the addition of Turtle Reef, Manta, and Aquatica San Diego. We could still see an announcement for Orlando though or a joint announcement for both parks, or possibly all three!
UPDATE (1pm): SeaWorld San Antonio also seems to be in on this announcement, so whatever they are planning to announce may be going to each SeaWorld park.
Also according to Mice Chat there will be a huge announcement in Vegas tomorrow specifically for SeaWorld Texas. Whether this related to #SeaofSurprises or not remains to be seen, but we do have a few theories.
After the huge success of the Orlando area parks and attractions at SeaWorld Orlando, Aquatica, and Discovery Cove, the chain made a huge push west with Manta at SeaWorld San Diego and Aquatica San Antonio last year, and Aquatica San Diego this year. Could the westward push continue with a new park for Texas? While the rumors have been light, we have heard that Texas could get a Discovery Cove. It seems an unlikely fit for San Antonio, as they are not a huge tourist destination like Orlando. Discovery Cove isn't a park that is very "local friendly" with the prices being higher than your normal waterpark or theme park. SeaWorld Texas is very much a regional park, that takes very good care of the locals. The other rumor is that Aquatica San Antonio could get a huge expansion that would mix the best parts of Discovery Cove with the already impressive Aquatica. In short-Swim with the dolphins.
SeaWorld will be posting the exciting news under the hashtag, #SeaOfSurprises and we will be sure to share it too – so stay tuned if you miss it tomorrow for all the news.
How do you follow #SeaOfSurprises?
I've seen a lot of folks asking how they follow the hashtag. It's quite simple, but following a hashtag is a lot more common on mobile devices and in desktop applications. Each application is different, so yours may vary, but usually you can search for the hashtag, and then you can save it as a search. In Plume (my application of choice), under the search, you have an option to add it as a column, which also gives you the ability to set an update interval for how often you wish to receive notifications.
For more information about SeaWorld, visit the official website by clicking here.