SeaWorld Orlando will kick off their annual Summer Nights series on June 22nd, and will bring the amazing new Antarctica:Empire of the Penguins to the forefront of the celebration. The event will feature huge dance parties, special shows and of course the chance to ride coasters in the dark. However, the biggest reason to celebrate that with the opening of the all new Antarctica, you'll be able to see the new addition at night. Plus, of course, Shamu Rocks!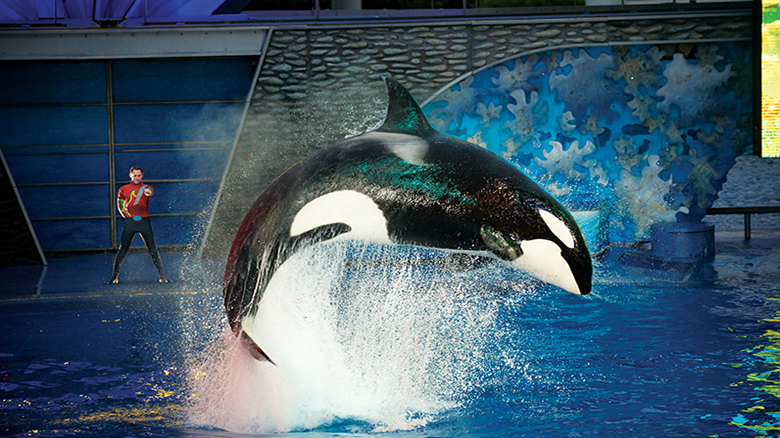 The party starts at the front of the park in Party Square one hour before the park closes and continues 30 minutes after it closes. A stiltwalking Emcee will be on hand to pump tons of music out and get everyone excited. With tons of happenings all around the park, it's the best family party after dark in Orlando. The event features night time versions of some of your favorite shows, and of course the chance to ride coasters in the dark.
Here are some of the night time festivities:
Clyde and Seamore presents Sea Lions Tonite-A fun romp on pop culture and the crazy duo's own take on the daytime fun at SeaWorld

Shamu Rocks-Giant Killer Whales flying through the air to a live rock band. Need more?
Summer Nights VIP Tour-Experience the highlights of Summer Nights at SeaWorld Orlando, VIP-style. This six-hour, guided tour includes an opportunity to feed dolphins, front-of-the-line access to the most popular rides, including Manta and Turtle Trek, and reserved seating at our exhilarating night shows, Shamu Rocks.  Included with the tour is the convenient, all-you-care-to-eat All Day Dining Deal, where you and your family can enjoy all of your favorite foods from your favorite participating restaurants!
Plus the gem in the SeaWorld crown is the all new Antarctica. Fun Fact-The light in the attraction is kept to the same time as the light in Antarctica, so though it may be night time in Orlando, it might be morning for the penguins in Antarctica.
For more information, including tickets, visit the official SeaWorld Orlando website by clicking here!