Holy Macaroni! Universal Orlando has been busy at work with many projects as of late, but none flew under the radar as much as The Simpson's all new "mini land" Springfield. Announced just last month, Springfield will feature restaurant's, Moe's Tavern and even a new ride when it is completed later this summer. This weekend, however, Universal Orlando peeled back the doughnut for a look at some of the all new restaurants, as they opened what's being called "Fast Food Boulevard". While the names and theme may give you expectations of dirty, dive type digs, the menu, surroundings and offerings are mountains above what you expect to find.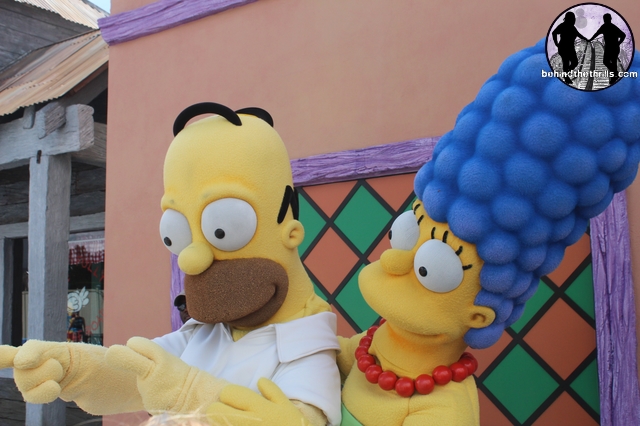 Springfield's Fast Food Boulevard is a collection of all new restaurants, nestled together in one cozy location. The new area also features Moe's Tavern, and is filled with amazing new flavors, tastes and takes on classics. The new area is located right next to the existing Simpsons Ride, and Kwik E Mart. The Simpsons walk around characters are right at home in this new version of Springfield, as they are usually posing for pictures right next door at the Kwik E Mart. It may not be unusual to see Homer Marge, Bart, Lisa and soon Krusty the Clown and Sideshow Bob hanging out around the new area.
Take a walk through the new area in our video walkthrough!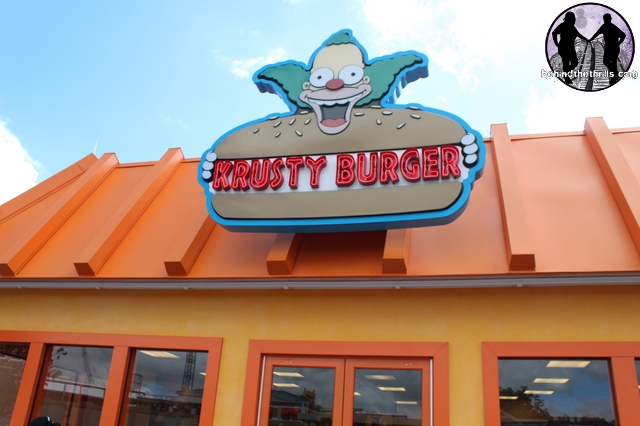 The new facades are really just that. They are facades that empty into one giant market place style restaurant. Along the row you have Moe's Tavern, Cletus's Chicken Shack, Krusty Burger, and the Android's Dungeon. Android's Dungeon is just a facade, which has the area restrooms located behind it.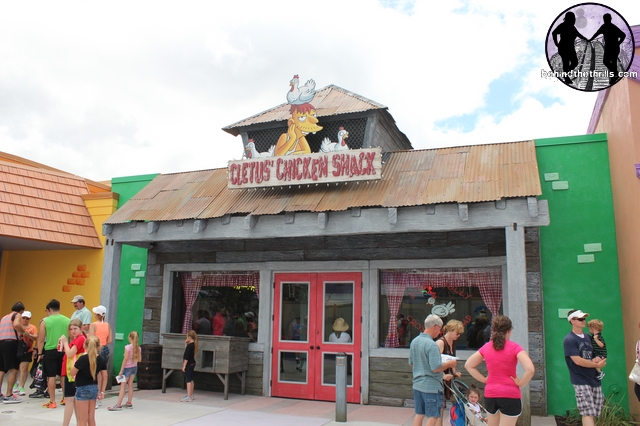 Cletus's Chicken Shack opens directly into the Food Court area, Krusty Burger is a dining area, and Moe's…well Moe's is something very special.
More from the storefronts:
While all the facades are definitely places to eat, they are in a food court style setting, which means you will go from counter to counter in order to get your food. The only facade that is a unique, almost separate restaurant is Moe's Tavern.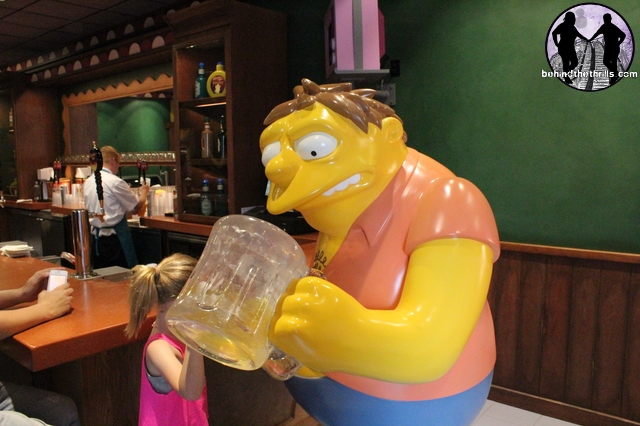 Moe's Tavern is a fairly accurate reproduction of Homer's favorite watering hole in the show. The tavern is a separate area that serves drinks, and has additional seating for the food court. The tavern even features Barney, the one patron that is always in the bar.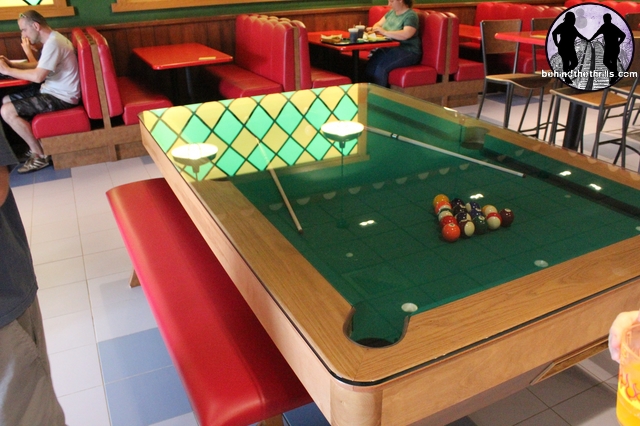 Fun details like a pool table dining table, jukebox and even the purple boxy television that the gang watches while they sit at the bar can all be found. Of course, you can't play pool on the pool table…only eat on it. It's a very bright and welcoming area.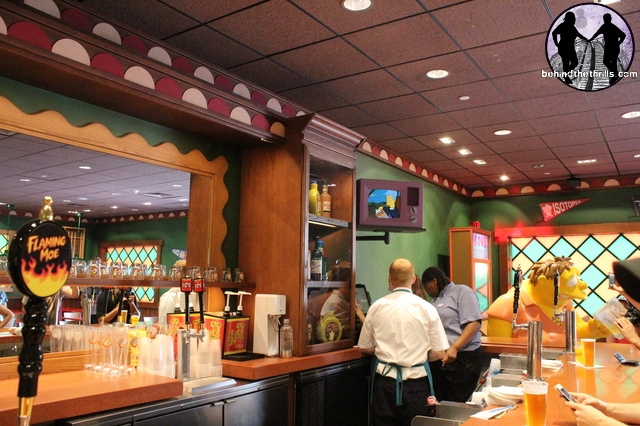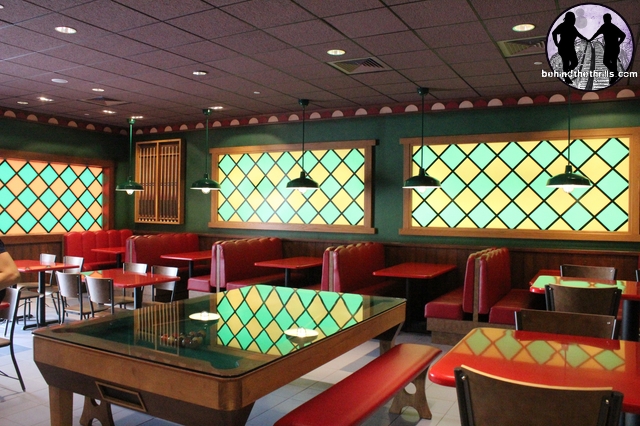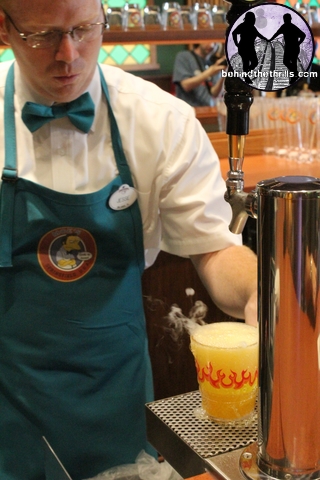 While the bar is family friendly, it is a bar. Being a bar they serve beer. In the show, the beer of choice is Duff Beer, which has been recreated by Florida Beer Company(from what team members told us) exclusively for Universal Orlando's Springfield area. The beer is available on tap in Duff, Duff Light and Duff Dry. Duff Dry is sold in bottles, but because the bottles are glass, guests aren't allowed to keep them. We were told that the bottles would soon be shipped in aluminum, which will also make for a great souvenir. However, the star of the bar is a Flaming Moe.
In the show, Flaming Moe's were alcoholic, and purple because of the cough syrup and cigarette ash. Being that this is a theme park, the Flaming Moe is a creamy orange fizzing drink that smokes with the use of dry ice. The dry ice is completely safe because of the special cups that are used, that separate the ice from your lips. The effect is very cool, and lasts for a few minutes. The cups, while somewhat disposable, are great keepsakes.
More from Moe's Tavern
The biggest surprise in the area has got to be the food. Sure, it's all fast food, and being fast food it's not completely healthy, but like most really good fast food, it tastes really good. It's a bold statement, but I'll go on record as saying as the food in the area isn't only some of the tastiest fast food I've ever had, but it stands to reason that this could possibly be the best counter service food in any theme park restaurant to date.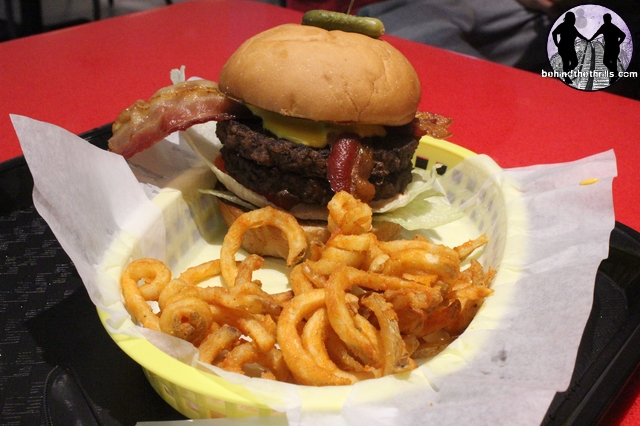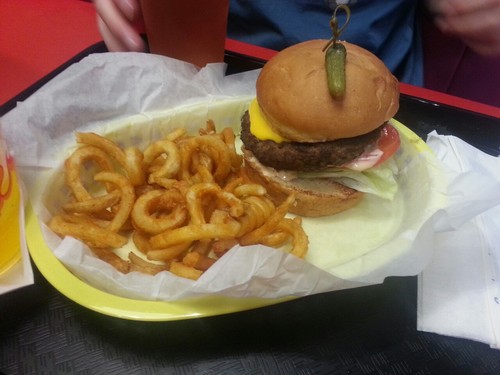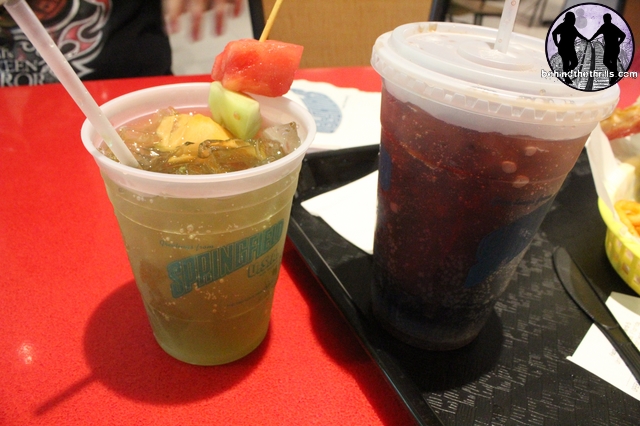 The Clogger Burger, Cletus's Chicken and Waffle Sandwich, specialty drinks from Flaming Moe's and of course Buzz Cola are part of the menus at the various locations. Each area serves a different type of food, with a specialty at each one. Each is full of flavor, and is unique to the stand. We'll run down each stand, and the menus for each one.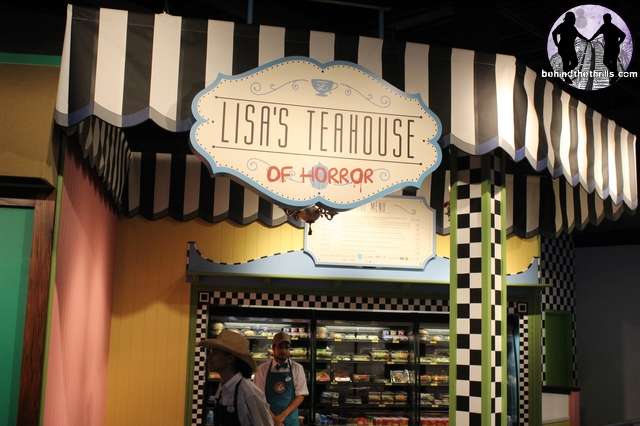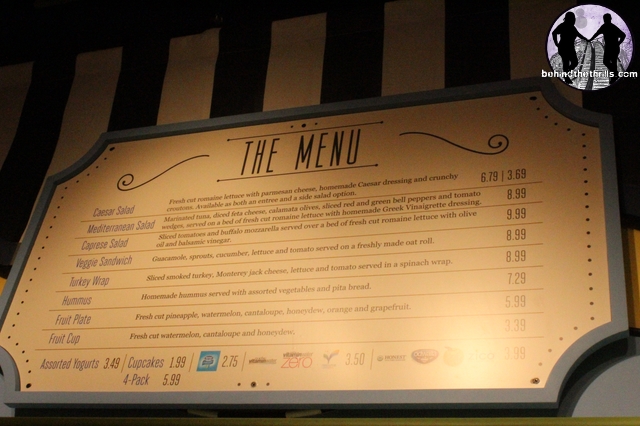 Lisa's Teahouse of Horror is horrifying to everyone looking for deep fried goodness. It is full of healthy choices like Hummus, Turkey Wraps and everything you might want to eat if you're on a diet or…you know…healthy.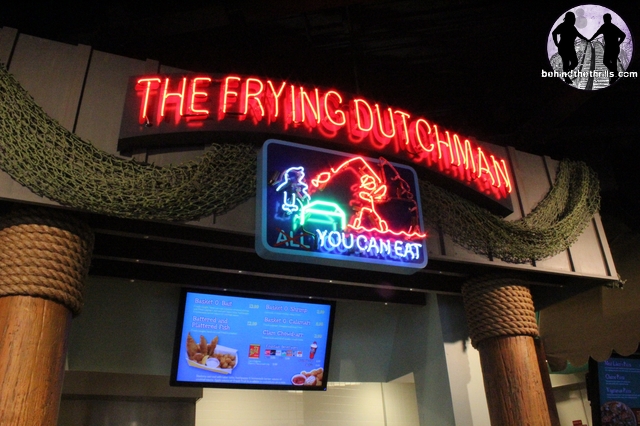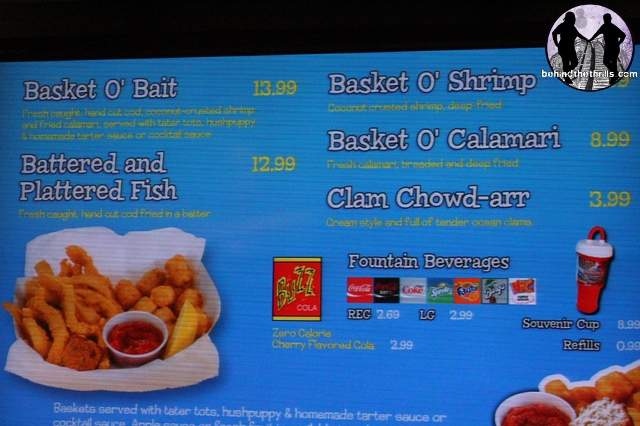 The Frying Dutchman is full of deep fried nuggets, fresh from the sea. With a bucket o bait, deep fried calamari, shrimp and hushpuppies it uses a ton of different flavors to give you something more than just your run of the mill Long John Silvers.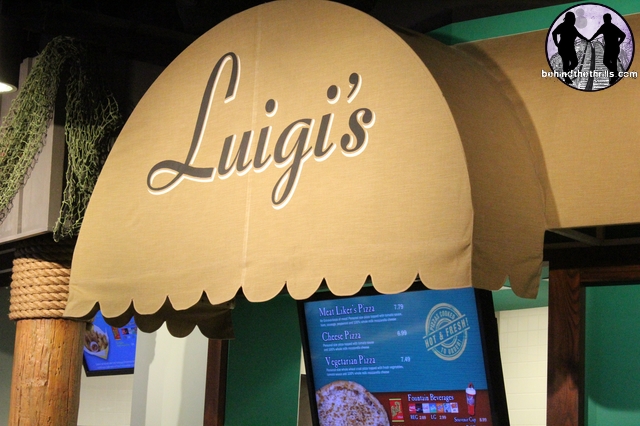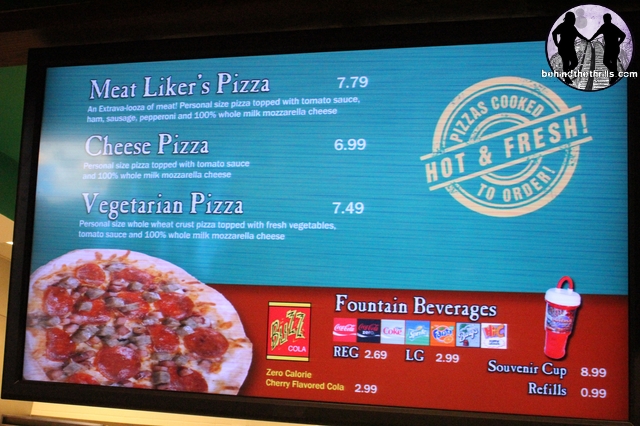 Luigi's Pizza serves personal pizza's big enough for two, or one if you're real hungry.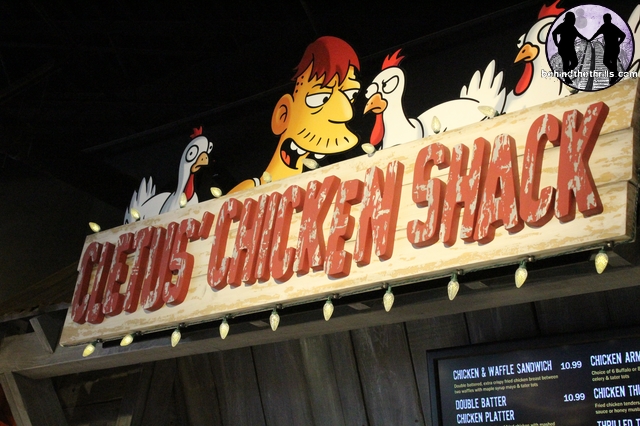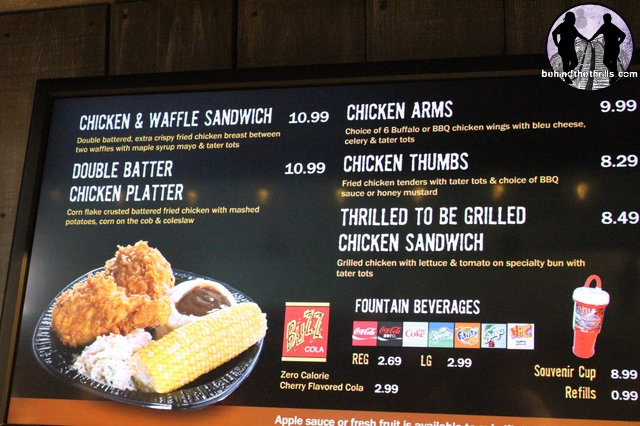 Cletus's Chicken Shack is one of the favorites of guests. It has one of the most inspired, and popular sandwiches to grace the greasy spoon…the Chicken and Waffle sandwich. With the recent popularity of Lay's Potato Chips Chicken and Waffle flavor, the southern favorite has seen a surge. The Simpsons version is really amazing and surprising with a fresh fried chicken breast, and a syrup flavored mayo. I know it sounds gross, but it has such a balance of flavors that it really makes it pop right off the plate.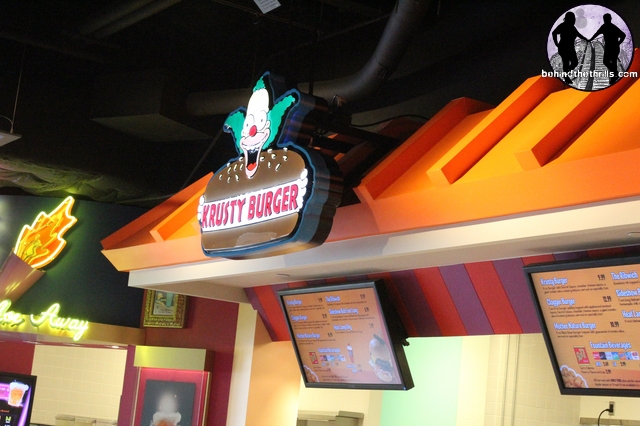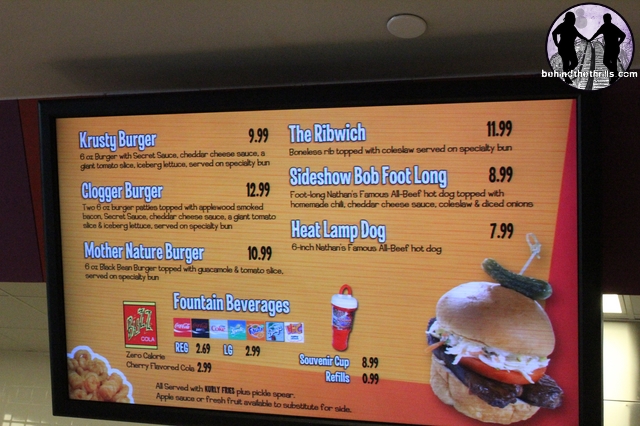 Krusty Burger is just as good as the show promises. It's full of grease, flavor and calories. The Clogger was our favorite, with two huge patties, cheese sauce, a special sauce and bacon. The flavor of the burger, and grease content is comparable to something like Five Guys Burgers. Definitely a step up from your typical Whopper or Big Mac.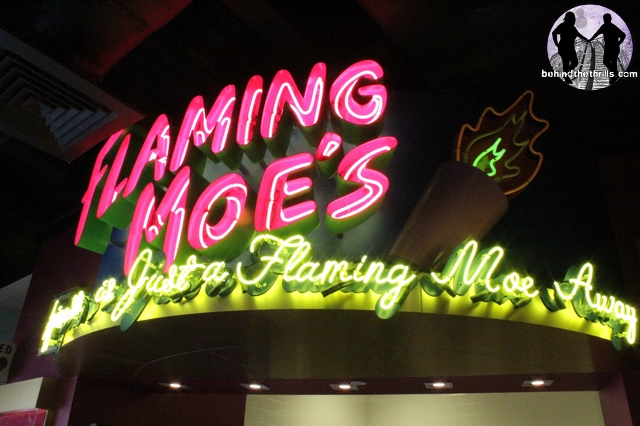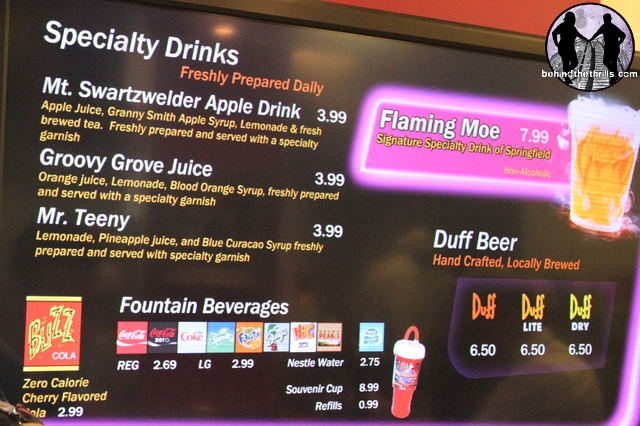 Duff Beer, Flaming Moe and three unique drinks makes Flaming Moes a great spot to quench your thirst. You can also grab a buzz cola, which is a very rich tasting Cherry coke. Our favorite is the Mt. Swartzwelder which starts off very sweet like apple juice, but finishes sour like Granny Smith apples. Regular Duff is also very good, with a very light taste and a heavy finish.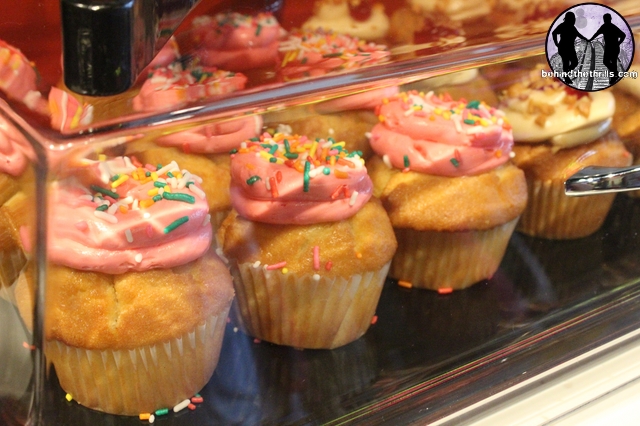 Cupcakes and doughnuts are a must. End of story. There are giant Lard Lad doughnuts, as well as gourmet cupcakes. You can purchase them individually or in a pack of four. The cupcakes come in flavors like Orange Creamscicle, Oreo, Doughnut and our personal favorite PB&J. Smaller for quick bites, and very tasty.
More food pics below

Finally, the Universal store has added tons of new merchandise for Simpsons fans. From new Lard Lad shirts, to even a Duff Beer hat and shirt combo that lets you pop the top on your beer!
Check out all the new merch below!
Overall the new area is a huge step in an old direction for Universal. It gives the park a feel of character that it had when it first opened, by stepping into a whole world outside of conventional thought. Yes, people can be yellow and drinks can smoke. You don't have to play by anyone's rules but yours in this world.
Admittedly, I wasn't a fan of the Simpsons ride when it first opened. However, now the whole thing makes sense. The ride is the centerpiece in Springfield, and the area really makes the Simpsons feel like they truly have a home at Universal Orlando. After all, there's no place like Homer.
For more information about Springfield at Universal Orlando, visit the official Universal Orlando website by clicking here!