Kids are like Minions as it is. They're both short, make funny noises, and are cute as a button. Most of them also like bananas and show their butt…but that's another story. So since kids are like Minions as it is, why not let them sleep like a Minion? Beginning this October at Universal Orlando's onsite hotel-Loews Portofino Bay Hotel, families can do just that with an all new Despicable Me Family Suite, exclusively at Universal Orlando.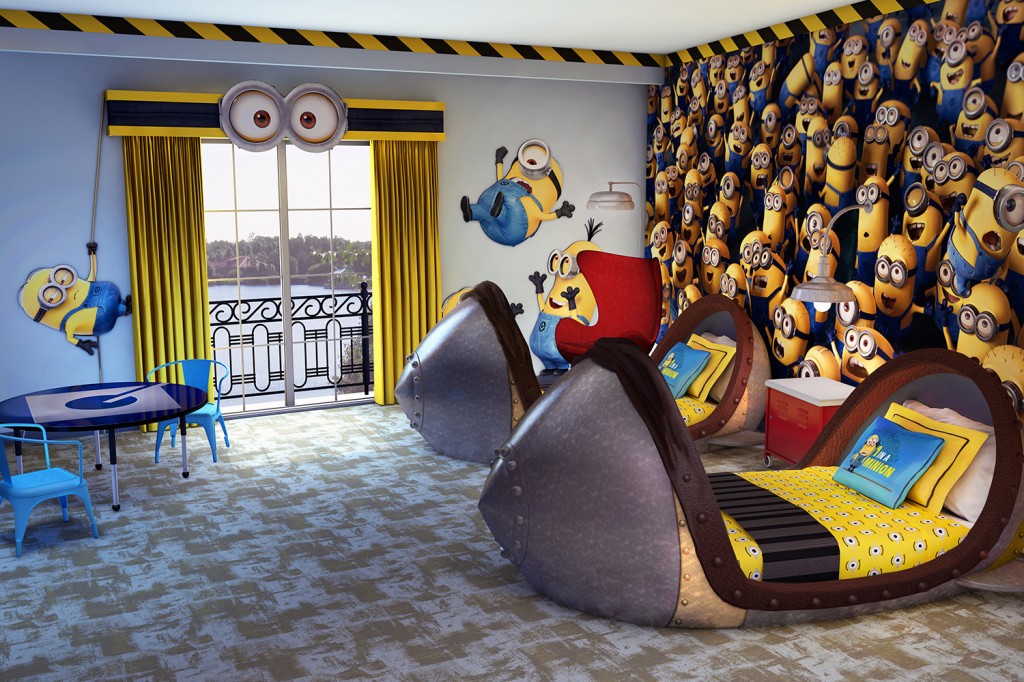 Each of the new 18 family suites will feature Minions, bomb shaped beds and Minions. Can you ever have enough Minions?
"This is the latest way we are integrating the theme park experience into our on-site hotels," says Vince LaRuffa, Vice President of Resort Sales and Marketing.  "The popularity of the Despicable Me Minion Mayhem attraction at Universal Studios, along with this summer's release of Despicable Me 2 on July 3, presents an ideal time for the Minions to take over our kids suites."
Despicable Me: Minion Mayhem opened last Summer at Universal Orlando, and has been so popular that Universal Studios Hollywood is planning their own version next Summer. Despicable Me 2 opens this July, but the Minions get their own movie next year with the all new film "Minions". In the film fans will get to see where the Minions come from, and why they're so loyal to bad guys.
The Portofino Bay Hotel is run by the Loews family of luxury hotels and has just undergone a massive overhaul of every single room at the hotel. The Portofino Bay Hotel is modeled after the famed Mediterranean Resort and has recently spent $14 million in renovations to give each room the feel of a night in Mediterranean Italy.
Check out this time lapse video of one of the rooms under renovation:
The new rooms become available October 1st, and will add the perfect way for you little Minions to Vacation at Universal Orlando.
For more information on the Despicable Me Family Suites, visit the official Loews Portofino Bay website by clicking here!