The annual Themed Entertainment Association (TEA) has released their annual theme park attendance report for 2012. While the attendance report is done by an independent study, it serves as a barometer of not only individual theme parks and attractions all over the world, but also shows the overall effect the economy is having on the industry. It comes as no surprise that perennial theme park Disney had huge success in it's California Adventure park. Whatbis surprising is that the other major theme park expansion, The Wizarding World of Harry Potter, has calmed down as attendance at Universal Orlando's Islands of Adventure has showed signs of tapering off.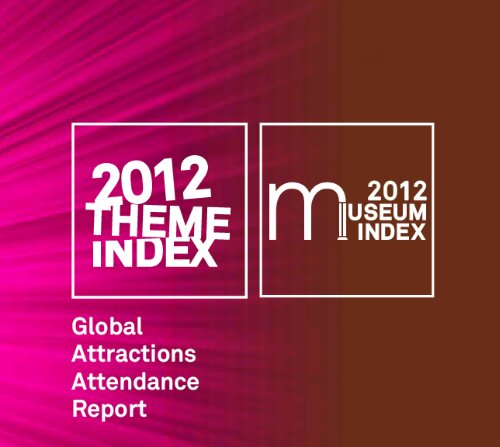 While theme parks overall showed growth all over the world, but it was Disney's California Adventure that showed the largest  increase worldwide with a 22% jump in attendance. Carsland, the park's huge new themed attraction that is responsible for the attendance opened in the second half of 2012 and saw huge wait times for the rest of the year. In the same period in 2010 Universal's Islands of Adventure was up over 30% due to the opening of The Wizarding World of Harry Potter.
While the real test of the popularity of Carsland will be this year, the surprise news comes from Universal Orlando. Islands of Adventure. The park only showed a 4% increase attendance over last year. In 2011 the park showed a huge increase of about 20%. While a 4% increase still indicates attendance is growing, it also indicates that popularity of The Wizarding World of Harry Potter is waning slightly. That is likely to improve next year as Universal Orlando plans to open phase two of the Wizarding World of Harry Potter next door at Universal Studios Florida. The new attraction will feature Hogwarts Express which will connect the two Wizarding World of Harry Potter locations, and will require guests to purchase tickets to both parks. On the other coast Universal Studios Hollywood attendance shot up 15% with the opening of the award winning Transformers: The Ride 3D. In 2014 the park will open a version of Despicable Me: Minion Mayhem and a version of The Wizarding World of Harry Potter.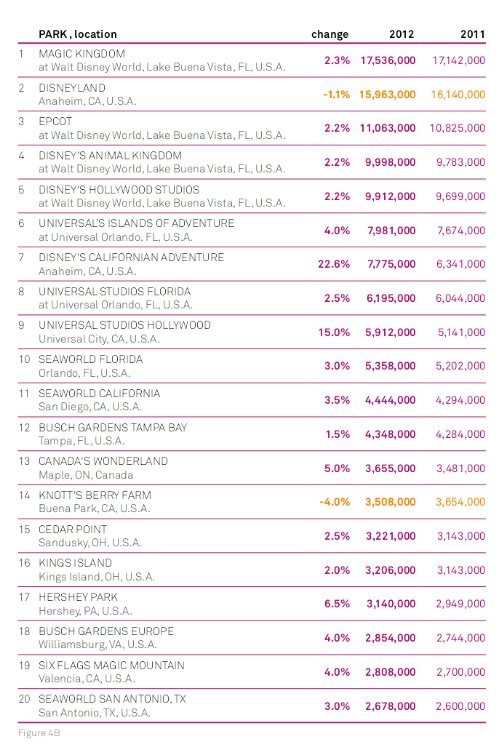 The top twenty in the U.S. as well as Worldwide was dominated last year by both Disney and Universal parks, while more than 3/4 of the U.S. top 20 was dominated by Florida parks.
To see the full TEA report for 2012 visit the official site by clicking here!