Universal Orlando is getting ready to roll out the Autobots in the ultimate battle for humanity in the all new Transformers:The Ride 3D. With Decepticons looking for a fight, it was only fitting that the Autobots took a lower profile and transformed into vehicular form to make preparations for the grand opening which happens tomorrow!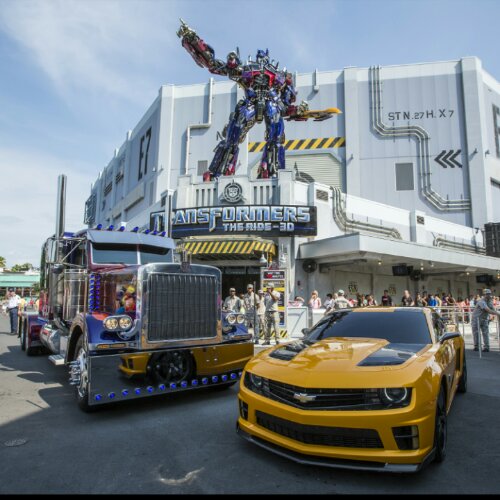 The all new Transformers:The Ride 3D is the latest big name attraction at Universal Orlando. The attraction gives guests the chance to roll out with the Autobots in a thrilling 3D adventure. The Decepticons want the All-Spark to help them enslave the human race. It's up to you and the fresh recruit EVAC to get the All-Spark out of the N.E.S.T. headquarters and back to safety. The vehicles are part of the huge grand opening celebration that promises to be as big as the Autobots themselves.
Universal has transformed the former Soundstage 44 location into an all new attraction in less than a year. The attraction uses state of the art 3D and a huge ride system to battle against evil robots. It also uses huge screens and larger than life props to put guests in the middle of the action.
Transformers the ride opens June 20th
For more information visit the official Universal Orlando website by clicking here!