We are celebrating out 5th birthday this August! As part of the celebration, we are taking an all new step with a project we've been working on for quite some time. We are pleased to announced the premiere episode of our all new weekly video show-BTT Weekly!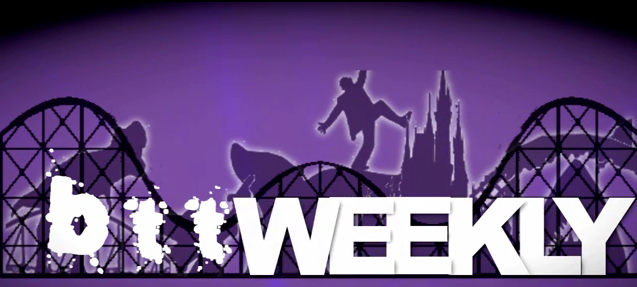 When we first started Behind The Thrills, we had a weekly live podcast. Every Thursday night at 8p.m. listeners could go on a theme park journey with us into the latest news, rumors and interviews in the theme park industry. A lot has changed in five years, but we always wanted to continue doing a show of some kind.
We are pleased to present BTT Weekly. We will take you on trips around theme parks, the latest big conventions, to the beach, and sometimes into our homes to talk about the latest happenings in the theme park world. Our goal is to not only bring you theme park news and fun, but to capture a bit of who we are and the fun that we have bringing you everything that Behind The Thrills has to offer. The best part is that it doesn't take us very long to capture who we are…so most shows will be no more than five minutes.
This week we jaunt over the the West Coast with Kyle where he shows us around the biggest nerd convention in the history of ever-San Diego Comic Con! Tons of great news about movies and potential theme park stuff came out of Comic Con.
Without further ado, here's the world premiere of BTT Weekly:
Every Wednesday we will be back with a brand new episode, and an all new batch of theme park stuff to talk about. Some weeks we'll bring you theme parks, others we won't. We can promise you though, that we'll do our best to make it fun and informative.
Join us every Wednesday for the latest episode! Remember to like, comment and subscribe!