It's hills and drops are legendary. It was once a record holder. Now you can get closer to The Beast at Kings Island than ever before. A returning favorite at Kings Island gets fans behind the scenes of the legendary coaster, giving you a glimpse at what it looks like to be a legend. The best part of it, it's all to benefit Breast Cancer research.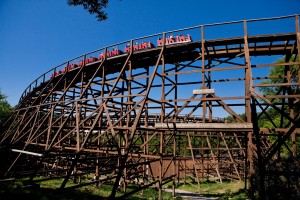 From August 1st-4th Kings Island is once again teaming up with Susan G. Komen for the Cure Greater Cincinnati to help in the fight against breast cancer. Since 2010 the park has raised over $600,000 in the fight, and is going to even greater lengths this year.
The Beast Tour premiered last year as a way to help raise funds. Last year you could only book online in advance. This year guests can not only book online, they can book in the park. In park reservations can be made in the huge pink tents on International Street for $30 dollars. If you want to book in advance, your cost is just $25 dollars.
Guests learn interesting tidbits about the ride during the tour, such as the Beast was completely designed and constructed by Kings Island personnel, and how the original design was modified so many times the final product looked nothing like the one envisioned when the project began. The tour also provides plenty of great video and photo opportunities.
For more information, including to book your tour before it sells out, visit the official Kings Island website by clicking here!