This past weekend at Comic-Con, many things happened off-site. One of the most talked about events was The Godzilla Encounter which was sponsored by Legendary Pictures and brought the creature to life in a large scale, big budget way.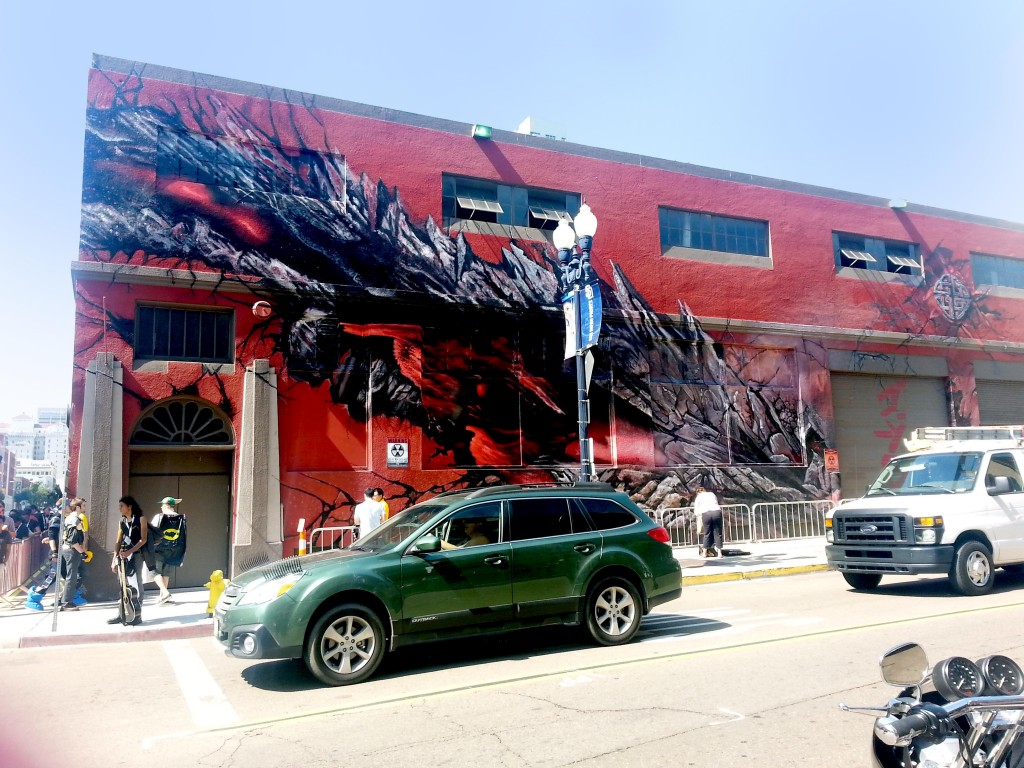 Housed inside a large empty warehouse just moments from the San Diego Convention Center, the Godzilla Encounter tells a big of Japanese history while previewing big things that are about to come, but not everyone was able to experiance. In order to be able to visit the "attraction" you had to either reserve your ticket online (which quickly sold out as anything SDCC related would), or you had to be one of the first persons to visit the Legendary Pictures booth inside the exhibit hall at Comic-Con. After you did either one of those two steps you picked an available time to visit and then you were golden. Groups were let in right at their designated times so there was no room for lateness.
Around the building various Japanese inspired signs were paced on walkways or on the building itself giving some spoiler-free warnings about what is going to take place as any attraction would.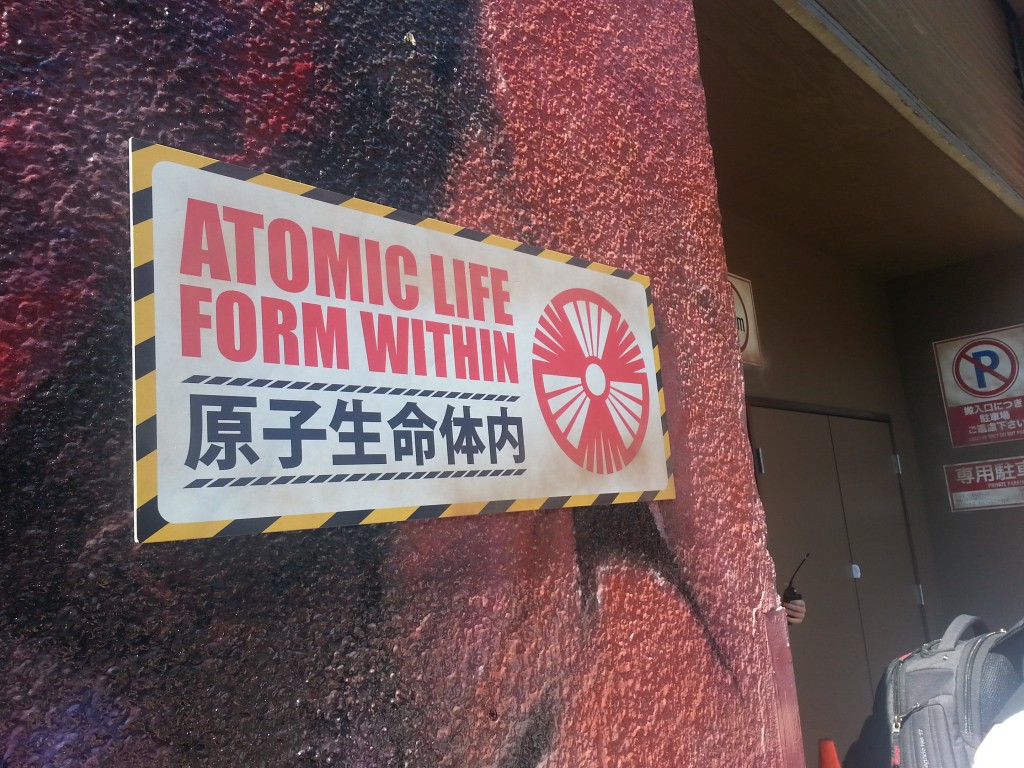 Once inside guests find themselves on the streets of Tokyo Japan, the birthplace of Godzilla himself. The sets were highly detailed and authentic complete with Japanese speaking actors to build the realism of the events that would soon follow.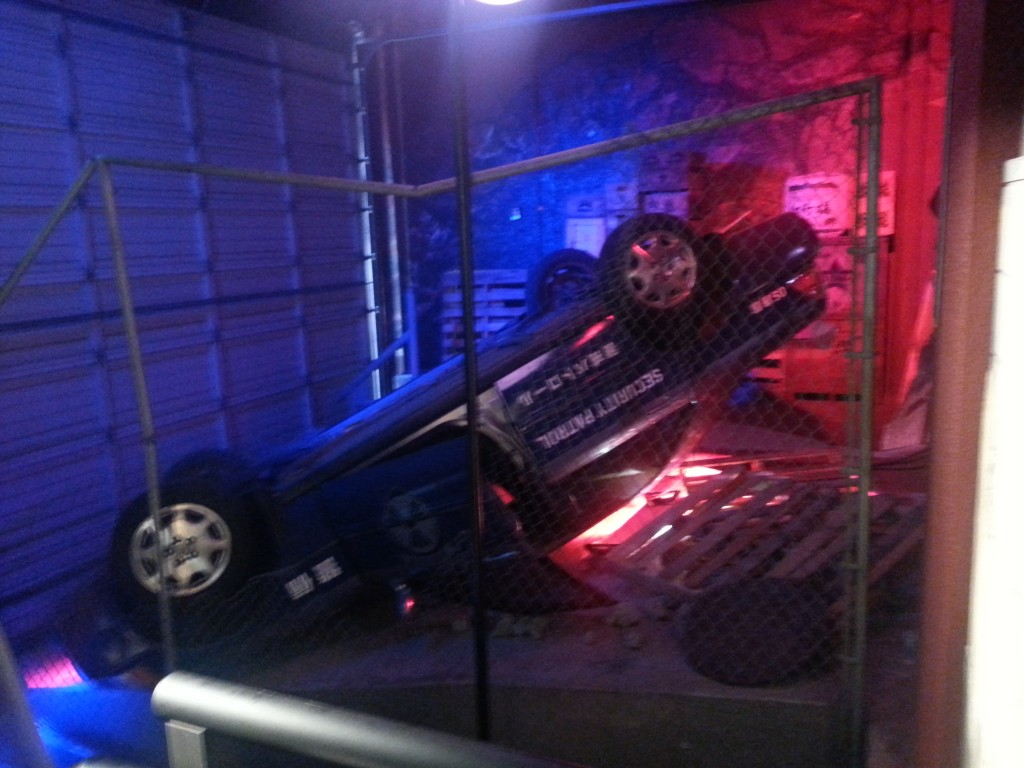 The streets of Japan sets also told the history of Godzilla and how he has effected pop-culture in Japan and the rest of the world. What other event could be more fitting for a Godzilla reveal than the world's biggest pop culture/movie convention?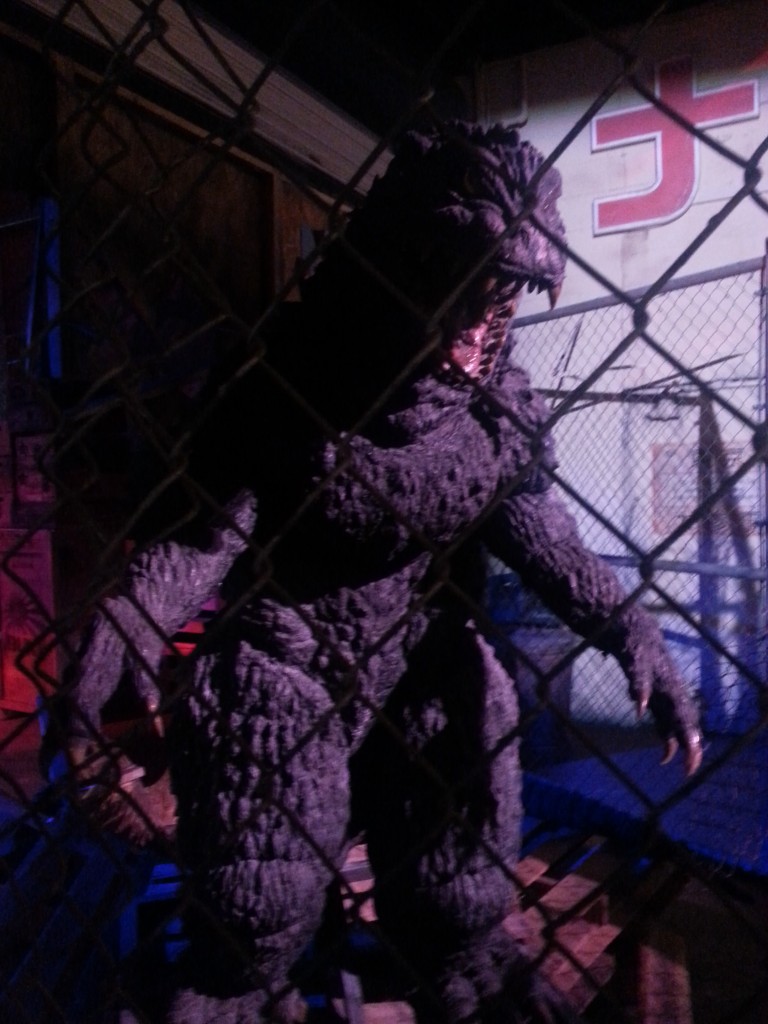 After guests were given the ability to walk through the main first room, they were quickly rushed into a second room where scientists (actors) were trying to figure out how to defend against a coming threat. Lots of news footage featuring Godzilla attacking a town was shown on tv monitors and guests were told to push buttons to help figure out how to defeat the coming beast. Once a solution was solved, guests were then rushed into a large elevator where they would be transported. It was one of those large elevator rooms where the ground would shake and various tv/monitors projection effects are used to convey a sense of movement. But the elevator is quickly stopped and the doors open. It appears we are obviously on the wrong floor since we've stopped on what appears to be a fully realized office complex (the themeing rivaled the quality you would see at a Horror Nights event, even surpassed it in some ways). You are told to move as fast as you can and you make a hard left turn which shows a large broken window and a rain storm outside. The room was chilled and you could feel the cold wind on your face. Then the ground starts to rumble and shake. The desks and all the props in the room began to sway and you knew what was coming. Sudden you see Godzilla's head walking past you. Keep in mind this was a large scale effect so it felt as if it was a life size representation. Then the monster disappears, for a short while. He rushed back and is now directly infront of the group staring at them with a rotten look on his face. He then roars in his signature/new roar and the room goes dark.
That was the encounter in a nutshell. Legendary obviously spared no expense. As mentioned before the set pieces rivaled that of Universal or Disney. It was short but satisfying and everyone received a limited edition Godzilla 2014 print.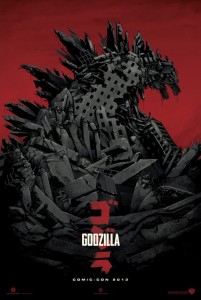 You can check out a video of the Godzilla Encounter Below.
That wasn't the only bit of Godzilla goodness. If you were lucky enough to be in the amazing Hall H, then you were able to take a sneak peek at some amazing footage of the film. In the clips shown we see some good old fashioned monster butt kicking. There's not only Godzilla in this version, but several other Kaiju as well. The look of Godzilla is definitely a throwback to his original look, but seriously updated. What we don't have is a giant iguana running around like Michael Jordan. He's big, he's mean, and he is put to destroy some cities! It should be a huge hit for Legendary next year.
Check out even more pictures of The Godzilla Encounter below!
That does it for The Godzilla Encounter, be sure to follow us on on Twitter @Behindthrills for more SDCC 2013 Coverage coming very soon!