Well that was fast. Eli Roth wanted the Las Vegas based year round haunt to become the "Disneyland" for haunt fans.  According to this Las Vegas Sun article, that may not get to happen as the owner of the "horror Mecca" has filed for Chapter 11 bankruptcy protection less than a year after opening their doors in a chainsaw wielding grand opening.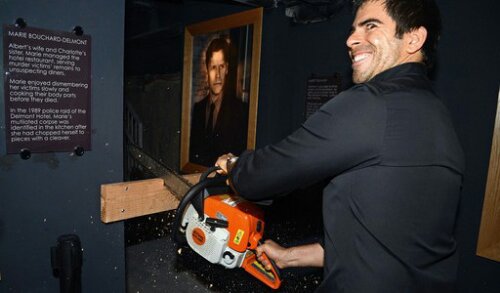 Goretorium opened in September of 2012 to mixed reviews. While we enjoyed the haunt, it wasn't something for everyone. Goretorium has since started doing weddings, private parties, amd even themed events like their Christmas, end of the world and Valentine's Day parties.
Check out videos from the grand opening of Goretorium:
According to the Las Vegas Sun article (click here) the bankruptcy at Goretorium is but one of many Vegas attractions filing for Chapter 11 protection. The bankruptcy filing doesn't necessarily mean that the businesses will close, but it does include contractors, merchandisers, media producers and the Nevada Department of Taxation.
Does this spell the end for the year round haunt on the strip? Not just yet. Other big companies such as Six Flags have filed before and are still in operation. It is worth noting that there aren't many year round haunted attractions for a reason. While the interest is growing, the peek of popularity for most haunted attractions doesn't happen until right around Halloween.
Stay tuned for more as we hear it.
Be sure to follow us on Twitter @BehindThrills
For more information on Goretorium including tickets visit the official website by clicking here!