It may be only July, but things are looking "Frosty" around Gaylord Palms, as they prepare for their annual frozen wonderland-ICE! ICE! is a collection of larger than life ice sculptures, huge ice slides and freezing temperatures right in the heart of Central Florida. Every year the event takes on a different theme, and this year the hotel is bringing the Christmas Classic, Frosty The Snowman back to life. Must have been some magic…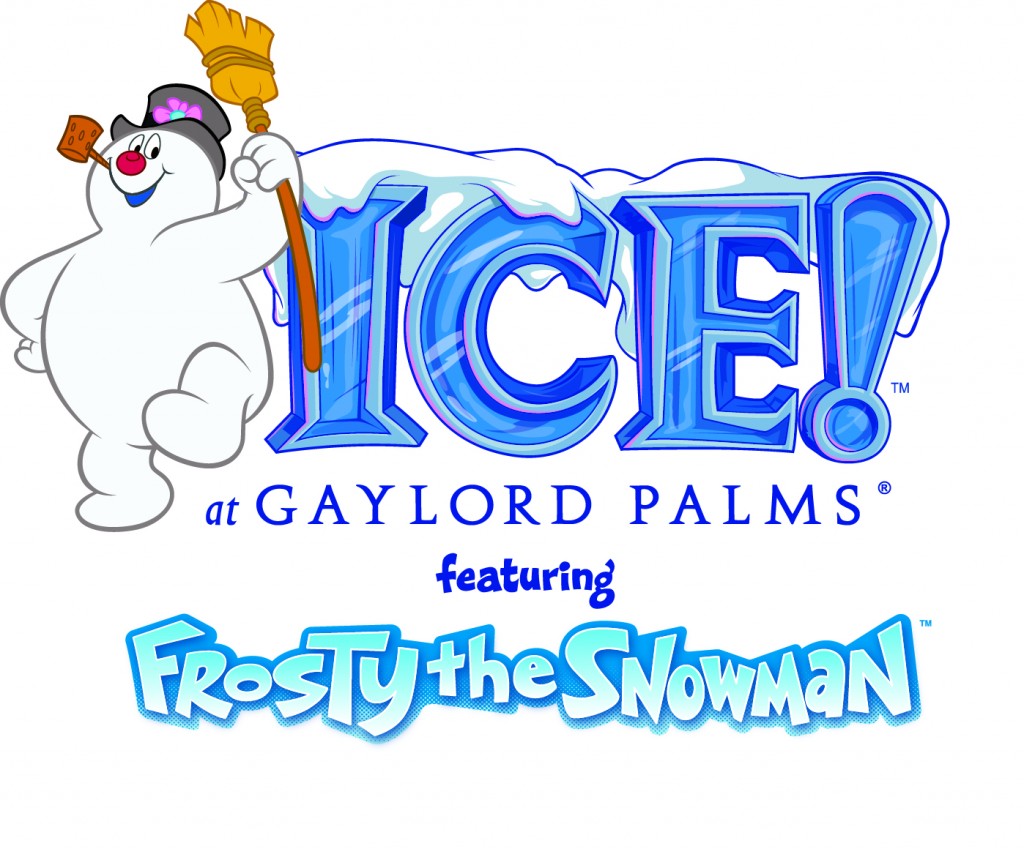 This year Gaylord Palms will be bringing the Christmas Classic, Frosty The Snowman to life in over 2 million pounds of hand carved, colored ice. The classic story is brought to guests by Dreamworks Classics. This is the first time since 2011 that Dreamworks has not featured one of the newer familiar stories for ICE! Last year guests had a "Merry Madagascar, and in 2011 they could "Shrek the Halls". The timeless classic story of Frosty the Snowman first appeared in 1950 as a song, sung by Gene Autrey. The song caught on in popularity, and was adapted into a short story and then the popular Rankin-Bass TV special  which has been running every Christmas since 1969.
This year, Gaylord Palms will be the place where that old silk hat brings Frosty and his friends to life. ICE! features several scenes, as well as four huge two story slides that guests can slide down. The exhibit is kept at a chilly 9 degrees, to keep the sculptures from melting in the Florida sun. Guests are given huge Parkas to wear, and it's also recommended that you wear your own jacket and gear.
In addition to the huge exhibit this year, featuring Frosty, Gaylord Palms will have The Frostbite Factory, featuring "Artisans in Action". The Frostbite Factory will give guests the chance to watch a masterful ice carver from Harbin, China, home of the International Ice and Snow Festival, as he creates amazing sculptures before your eyes! He is part of a team of 40 talented artisans who travel from Harbin to work meticulously for more than a month to slice and shave 6,000 blocks of colored and clear ice, each weighing approximately 400 pounds, to carve this incredible experience.
Check out our walkthrough from ICE! last year, as we celebrate Merry Madagascar!
That's not where Christmas stops at Gaylord Palms. The huge Christmas Celebration takes over the whole hotel as Dreamworks characters play and pose for pictures, Santa greets guests, and a nightly tree lighting and Christmas concert called "Luminesence". Live music, dancing lights, and more Christmas spirit than you can shake a sleigh at.
See the entire Luminescence show from last year, featuring The Edge Effect:

Guests can also decorate Christmas cookies with Gingy from Shrek and even have a character breakfast with some of your favorites.
There's so much happening at Christmas at Gaylord Palms that it's a whole season of fun. You don't have to be a hotel guest to enjoy ICE! as it is open to the public, with tickets starting around $30 dollars for adults. However, those who book a Christmas package at Gaylord Palms get unlimited access to ICE! during their stay. If you book a Christmassy Dreamsworks Experience, you not only get unlimited access, but priority entry as well.
ICE! at Gaylord Palms starts November 23rd and runs all the way until January 5th, 2014!
For more information about ICE! at Gaylord Palms, including tickets and reservations, visit the official Gaylord Palms website by clicking here!