Can you feel the fog yet? It's creeping in like a bad omen, slowly easing up your spine. Unfortunately you won't know that it's here until it's too late. That's right kiddies, Knott's Halloween Haunt is creeping up fast. Can you hold your screams until September? Knott's is taking to Facebook once again this year to get you geared up and tease you as much as humanly possible, and of course drawing out the fear one little scream at a time.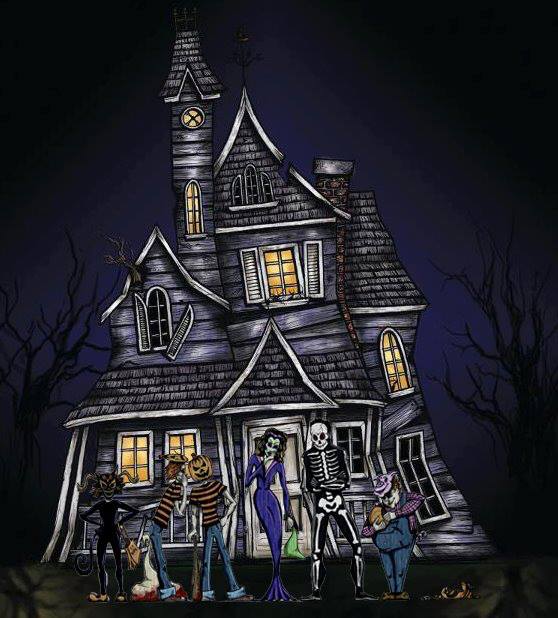 The official Knott's Scary Farms Facebook Page (clickhere) has been giving out all kinds of juicy little fleshy parts all this week. We'll run down the list of everything we know officially about the event, and as more is revealed, we'll lay it all out here.
First, however, comes as a familiar face comes snarling back from the past:
The Green Witch was the main Icon last year for the 40th anniversary of Haunt at Knott's Scary Farms. With her putrid tones of green and black making yet another appearance on the official Facebook page, it appears that The Green Witch isn't done with Knott's just yet. How she'll be returning and in what form is still up in the air, but it's very possible that she (along with the Tricksters) will be back to wreak havoc once again.
Shows and Mazes

Here is the list of houses and shows making Haunt their home this year.
NEW! Forevermore: Follow in the footsteps of the darkly troubled writer Edgar Allan Poe through a nightmare conjured up by a modern madman. Each of Poe's bloodsoaked and terror-filled tales will envelope you in their insanity and horror. Page by page you will descend deeper into the subconscious of the man who invented American horror.
Forevermore is gothic horror with a modern day twist.
Will you escape? Or will you remain in the horror Forevermore…?
LOCATION: Mystery Lodge
NEW! Dominion of the Damned: Hail to the King: The Blood Queen's rule has ended as she goes to regenerate after her long reign. In the new cycle ancient vampire lore decrees there shall always be one to rule the damned… Long live the King! Yes, you've experienced Dominion of the Dead, but you've never seen anything like Dominion of the Damned. All new layout, all new scares – it's a new vision of horror.
LOCATION: Gypsy Camp
NEW! Black Magic: The veil between the living and the dead is severed when Houdini's ghost materializes during a séance and ushers a host of demonic illusions to play tricks on anyone who intrudes on his theatre. From the prop room to the main stage, this dilapidated theater will make visitors skin crawl. Will you be part of the disappearing act?
LOCATION: Carnevil
NEW! Gunslinger's Grave: Return to the Old West and walk in the bloody footsteps of a betrayed and left for dead gunslinger on his path to retribution against a corrupt township. This journey back in time takes guests on a trail of terror through abandoned gold mines, a treacherous corral, a seedy saloon and a final showdown at town hall.
LOCATION: Ghost Town
NEW! Mirror/Mirror: Enter a world where madness is just a looking glass away. What is real and what is an illusion? A cursed mirror absorbs everyone into a mechanical wasteland of despair. Hideous creatures of beauty and horror stalk the mirror world, hoping to draw another victim into a nightmarish labyrinth where you might just get lost forever…
LOCATION: Necropolis
NEW! TRAPPED: The New Experiment: They haven't even started yet… Longer, Scarier, A maze designed to torment your worst phobias.
LOCATION: Boardwalk Arcade
NEW/RETURNING: The Witches Keep (Mine Ride Overlay): Many years ago, The Green Witch uncovered a wicked source of power in the depths of the Calico Mine, and now she's hell-bent on using this mysterious energy to capture and corrupt all who dare enter. Could this be the origin of her wretched Tricksters? A foreboding warning hangs near the entrance of the mine, "Beware the witch's keep!"
RETURNING! Pinocchio Unstrung: Several years after the blue fairy denies him his final wish, Pinocchio erupts in a wild killing spree, where he and his army of murderous marionettes seek the flesh from his former masters to cover his twisted, wooden body.Revenge comes with no strings attached.From the demented mind of Haunt Maze Designer Daniel Miller – the twisted creator of Delirium, Fallout Shelter and many others.Think you know the whole story? Think again. Pinocchio Unstrung returns for 2013 with more surprises, more twists and turns….and more insanity. Be careful what you wish for…
RETURNING! Trick-Or-Treat: It's Halloween Night and that old house on the corner is the last place anyone should go trick-or-treating at. All the kids know that something evil lives there. But here you are ringing the doorbell… Maybe the kids were wrong. Maybe you'll get some candy. Maybe you'll make it home tonight. Or maybe you'll venture inside and never be seen again.From the poisoned hand of Haunt Designer Brooke Walters comes a journey through childhood terror you won't forget.Trick-Or-Treat returns for 2013 with so many changes you'll swear it's an all new nightmare. Grab your pumpkin pail and meet your friends out front…it's Halloween and it's time to face the terror.
RETURNING! Endgames: "ENDGAMES" The world as we know it has ended. The survivors in this barren desert have scavenged to rebuild society. Few are safe. The rich and powerful have turned all others into slaves for sport. Enter the post apocalyptic arena where the gladiators are forced to battle to their deaths for entertainment…and the games will be televised.Endgames returns with all new scares. Look for a new path of destruction and unseen horrors.
RETURNING! The Slaughterhouse:
Scare Zones:
Ghost Town: There is no place quite like "Ghost Town," home to a whole cast of night stalkers including the notorious Sliders who lurk in every fog-filled corner. Guests attempt to navigate the winding streets that may just lead to the graveyard!
Carnevil:Knott's Boardwalk is taken over by "CarnEVIL," where the freak show is the main event and clowns crave your undying attention.
Necropolis:A vampire world of flesh and machine, of gears and steam offers a journey through the streets of a steam punk influenced city of the dead where blood is power.
Gypsy Camp: The backstreets of Ghost Town are shrouded in moonlight darkness and fearsome howls pierce the silence. In a blur of crimson teeth, werewolves stalk the "Gypsy Camp" seeking revenge for an ancient gypsy curse. Will you be the canine's next meal?
NEW! Village of the Dead:  Not much is known about this new scare zone. It was announced at the press event before the Green Witch made a rude interruption.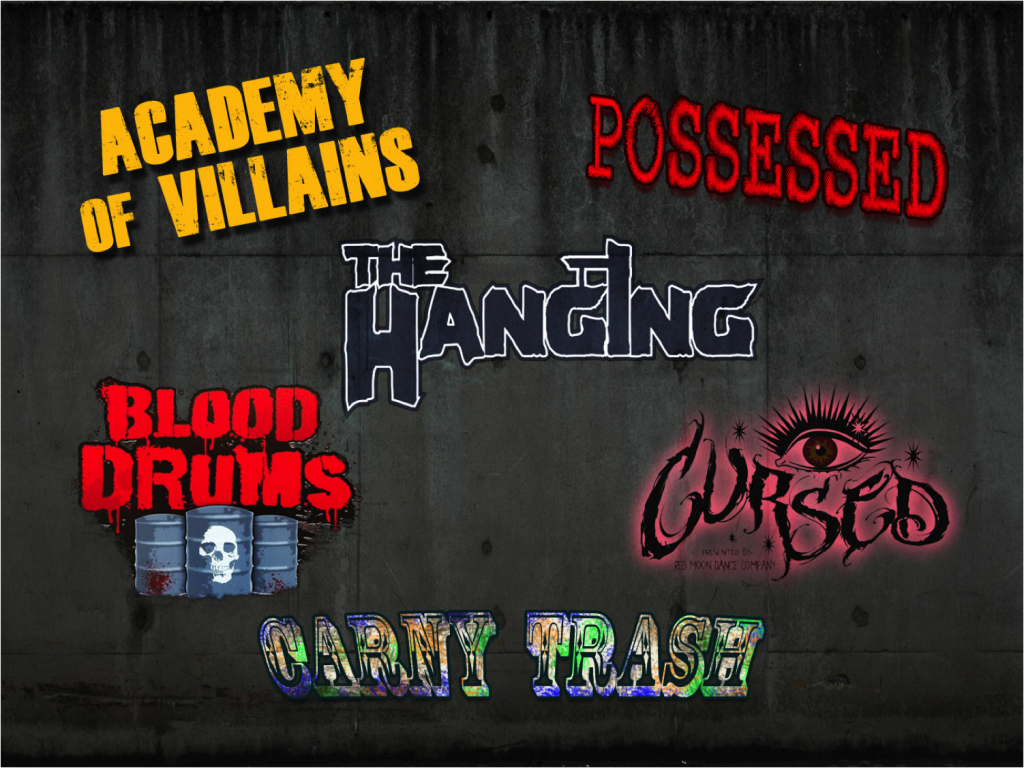 NEW SHOW! Elvira's Sinema Seance: In the Ghoul Time Theatre, a Knott's Scary Farm legend returns – Elvira Mistress of the Dark! starring in "Elvira's Sinema Séance." Elvira is back in all her ghoulish glory as she dabbles in telekinesis, plays the lead in film parodies, and bringing her own mixture of sassy and sexy. Elvira will be joined by the Academy of Villians, this unique dance team was featured on America's Got Talent and merge hip hop choreography with freestyle dance.  Appearing live 9/26 – 10/31.
NEW SHOW! The Hanging: A Gothic Fairytale: The traditional "Hanging" goes Hollywood as Hollywood executives realizing that they have run out of super heroes to base new blockbusters upon turn to classic fairy tales.
NEW SHOW! Possessed: Last year, we "Unearthed" a new form of terror. For 2013, we journey deeper into horror. 70 years ago, an unspeakable crime destroyed the small town of Buena Park. Try to remain calm as the ghosts of the past cross over to finish what they started. Tonight the spirit world and our world will collide. Presented at the Mystery Lodge Theater.
NEW SHOW! Carny Trash: "Carny Trash" offers up Aye Jaye a comedy sideshow and magic act with impeccable comedic timing and a master of the unexpected in Carnevil.
RETURNING! Cursed: The Gypsy Camp area will present "Cursed" featuring the magical and hypnotic powers of the beautiful Gypsy dancers ot the Gypsy Camp stage.
RETURNING! Blood Drums: This high energy drumming quartet is known for their unique blend of amazing percussion skills in the Necropolis Theater.
So far it's shaping up to be one of the best years at Knott's Scary Farms.
Those who follow Knott's Scary Farm closely will notice a few things. No clown maze (the first time in many years Haunt has gone without a clown maze), and no maze currently slated for the Fiesta Village location, which is strange since Fiesta Village is receiving an all new scare zone this year. Perhaps Knott's has something else up their sleeve. ScareLA is just a few weeks away, only time will tell.
Stay tuned to us here, and on Twitter @BehindThrills
For more information about Haunt at Knott's Scary Farm, visit the official website by clicking here!