It only happens once every 100 years. On the 13th year, the 13 come out to play. Busch Gardens Tampa is ramping up their 2013 Howl O Scream with The 13. Over the next few weeks Howl O Scream will be introducing the 13 and with them all the new experiences for this year's Halloween celebration.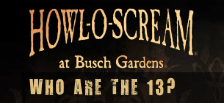 The new cast of this year's Howl O Scream are locked behind several doors, chained away for 100 years. What horrors will we meet when we meet the 13?
Meet Desiree Yanes, the Voodoo Queen who caught her husband with another woman. Instead of acting immediately she ran off into the swamps of Louisiana. There she crafted Voodoo dolls, cast spells and made the new couple's life pure torture. If you've been wronged,  she can help you…for a price.

You'll be able to find Desiree in the all new house,Death Water Bayou, where the #6 Voodoo Queen mystically transforms lost wanderers into her minions of evil with black magic. Here, her night servants roam with a zombie-like hunger and seek to grow her collection. The darkest evils lurk in shadows. Get out before you fall victim to her spell.
Which door will open next? Stay tuned to find out more, and be sure to follow us on Twitter @BehindThrills!
For more information about Howl O Scream at Busch Gardens Tampa,  visit the official website by clicking here!