It's a 26 year old tradition that is one of the most touching moments of the D23 Expo. The Disney Legends Award is a  tradition started by the Walt Disney Company to honor visionaries who help create the magic behind the scenes. Whether innovators, animators, actors or business partners, the men and women who have received the award are those who have made Disney what it is today, both as a business and as a source of magic. This year's eight recipients will be honored during the D23 Expo on Saturday August 10th at 2p.m.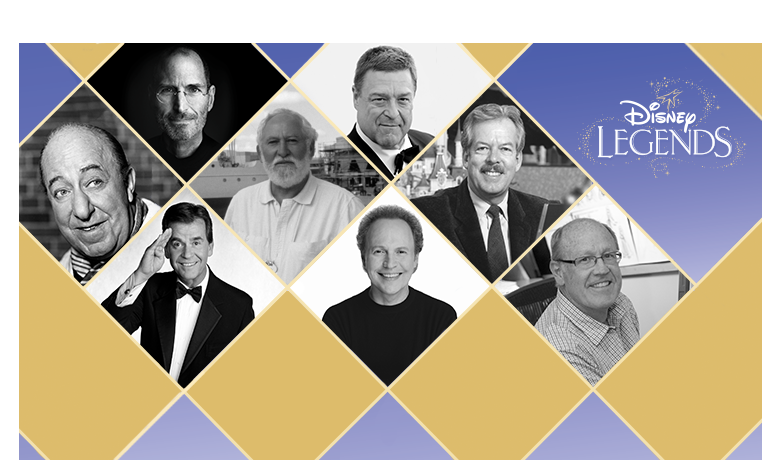 "The Disney Legend Award is our highest and most coveted honor," said Disney Chairman and CEO Bob Iger. "It's reserved for the extraordinary visionaries and artists behind the Disney magic, the men and women who push the limits of innovation and creativity to ensure Disney remains truly special. The eight Legends we honor this year helped create some of our most beloved characters along with exciting new worlds and thrilling attractions.  They also entertained millions of people and expanded our definition of what's possible. They are all indelible parts of our legacy, and we are proud to recognize them as true Disney Legends."
This year's recipients come from all aspects of the Walt Disney Company and have worked with the company in different ways.
STEVE JOBS 

changed the world of consumer electronics as the founder of Apple, and was known throughout the world for his visionary attitude and penchant for innovation. He was an early investor and chief executive of Pixar, and became the Walt Disney Company's largest shareholder overnight when it acquired Pixar Animation Studios in 2006. That same year, he joined the Disney board of directors, and remained a valuable sounding board and advisor to the company until his passing in 2011.




ED WYNN

, a comedian whose career began on Broadway in the early 1900s, appeared in numerous Disney classics of the 1960s, including Mary Poppins, Babes in Toyland, That Darn Cat, The Absent-Minded Professor, and Son of Flubber. Fans of Disney animation know him as the manic and distinctive voice of the Mad Hatter in Alicein Wonderland.

DICK CLARK 

brought rock and roll to 40 million homes across the country with the national debut of American Bandstand on ABC in 1958. He went on to produce game shows, award shows including the Golden Globes® and the Academy of Country Music Awards, comedy specials movies, and other popular television specials. Dick might best be remembered, however, as the host of ABC's annual Dick Clark's New Year's Rockin' Eve from 1973 until 2011.

COLLIN CAMPBELL 

touched almost every part of the Walt Disney Company, from animated classics to legendary theme park attractions, with stints in live action film and television. Collin's work with Walt Disney Imagineering includes the development of Walt Disney's Enchanted Tiki Room, Pirates of the Caribbean, as well as concept illustrations of MagicKingdomPark and EpcotCenter.

TONY BAXTER

 has developed beloved Disney attractions including Big Thunder Mountain Railroad, Journey Into Imagination, SplashMountain, and countless more over the course of his 43-year career with Walt Disney Imagineering.  Revered by Disney fans, he is best known for his commitment to storytelling, attention to detail, and ability to develop new ideas and attractions by combining time-tested design practices with modern technology.

GLEN KEANE 

has brought to life many of Walt Disney Animation Studios' most popular characters. Since becoming aDisney animator in 1974, he has animated classic Disney characters such as Penny in The Rescuers, Elliott in Pete's Dragon, Ratigan in The Great Mouse Detective, the Beast in Beauty and the Beast, and the titular characters in The Little Mermaid, Aladdin, Pocahontas, and Tarzan. In 2010, Glen served as Executive Producer and Animation Supervisor for Tangled, a story he developed for more than ten years.

JOHN GOODMAN 

is a celebrated actor of stage and screen, and the voice behind James P. Sullivan, better known as "Sully," from Monsters Inc. and Monsters University. Among John's notable film appearances are The Big Lebowski, The Flintstones, and most recently Argo and Flight. John's appearances in Disney-produced films include the Hollywood Pictures films Arachnophobia and Born Yesterday, as well as Touchstone Pictures' Stella, Coyote Ugly, O Brother, Where Art Thou, and Confessions of a Shopaholic. 

BILLY CRYSTAL

 is an acclaimed actor who lends his voice to Mike Wazowski, the frenetic, green cyclopean monster from Monsters Inc. and Monsters University. Best known for his memorable roles in When Harry Met Sally…, The Princess Bride, and City Slickers, Billy, who has won six Emmy Awards and one Tony Award, has also been a fixture on ABC television, where he hosted the Academy Awards® broadcast nine times and found his breakthrough role as Jodie Dallas on Soap from 1977-81.
Each honoree receives a two-foot-tall bronze Disney Legends sculpture that signifies the imagination, creativity and magic they have brought to the Company. Disney Legends Award recipients also participate in a handprint ceremony, and their bronzed prints will be displayed in the DisneyLegendsPlaza at the Company's Burbank headquarters.
Since the first honoree in 1987 there have been 237 inductees including Julie Andrews, Robin Williams and a slew of other actors, actresses, Imagineers, animators and more! Events like the Legends ceremony and many others are included with D23 admission. 
For more information, including tickets and pricing, visit the official D23 Expo website by clicking here!