When Despicable Me made it's debut, it took a lot of people by surprise. Here you have a seemingly generic story about a bad guy who goes good. What audiences got was a giggle fest, full of heart tugging moments and a redemption story about a guy who was bad, that sees that there is more important things in life. To me it was a metaphor for divorce…but more on that later. Now comes Despicable Me 2, this time audiences know what to expect and they expect more of it. Does it deliver? Is it more than just a showcase of little yellow clowns? What is this film really a metaphor for? Most importantly is it good?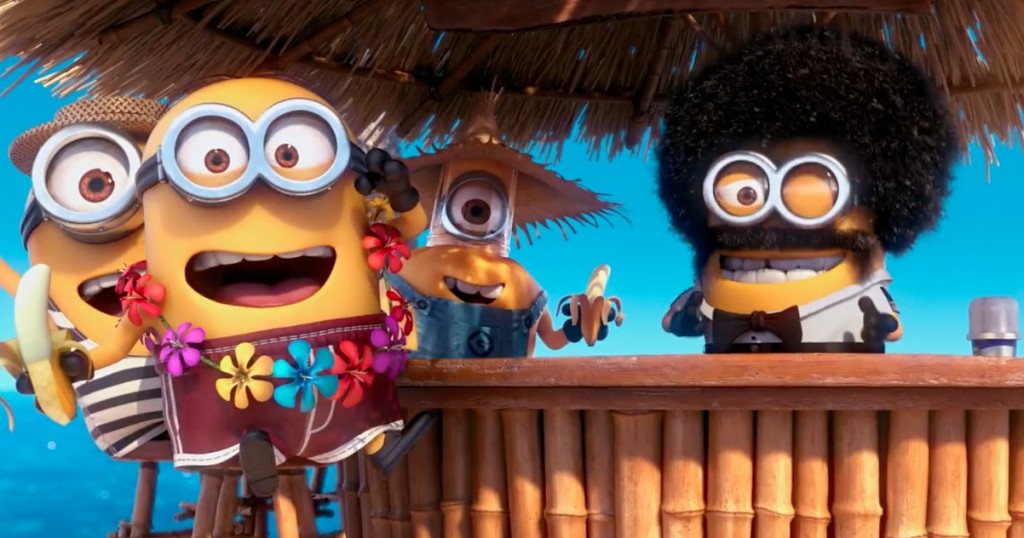 Despicable Me 2 opens with a whole research facility being stolen. It's  crime that sets in motion the whole film, much like the pyramids of the first. We find Gru hard at work in his new role of dad. He loves it, the girls love him, he's trying to turn his evil ways into positive business ventures…life is good. The rest of the world, however, seems at odds with Gru. Neighbors trying to fix him up with friends, old friends leaving because life is too tame now. Gru seems a little at odds with the rest of the world, but that's okay, he's got his family and that's the most important thing in life.
With the theft of the research facility, we are introduced to the Anti-Villain League, and Lucy Wilde a very chipper young agent who is a little inept at her job, but still gives it her all. They recruit Gru to help find out who stole the facility that was working on a secret serum that turned regular people and animals into hulking rage beasts that eat everything. Their search leads them to a mall, where Gru swears he sees an old Super Villain that is supposed to be dead…El Macho. El Macho was the manliest, most macho villain that did everything so manly…even his own death, where he rode a rocket into a volcano, strapped to a great white shark. Man..that's macho.
There's a lot of great scenes, lots of laughs, and of course Minions. Minions are pretty much front and center at this movie, so much so that everything else seems rushed. You have the girls with their various problems, such as Agnes wanting a mother, and Margo kicking into teen mode and wanting to talk to boys. BOYS! NO! The problems and issues are brushed off so quick that you hardly remember they were an issue.
The film still works, and still gives you a heart tugging moment near the end when everything is resolved. The voice work is still very solid, with Steve Carell taking it home as Gru. The Minions have an extended vocabulary, and I personally would like to see a Minion dictionary come online. Kristen Wiig, who played Miss Hattie (the mean orphanage lady) in the first goes nuts as Lucy Wilde, and of course you'd never know that Russell Brand was Dr. Nefario. It's a great change up from all the other animated films, where you can hear the celebrity voice shining through..which always feels lazy to me. Despicable Me 2 continues the great tradition of actually getting your voice actors to ACT!  Stay through most of the credits as The Minions hold auditions for their new movie, The Minion Movie which hits theaters in 2014. Yes, there's more Minion Mayhem afoot coming soon, which will tie in well at Universal Studios Hollywood when their version of Minion Mayhem opens.
You can currently experience your own Minion Mayhem right now at Universal Studios Florida, and become a Minion yourself!
For more information about Universal Studios Florida, visit the official website by clicking here!
While a lot of the heart, and genuine moments of the first film are passed over for jokes about fart guns and butts, the message is still there..somewhere. The first film was a metaphor for divorce. Think about it, a guy that is really despicable who doesn't really get along with anyone, is forced to come to terms with something he really doesn't want to deal with. Instead the guy wants to hang out with his friends, and concentrate on his career. With the divorce, the guy must now deal with his family or risk losing it forever. It changes a person in such a way that sometimes they become super dad, and learns what's really important in their lives.
Despicable Me 2 takes that to the next step and is a metaphor for single dads. Yes, dads can raise children! We sometimes have a difficult time at it, and don't fully understand everything we need to, especially when it comes to dealing with little girls (trust me…boys are easier, but girls are everything) and all of their emotions and hormones. Gru faces all the problems of his family, and trying to be the better person. Gru will do anything for his family, and the clarity of just how much he'll do comes when Agnes starts feeling the need for a mommy in her life. Gru also feels the pain and aggravation of having a little girl fall for her first crush. It's a feeling of anger, and mostly protection. As daddy's we have the basic instinct of protecting our kids to no ends. While we protect our sons, we expect them to one day become the protectors. With our daughters…they're daddy's little girl, and there's no one on this earth who can protect them like daddy can. Gru also deals with the need to move on with his personal love life as well. It's not an easy thing to do when you already have a family. While Despicable Me 2 doesn't dive too deep into it, like the first one did, it does touch on the subject matter and brings back the message that you stick with your family no matter what.
Despicable Me 2 is now playing in theaters, while Minion Mayhem is open at Universal Studios Florida!