Antarctica at SeaWorld Orlando has pretty much all the attention at the park these days, and deservedly so. It's one of the "coolest" new attractions to hit theme parks in several years. However, just because Antarctica is finished, doesn't mean that the rest of the park gets to sit idly by. We have a small, but fun update from SeaWorld with a few little changes.
Shark Encounter seems like it's getting some much deserved love lately. The favorite shark display has seen some small changes throughout the past few months, most notably the addition of an all new picture station, inside the attraction.
Just inside the attraction, right past the Barracuda tank is the all new "Shark Screen". Not sure if that's what it's actually called, but we like it…so now that's what it is. Basically it works like this, you go in front of a green screen and get your picture taken.
The picture puts you right inside the mouth of huge shark jaws, in front of the big water tube. It's another little souvenir that takes up very little time.
The area that used to house the big shark that you could crawl inside of and get your picture taken is now under construction, and will soon be a new little counter service "Bistro". The new area looks too small to be anything but a drink stand that may serve some sandwiches or pastries.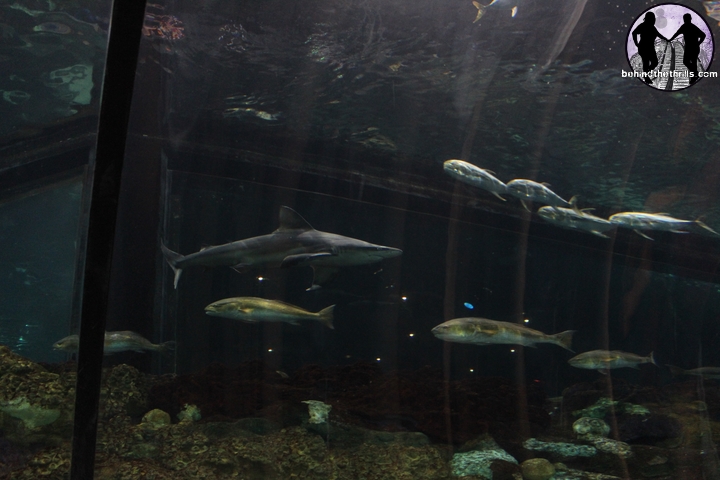 If that's not enough, Shark's Underwater Grill is also receiving some updates. If you look close, you can see construction walls on the inside of the restaurant. We tried to get inside to take a look, but the reservation station is in between the two massive shark pools on the outside of the attraction. The restaurant has also stepped up it's servings with new additions to the menu. We are told that the entire restaurant will soon be upgraded, but to what? It's definitely going to be worth checking out, as it was one of the most unique dining experiences in Orlando.
For more information about SeaWorld Orlando, including tickets, visit the official website by clicking here!