Springfield was founded in 1796 by Jebediah Springfield, after he misinterpreted a passage in the bible. Leaving Maryland, he refused to establish a town where cousins were free to marry, and formed Springfield. All the cousin marrying dissenters took up roots and formed Shelbyville. Some call Springfield "America's Crud Bucket", but most of those people are from Shelbyville and are just jealous that Universal Orlando isn't building a mock up of their city in it's most popular theme park! And that leads us to today's update, Jebediah Springfield has come to Orlando!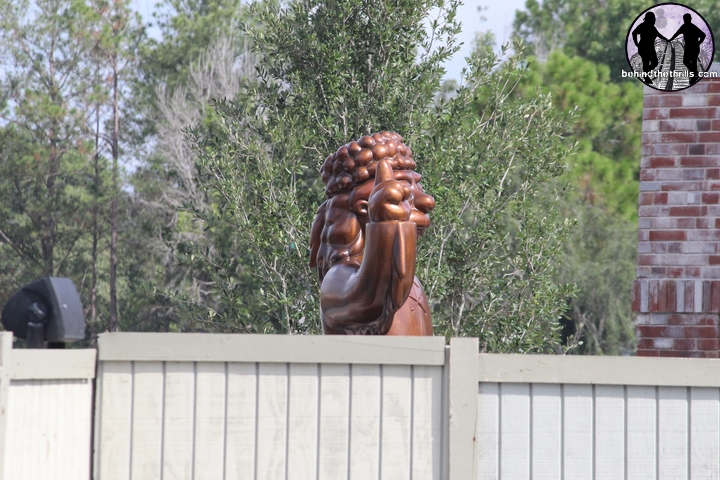 Springfield at Universal Studios Florida is becoming ever closer to being a reality. This week the final touches are being put on the area with an all new statue, and the facade work on the brewery nearing completion. The towns founder, Jebediah Springfield points towards the center of town…the Krusty Burger!
Check out this all new video walkaround of all the construction happening at Universal Orlando!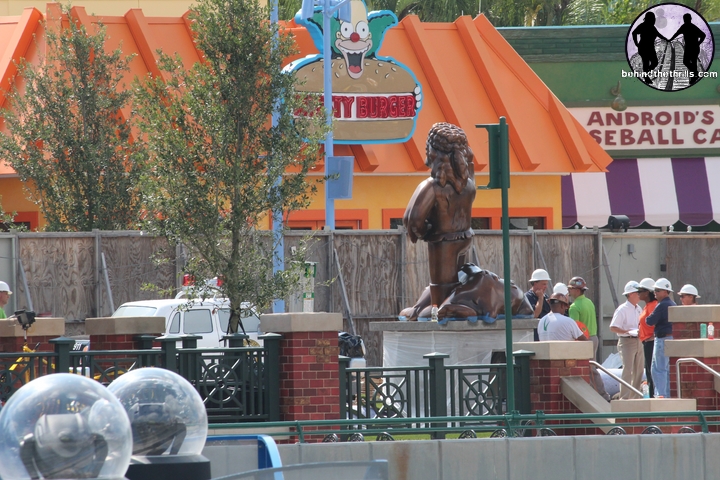 The area is starting to look more and more complete as we get a good look at Chief Wiggums Police Car, and of the statue from behind. The statue will be the centerpiece of the new Springfield area, and will be filled with all kinds of great photo ops, such as Chief Wiggum after he hits a fire hydrant while rushing to Lard Lad Donuts. Guests will also be able to see Duff Man, Millhouse, and Lard Lad himself!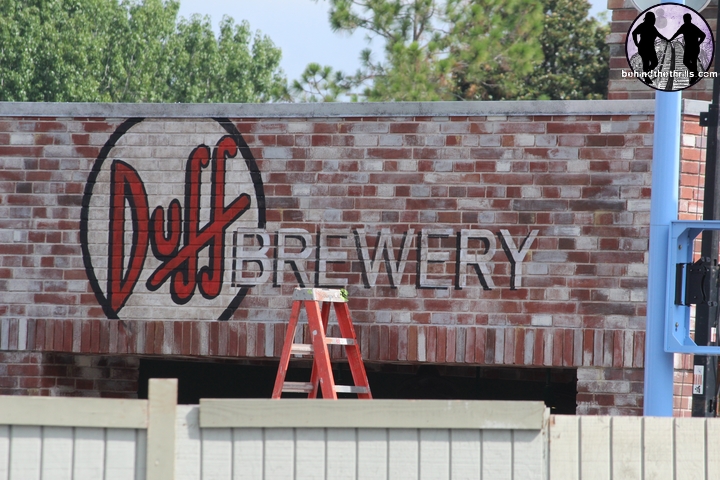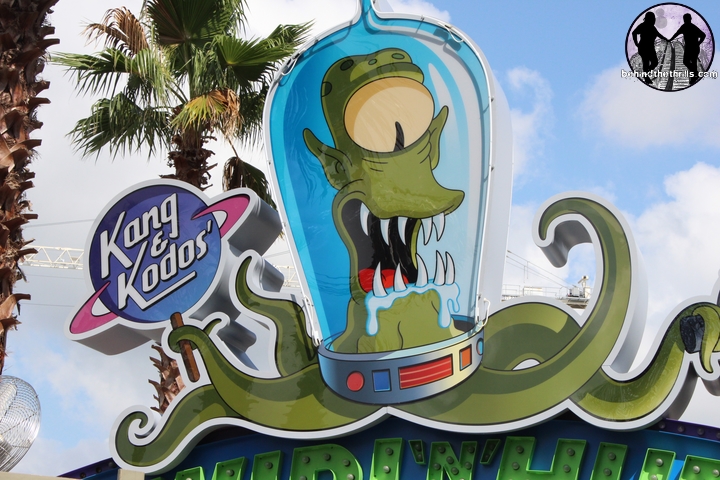 Signage and queue railings have also gone up for the all new Kang&Kodos Twirl N Hurl! The new ride will feature the two one eyed aliens as they invade Springfield, with your help! The new attraction will be more twirl and less hurl, as it's a family friendly spinning ride, much like One Fish, Two Fish at Universal's Islands of Adventure next door.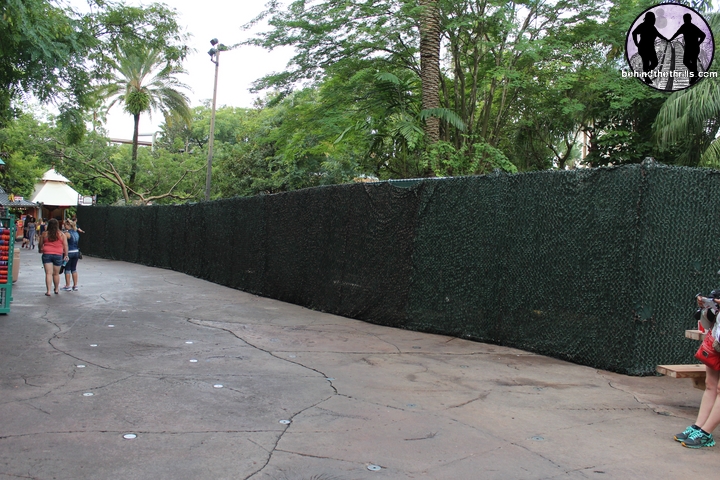 Speaking of next door, there is all kinds of work afoot in Jurassic Park. The work starts near the Pizza Predatoria, pretty close to the Wizarding World of Harry Potter and extends all the way to the Jurassic Park River Adventure. The area is a pretty long ways, and while the rumor persists of all new carnival style games, it seems like a huge area just for more games.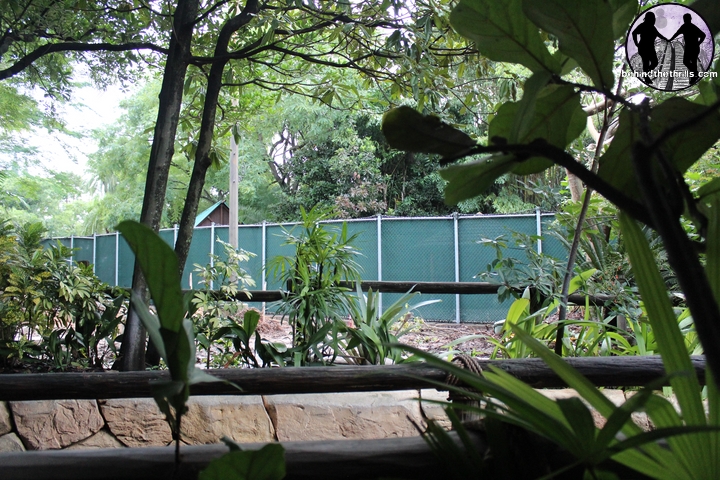 Much of the rarely used Extended queue is used for the new addition. Rumors have persisted on an all new Jurassic Park expansion for several years now, and with the news of a Jurassic Park 4 hitting theaters in 2015, those rumors are being accelerated. We'll have to wait and see what happens, but whatever is going on, you'll want to see Jurassic Park as it is now before it makes any change, then come back to see it afterwards.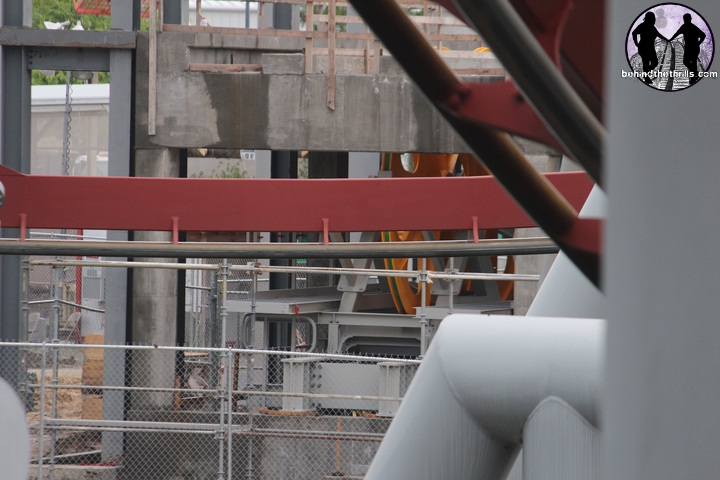 If that wasn't enough happening, work is coming along fast with the Hogsmeade side of the all new Wizarding World of Harry Potter expansion. The rumor is that the area right underneath Dragon's Challenge will become the station for The Hogwarts Express as it comes from Kings Cross Station at Universal Studios Florida, right next door. The new attraction will be more than just a train ride between two parks, but also a ride with several interactive elements.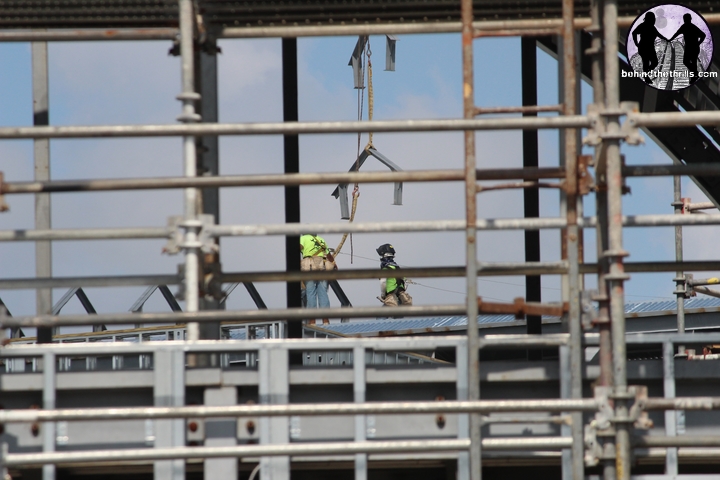 Meanwhile more work is being done to Diagon Alley, which will be the home to several new experiences at Universal Studios Florida, when the attraction opens in 2014. The area will feature a Gringott's Bank coaster, and several all new shopping and dining experiences, including a much larger Ollivander's Wand shop! While no defined time has been set, the most likely opening date will be a late spring, early summer. Universal is stepping up for the future with tons of great new attractions, and experiences. Recently the park opened the amazing new Springfield- Fast Food Boulevard, which features unique dining choices. Also this summer the huge new Transformers:The Ride 3D opened to rave reviews. Universal is continuing next year with The Wizarding World of Harry Potter-Diagon Alley!
Check out more pictures from Universal Orlando:
Universal Orlando hasn't made any official announcements on the opening of Springfield, however with the amazing progress the area is making, we wouldn't be surprised to see soft openings starting sometime very soon.
So much more is happening within the next several months at Universal, including an all new Halloween Horror Nights!
Stay tuned with us for all the latest happenings at Universal by following us on Facebook!
For more information about Universal Orlando, including tickets, visit the official website by clicking here!