One project that we are REALLY looking forward to – that many of you may not have heard of is NewStarship.com's restoration of the Enterprise 1701-D Bridge as seen in Star Trek: The Next Generation over its 7 year run. But this isn't just your typical restoration…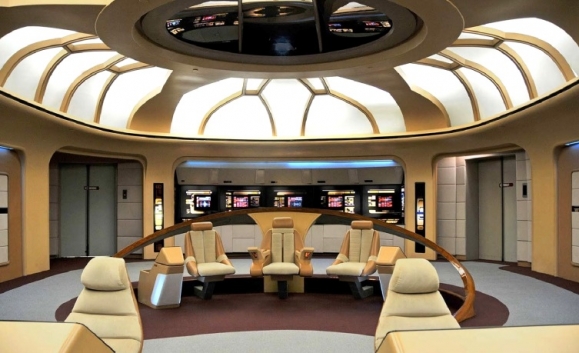 This isn't just your typical restoration. It's being converted into a fully interactive themed sci-fi experience. With the hopes of becoming a destination for all aspiring scientists and dreamers. In the weeks coming SDCC, The NewStarship.com had this to say…
New Starship Foundation will unveil the latest additions to its "Star Trek Enterprise-D Bridge Restoration & Sci-Fi Museum" at Comic-Con International: San Diego 2013.  The exhibit will be the Foundation's largest display of the set, which is a full-scale recreation of the interior of the USS Enterprise from the television series, Star Trek: The Next Generation (http://www.newstarship.com).
For those who are familiar with the iconic wood and khaki interior of the Enterprise 1701-D will be immediately brought back to the future when they enter the upcoming exhibit that will partially make its debut at Comic-Con this year.
New Starship Foundation's exhibit, which appears at the San Diego Convention Center Located at Booth 3921, from July 17-21, 2013, provides Trekkies with their first opportunity to see the organization's fully-restored Captain's chair from Enterprise-D.  The Foundation will grant special access to members of the media and celebrities wishing to use chairs, computers and other props from the bridge set for interviews, on-camera segments and photo opportunities.  This latest prop is a Paramount built replica chair famously used by Patrick Stewart, who played Captain Jean-Luc Picard, commanding officer of the USS Enterprise-D, during the entire seven-season run of the show.  Picard's chair joins an already robust collection of restored Paramount props from Star Trek: TNG, including chairs & computers used by Commander William Riker and counselor Deanna Troi (played by Jonathan Frakes and Marina Sirtis, respectively).  Fans of the series will be able to photograph themselves sitting in all three chairs, as well as interacting with several parts of the Enterprise-D bridge set.  "We're really excited to bring die-hard fans this chance to interact with fully-functioning, life-sized pieces of the Enterprise NCC-1701-D," says New Starship Foundation CEO Huston Huddleston.  "Everyone working on the Enterprise-D Bridge Restoration is a lifelong Trekkie, so we can't wait to share the joy and hard work that's gone into restoring the greatest ship of the Federation Starfleet."
But this isn't just a simple restoration. It's much more than that. All of those beautiful touch panels, and interactive displays seen in the early 90's that only seemed like science fiction back then will be included in this  new experience and they'll be completely functional and completely interactive. Doing this creates a one of a kind environment where tourists, children, students and folks of all ages can learn while living the ultimate Star Trek fantasy.
Unfortunately the Star Trek bridge will not be open until early 2014, however there are multiple ways that you can track the current progress of this ambitious project.
On Saturday, July 20, New Starship Foundation will host a panel featuring several members of the Star Trek universe.  Taking place at 5:30 p.m. in San Diego Convention Center Room 26AB, the panel will discuss all things Star Trek, as well as the New Starship Foundation's plans to take the Enterprise­-D Bridge Restoration on tour to several cities across the United States and internationally.  The group will also reveal details regarding the Foundation's plan to create a permanent Hollywood Sci-Fi Museum.  Among the list of confirmed panelists are screenwriter & novelist David Gerrold; author Larry Nemecek and makeup artist, illustrator & visual effects artist Doug Drexler.  Several surprise guests will also join the panel, making it an unforgettable experience for all Trekkies in attendance.
For more information, please visit New Starship Foundation online, at http://www.newstarship.com/.
We'll be covering the all new bridge restoration as well as photographing the display up close. So be sure to stay tuned and follow us on twitter @BehindThrills