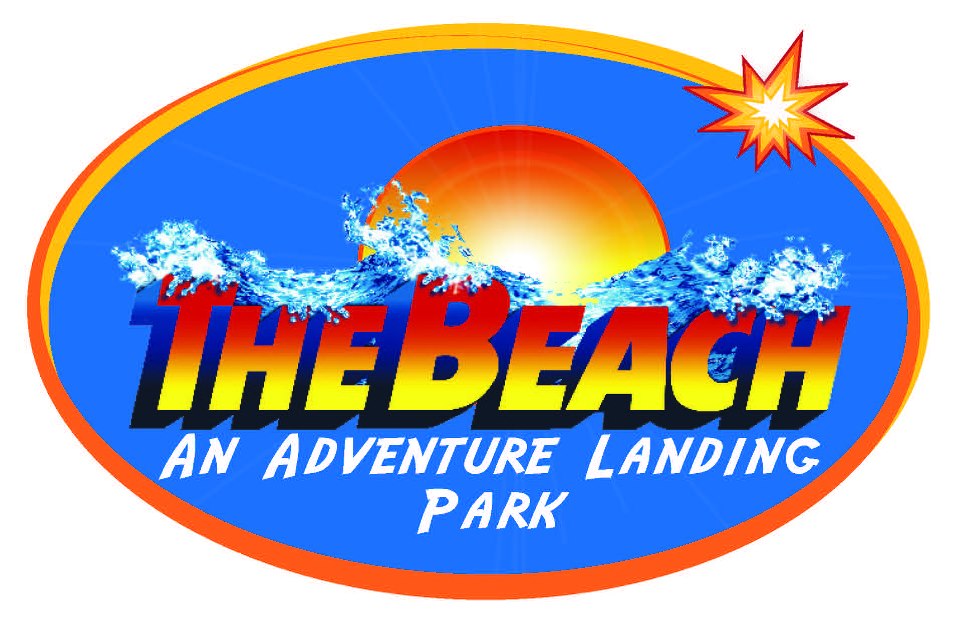 After taking a year off, The Beach waterpark in Mason, Ohio has reopened under new ownership offering lots of new thrills and spills for 2013!
Situated on 35 acres with 2,600 tons of white sand, 175 real palm trees, and 2.5 million gallons of clear blue water, the renovated waterpark sets the scene for a lush, tropical, island adventure.. IN OHIO! The Beach offers over 50 amazing slides and attractions!

Photos by Aly Schipani
Do you have the need for speed? The Beach offers several top speed thrills including the Banzai Blast, an 85-foot triple drop slide, The Cliff, a five-story free fall body flume with three seconds of pure air, and Big Kahuna, the Midwest's only water coaster. If you're not into all the high energy thrills then you can also enjoy your day floating 1,200 feet around the park on the Kokomo Lazy River or lounging at Paradise Cove, an oversized spa pool heated to 80 degrees and surrounded by live palm trees, rock work, and cascading waterfalls! It's the ultimate way to experience paradise in Ohio!

Photos by Aly Schipani
The Beach was awarded the best privately owned water park by Aquatics International Magazine in 2010. Then, after the 2011 season, "The Beach" unexpectedly closed after the managers decided they couldn't justify further investments. The park closed its doors and did not open in 2012. Now, in 2013, The Beach is under new management called Adventure Holdings, LLC. Florida based Adventure Holdings, owns and operates 18 family entertainment centers across the country!
Adventure Holdings, LLC has made about $5 million dollars in renovations for the new 2013 season. There are so many fun things to see and do at the ALL NEW BEACH WATERPARK! They upgraded the heated wave pool using the latest and greatest technologies, added an interactive children's play area called "Big Creek Beach", renovated common areas, added a new "High Tide Hoops" water basketball area, created a brand new arcade, and re-coated the water slides to provide faster, smoother rides.

Photos by Aly Schipani
General manager Ralph Vilardo Jr. toured us through the $5 million in upgrades to the park. Ralph shared with us that not only is the park renovated, there were new events and activities added, AND admission prices are lower, making the prices comparable to the costs two years ago.
"The wave pool is one of the biggest changes you will see," Vilardo said. "We went with the latest, greatest technology, which gives you real ocean crashing waves that are consistent throughout the day. The interactive kid's area is second to none and we also took the existing slides, re-coated, re-designed some, and improved them."

Photos by Aly Schipani
Check out our video below to take a full tour of the newly renovated BEACH!
Aside from all of the new renovations, the park has added some fun activities on select days. On Sundays, guests can relax at Dive-in-Movies, or enjoy a refreshing cocktail with authentic live island music for Reggae Sunday's on the Sunset Beach stage.
For those that love to dance, guests can dance their night away at the new Club Splash – Teen Night Club! The dance club features music by DJ Toad every Tuesday in the waterpark's Paradise Cove from 9 p.m. to 11:30 p.m. (doors open at 8:30 p.m.) Admission is $10 and the event runs through Aug. 13, 2013.
Also new for 2013, The Beach is adding five regulation-size sand volleyball courts with combined stadium seating for 2,500 spectators. The Beach signed a three-year contract with the National Volleyball League to host its Midwest Championships and Junior Festival. The agreement marks the first multi-year contract the NVL has signed with a venue.
National Volleyball League CEO and founder, Albert "AL-B" Hanneman said:
"The Los Angeles-based organization selected "The Beach" due to its location and amenities. The Ohio Valley Region of USA Volleyball boasts more than 20,000 junior volleyball members, making it the largest region for junior volleyball."
The tournaments, which take place July 19-21 this year, are expected to bring thousands of nationally-recognized beach volleyball players and fans to the area. Ticketholders can watch preliminary matches at no charge; there's an extra $10 fee to watch final matches. Volleyball-only tickets will also be available for purchase.
The courts will be available for use by guests at no additional charge on non-game days. The park will also host league play five nights a week, with an OVR junior elite league playing Monday through Thursday and a recreational co-ed league on Friday nights.
Additionally, The Beach offers some great upcoming events to look forward to. July 4th is Military Appreciation Day. All active and retired military receive a FREE Waterpark Pass and all military family members receive $5 OFF each waterpark pass! All military must show their valid ID.

Photos by Aly Schipani
Also on July 4th, the park is having an All American Grill-Out! Guests can enjoy an unlimited buffet of Hot Dogs, Hamburgers, Potato Salad, Baked Beans, Chips, and Soft Drinks. The buffet is only $10.99 for adults and $7.99 for children!

If you're looking for a VIP experience, a private cabana rental is always a great idea for a special family vacation or for corporations to show client appreciation!
The Beach, an Adventure Landing Park is OPEN daily thru September 7th offering swimming lessons, birthday parties, group rates and seasonal discounts. Since the park closed unexpected last year, The Beach is honoring 2012 season passes for 2013.
For discounts, special promos, and instant updates on all the park happenings, sign up to the Beach Club here!
For tickets and more information please visit the official Beach Waterpark website here!