They'll swallow your soul! Universal Studios Orlando and Hollywood have done the unthinkable. They both read from the book, and terrible things are about to happen this September as Halloween Horror Nights in both Hollywood and Orlando will bring the terror from the big screen and unleash it on guests. Is your soul prepared? Are you ready to experience one of the most gut wrenching and gory experiences to be set on screen this year? Some things are better left unsaid, and others left undone.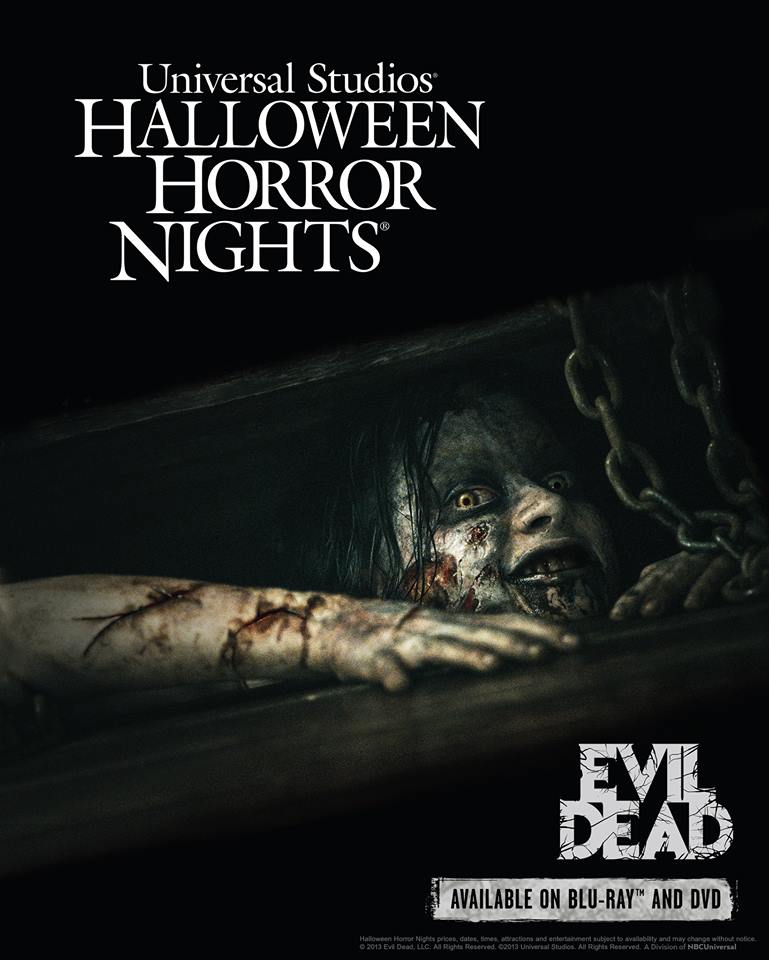 It's been coming, it's been in the woods…and now it's in here right now.
John Murdy mentioned via Twitter a few weeks ago that the first house for Halloween Horror Nights Hollywood that he "expects the first maze release will be this week". That was tweeted on July 8th, exactly a week ago. Today, Universal Orlando and Hollywood both started teasing the same photos:
Yet again, at Midnight (Eastern Time anyway) Universal has unleashed a horror upon the world. Evil Dead will be coming to both Universal Studios Orlando and Hollywood for this year's Halloween Horror Nights! The 2013 remake/reboot, whatever you want to call it, was as unforgiving and relentless as the original, and featured buckets and buckets of blood. This year the buckets of blood are coming to life in a new way, and it's bound to get a little messy.
The news of the house comes on the eve of the release of The Evil Dead on DVD and Blu Ray. Those lucky enough to snag a copy will see an insert promoting a huge contest to win a trip to either Orlando or Hollywood to bring Evil Dead to life!
"The Evil Dead series is iconic, and this latest film has set the scare factor to 11," said Michael Aiello from Universal Orlando's Entertainment team. "These haunted mazes will be just as intense and unapologetically terrifying, and I can't wait for my fellow horror fans to venture inside and live the unyielding horror they've seen in the film." 
The 2013 version of the film is one of the most viscerally brutal and gory pieces of film to ever exist. The film follows a group of friends into a cabin…in the woods, to a getaway that is supposed to help recovering drug addict, Mia get clean. Things go, naturally, horribly wrong as the spirits in the woods and around the cabin use Mia to carry out their sinister plans once the group finds a book bound in human skin. While the original film is an icon in horror, the new film carries it's own weight and has scenes those with weaker constitutions may not be able to handle. We're talking things like raining blood, dead cats, needles in eyes…and of course, tree rape.
"I'm thrilled with how popular 'Evil Dead' has become with horror fans, and it's exciting that it's coming to life at Universal's Halloween Horror Nights," said Fede Alvarez, director of this year's "Evil Dead" film. "Just like the film, this haunted maze is going to be over-the-top, in-your-face and completely outrageous – and I can't wait to see it."
If the house is half as brutal and disturbing as the film, horror nuts are in for a real treat. It's all about the demons, and the blood. Of course, if you're expecting Bruce Campbell, a boomstick and some She-bitches…you are going to be a little disappointed. This version will be based solely on the 2013 version, directed by Fede Alvarez, and not the Sam Raimi versions.
"Watching 'Evil Dead's unrelenting horror unfold in movie theatres was undoubtedly an unnerving experience, but with Halloween Horror Nights, we're taking it one step further," said John Murdy, Creative Director for Universal Studios Hollywood.  "Fans of 'Evil Dead' will feel like they've left the safety of the theatre and stepped through the screen into a living horror movie where the film's demonic characters are coming for them.  Our incredibly immersive and highly disturbing maze experience will come to life with the same attention to detail and production value of the film and will be the ultimate thrill for horror movie fans."
However, it's going to be a groovy time either way. This is the 2nd house announced for Orlando, and the 1st announced for Hollywood.
For more information about Halloween Horror Nights Hollywood, visit the official website by clicking here!
For more information about the Evil that has taken Root at Universal Studios Orlando, visit their official site by clicking here!