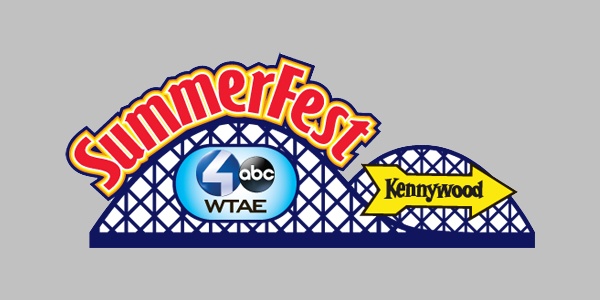 Kennywood – Pittsburgh, PA
Celebrate summer with WTAE's annual family fun event, Summerfest, at Kennywood Park! Friday, July 26 at 7:30pm is the WTAE TV Kennywood Summerfest parade! Come see your favorite news, weather and sports personalities from WTAE TV Pittsburgh. Thrilling rides, local entertainment, free contests and prizes will be held all week long!
During Summerfest ONLY, SAVE $10 per person on 4 different admission categories with a special Summerfest coupon from Giant Eagle. All week long, (including Saturday and Sunday) Seniors 55 and over pay only $9.99 with a coupon from Giant Eagle. This is the only time during the summer that a $10 weekend discount is available at Kennywood!
FREE Daily Contests
Registration begins one hour prior to event start at the WTAE TV Summerfest Registration Tent across from the Racer. Pre-registration is required for all the events. Prizes will be awarded!
1 p.m. Paddleboat Races ——- All Ages Lagoon
2 p.m. Skeeball Competition ——–All Ages Arcade
3 p.m. Basketball Challenge ——–Ages 12+ Around the World
4p.m. Frozen T-Shirt Competition ——–Ages 12 + Summerfest Tent
5 p.m. Scatterball ——–All Ages Summerfest Tent
Additional FREE Games at the WTAE TV Summerfest Tent
Wacky Wire
Lollipop Game – $1 donation to benefit Project Bundle Up at WTAE TV Tent
Summerfest Weekly Schedule of FREE Entertainment on the Kennyville Stage
Saturday July 20
2 p.m. East End Kids performing a high-energy & entertaining show entitled "Marvelous Movie Musicals"
5 p.m. The Chiodi Trio (Musicians)
Sunday July 21
12:30 p.m. Lorraine Busch Dance Centre
2 p.m. The Legacy All Stars (Dancers)
3:30p.m. Lorraine Busch Dance Centre (Dancers)
5 p.m. Hampton Jam Band (Musicians)
Monday, July 22
Tuesday, July 23
1 p.m. Chelsea Waldo (Musician)
Wednesday, July 24
2 p.m. Mascot Party: Meet your favorite local mascots at the WTAE TV tent from 1-4pm or on see them together on the Kennyville stage during the Mascot Party at 2 p.m. on Wednesday, July 24.
Meet these Pittsburghers:
Steely McBeam from The Pittsburgh Steelers
Browny The Burger from the Allegheny County Health Department
Tinsel from the Arthritis Foundation
Kenny Kangaroo
Colonial from Robert Morris University
Polar Bear and Sharkey from the Pittsburgh Zoo
Smiley from Eat n Park
The Curly Fries Guys from Arbys
Plus more!!
Thursday July 25
1 p.m. Penn Hills Cheerleaders
5 p.m. Penn Hills Cheerleaders
Friday July 26
1 p.m. M&M Dance Academy
2 p.m. Elite Dance by Damian
3 p.m. Pittsburgh Dance Center
5 p.m. Pittsburgh Dance Center
6 p.m. Sandra Lynn's School of Dance
7:30p.m. WTAE-TV Summerfest Parade
WTAE Team & Alumni who will be in the this year's WTAE Summerfest Parade on Friday, July 26:
Wendy Bell
Matt Belanger
Marcie Cipriani
Joe DeNardo
Ashley Dougherty
Janelle Hall
Mike Harvey
Ashlie Hardway
Demetrius Ivory
Adam Lynch
Bob Mayo
Paul Van Osdol
Ray Petelin
Shannon Perrine
Andrew Stockey
Sally Wiggin
Kennywood Highlights:

Add Kennywood's Summerfest event on facebook (here)
Kennywood 
4800 Kennywood Blvd.
West Mifflin, PA 15122
PHONE: 412-461.0500
For more on Kennywood and Summerfest, Visit the official Kennywood website here.