Dollywood has been making a mark on family vacations over the past few years with large expansions, new attractions and one of a kind shows. On August 21st Dollywood in Pigeon Forge, Tennessee is looking to change your vacation once again as they hint at becoming a major Destination. What exactly are they hinting? It depends on who you ask, but in 2014 there will be just one destination in Tennessee-Destination Dollywood.
On August 21st Dolly herself will make an announcent that will change  the park and take Dollywood into a bold new direction. But what exactly will that direction be?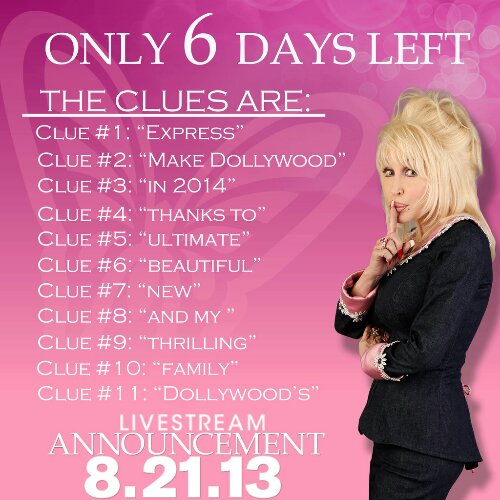 The official Dollywood Facebook page has been dropping hints for a while now, with each clue scrambling together to make the official announcement.
So exactly what is the big announcement? The rumors have been swirling and they all point to the same thing. An all new family coaster for 2014 called Firechaser Express. The coaster will be prepped on the site of Adventure Mountain.  The other big rumor is that Dollywood plans to have it's very own onsite resort ready for guests in 2014.
*Update
Today's Dollywood word of the day confirms a coaster.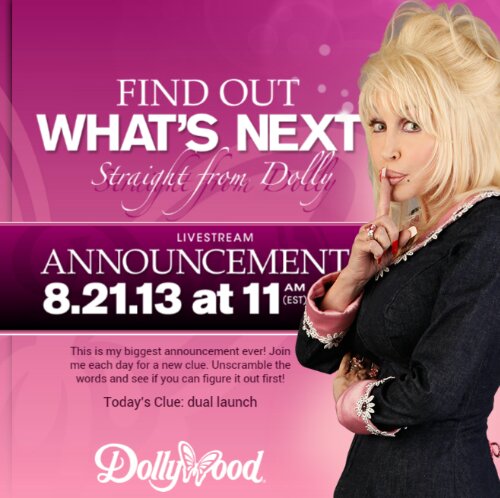 The park will be getting a family Dual Launch coaster for 2014 named Firechaser Express. All other details will be released Thursday.
These are just rumors at the moment, and until the park officially announces it, they are just rumors.
If you don't plan on being in the park there will be a live broadcast online August 21st at 11 a.m. that you can view by clicking here!
This is just the tip of the expansion plans that are rumored for Dollywood and the company.
For more information about Dollywood including tickets, visit the official website by clicking here!