Guests visiting Universal Studios Hollywood can now have the full Hollywood experience. Popular celebrity-gossip television show 'Extra!' starring Mario Lopez and Maria Menounos is calling Universal Studios its home during their prestigious 20th season. It will utilize various locations throughout the park as well as Universal's CityWalk entertainment district.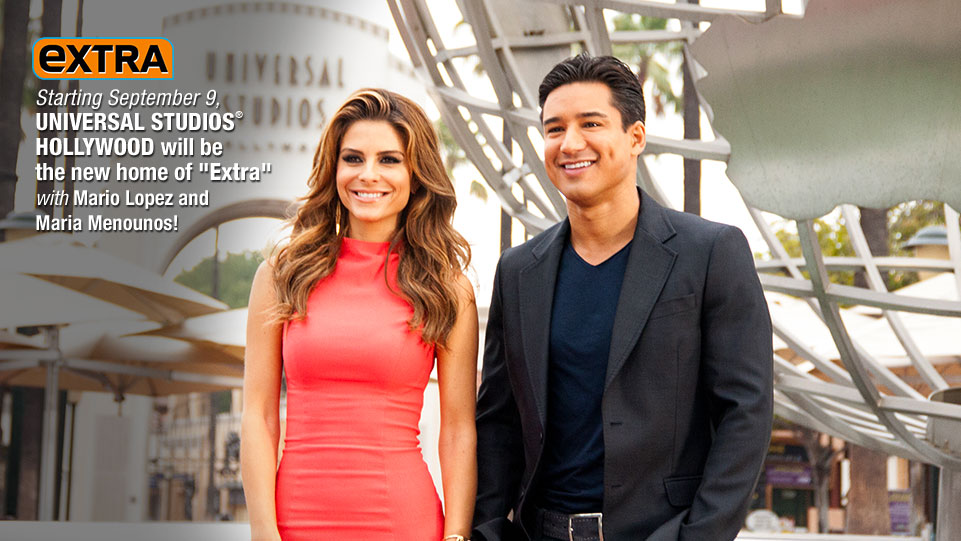 "Extra" will have live productions on weekdays, Mon – Fri from 10am to 4pm live from inside the Theme Park and include A-List celebrity appearances. Currently Hugh Jackman, Vin Diesel, Eva Longoria, Jack Black, Sofia Vegara and Ariana Grande are expected to make appearances in the park during the month of September. The move is also being ticketed as an attraction, which will allow guests a chance to witness a live Hollywood production right in the middle of the park. Guests can also choose to be a part of the show as Extra's "Friends with Benefits" segment (which featured celebrity quizzes and live giveaways) will be expanded due to having more foot traffic inside the park than it's previous location at The Grove in LA.
"Extra's" Senior Executive Producer, Lisa Gregorisch-Dempsey was quoted saying, "We are thrilled to partner with Universal Studios Hollywood which symbolizes everything 'Extra' is about. It's a place people go to be a part of the Hollywood experience and that's what we do on 'Extra,' we give our audience a chance to mingle with celebrities and be part of a daily event."
"As the Entertainment Capital of LA, our goal is to deliver first-class entertainment that brings the world of Hollywood movie making magic within arm's reach of our guests," said Larry Kurzweil, President of Universal Studios Hollywood and CityWalk." As the broadcast headquarters for this very exciting venture with 'Extra,' we are thrilled about the unimaginable opportunities that our guests will have when they visit us and know there's a chance they too can 'rub elbows' with Hollywood's A-List."
As we've mentioned time and time again, it's a very exciting time to be a fan of Universal Studios Hollywood. It's currently going through a major revolution and we cannot wait to see the end result.
Extra begins taping September 8, 2013.
Be sure to follow us on twitter @BehindThrills and ticketing information for Universal Studios Hollywood can be found here.