The Simpsons made it's debut back in 1989. Since it's debut, it has aired more than 500 episodes within it's total of 24 seasons.. so far. That makes it the longest-running American sitcom and longest-running American animated series. In 2008, Universal Orlando debuted The Simpsons Ride, which was a big hit with guests. So big that Universal Orlando has built an entire area themed around The Simpsons. Earlier this year, Universal Orlando expanded the realm of the Simpsons even further from the TV screen to reality. In June, Universal opened the first half of their Springfield expansion known as "Fast Food Boulevard". Much of the rest of Springfield was still under construction until just a few weeks ago, however the area is now fully completed and will immerse you right into the world of The Simpsons.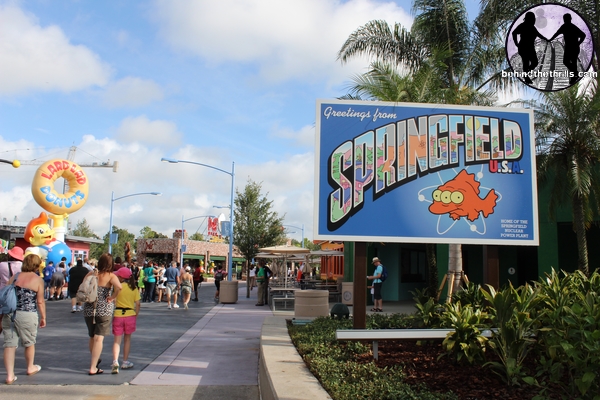 Mike West, the executive producer of Universal Creative Studio took us on a short walk-through this morning of everything that Springfield has to offer:
The last piece of Springfield is finally complete and officially open! From the food and beverages to Kang & Kodos' Twirl 'n' Hurl, Springfield is an experience for the entire family. Some of the new experiences include Kang & Kodos, photo opportunities, new foods, and a brand new gift shop.
Kang & Kodos' Twirl 'n' Hurl: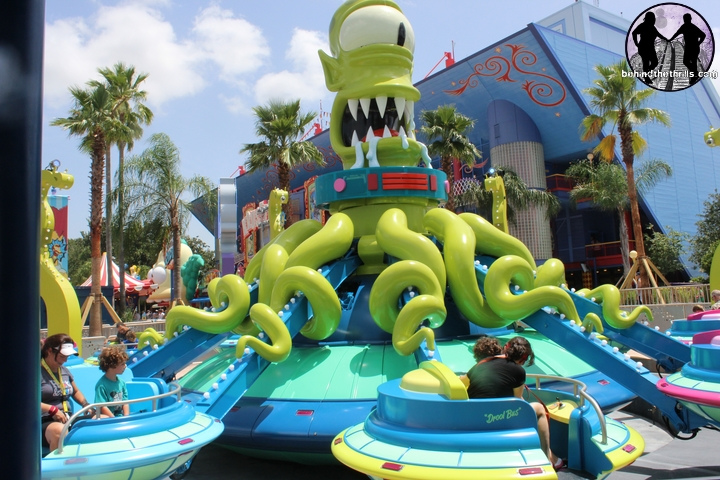 Kang & Kodos is a comical take on a typical theme park ride. The ride itself is similar to One Fish Two Fish over at Islands of Adventure, however it has a feel to it that I've never felt with any other theme park attraction. The hilarity behind the attraction will not only bring a smile to your face, but it will make you want to ride it again and again.
Kang & Kodos is an interactive ride with different targets you can hit during the ride. The targets are actually different Simpsons characters and the whole goal is to turn on your own kind and enslave Springfield. To enslave Springfield, you have to hit the various targets throughout the course of the ride. When you hit them, they will spin and some of them may even hurl insults at you.
Duff Gardens: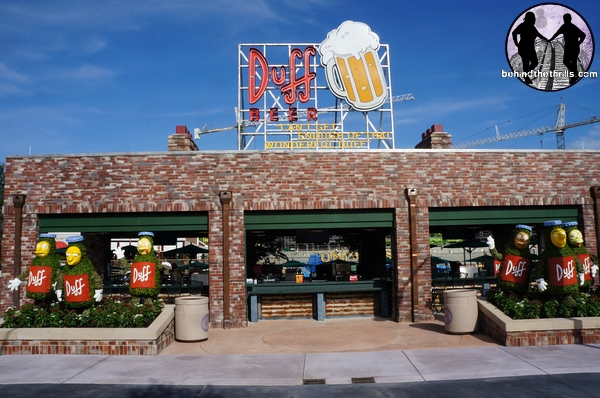 Duff Gardens is a pretty popular place with guests! Guests can order a Squishee or a Duff Beer. From here, guests can head down to the lagoon or sit around the bar and enjoy their drinks. Duff Gardens is more than just a walk-up beverage stand though. It also has a gift shop incorporated into it as well where you can purchase Simpsons merchandise.
Merchandise offerings include lanyards, shirts, iPhone cases, and more. The selection offered within the gift shop is actually fairly large and the selection is extremely fun to look at.
Lardlad Donuts: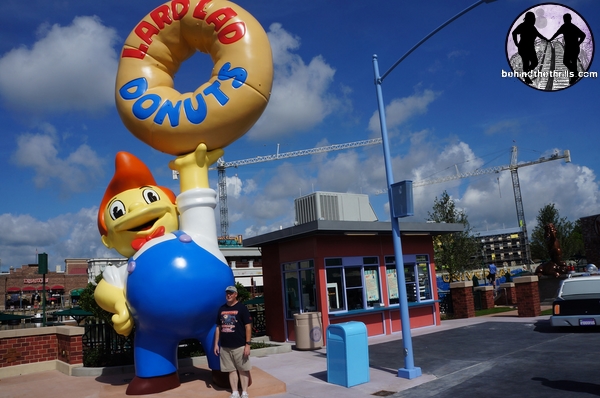 Lardlad Donuts doesn't just offer donuts! A donut shop wouldn't be complete without donuts, but they also offer other items like Apple Fritters and Ice Cream Sundaes. One of the menu items I look forward to trying next time I visit is the Brain Freezin' D'oh Nut Sundae, which is a pink frosted donut topped with chocolate or vanilla ice cream plus a choice of one topping. Doesn't that sound delicious!?
Bumblee Man's Taco Truck: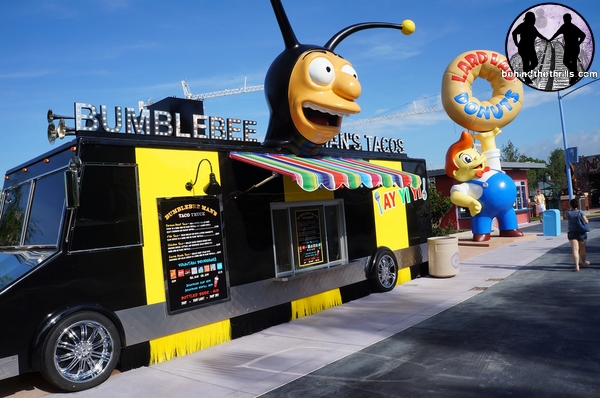 Universal Orlando has brought the Food Truck Frenzy right into Universal Studios Florida with a Food Truck themed to Bumbleebee Man! Bumblebee Man's Taco Truck offers four different types of tacos: Korean Beef, Fish, Chicken, and Carne Asada tacos. You can also purchase Duff Beer here as well.
Photo opportunities: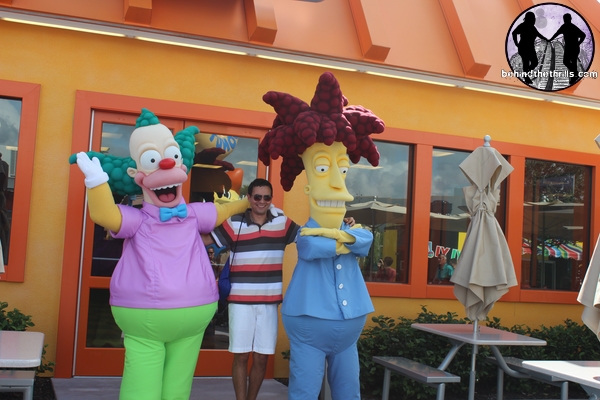 Springfield is filled with photo opportunities, so you'll want to make sure that you don't forget your camera when you visit Universal Studios. Most of the new photo opportunities are stationary characters, however Universal Orlando also has walk-around Simpson characters that you can get your photo with during different times of the day, like Bart, Homer, Marge, and Lisa. Universal Orlando has added two brand new walk-around Simpson characters: Krusty the Clown and Sideshow Bob!
New stationary photo opportunities include:
Lardlard
Cheif Wiggum
Milhouse drinking a Squishee
Duff Man
The 7 little Duffs
Jebidiah Springfield
Barney inside Moe's Tavern
Fast Food Boulevard:
Fast Food Boulevard opened earlier this summer as the first phase of Springfield to open. It features Krusty Burger, Moe's Tavern, Cletus' Chicken Shack, Lisa's Teahouse of Horror, Luigi's, and The Frying Dutchman. Springfield is no ordinary place to grab a bite to eat though! All of the food that you will encounter within Springfield – from the Krusty Burgers to the Giant Pink Donuts – were all completely created based on the TV series. With the addition of Springfield came 28 brand new menu items that you can only get in Springfield.
We interviewed Steve Jayson, the Corporate Executive Chef for Universal Orlando Resort and talked a little bit about some of the delicious food offerings.
---
The Simpsons area as a whole is a wonderful addition to Universal Orlando. Universal took an extremely popular TV series and turned it into a highly themed reality that will make you feel like you're walking through the streets of Springfield.
Universal Orlando may also be bringing a special dining experience to the waterfront of Springfield, located along the lagoon of Universal Studios. During a construction tour back in June, Mike West mentioned a special dining experience. Although nothing official has been announced yet, Mike West told us today that a special dining experience is still a possibility, but as of yet, there is no dining experience available.
For more information about Universal Orlando, visit the official website by clicking here.
Get social with us!
Follow us on Twitter @BehindThrills and like us on Facebook @BehindThrills.
Need to get tickets? Click the banner below to get your tickets today!