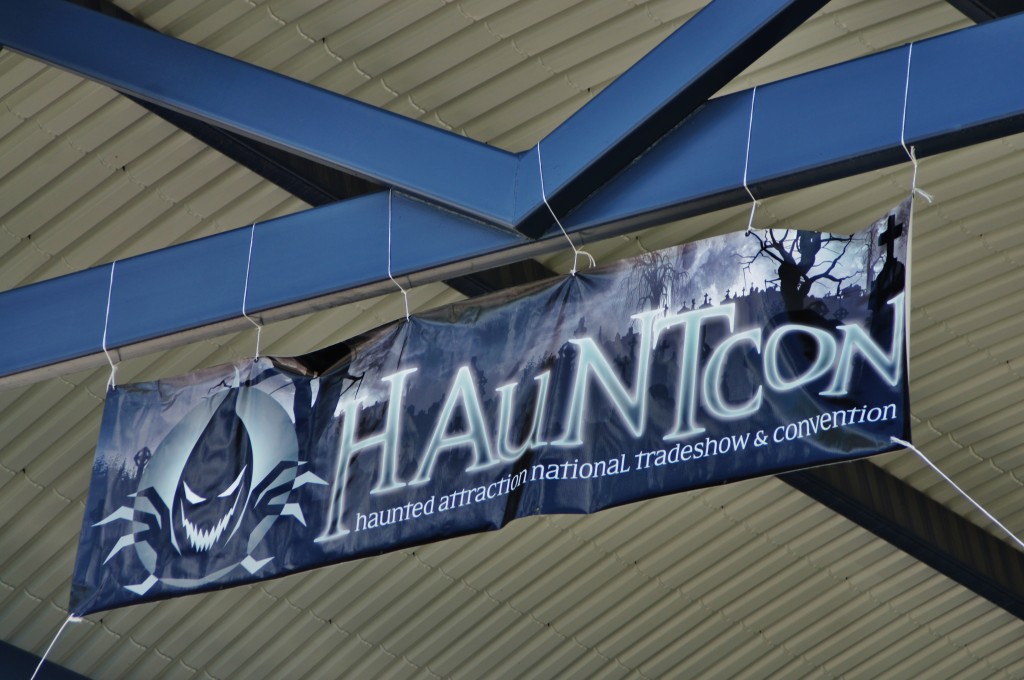 The haunt industry has been waiting patiently for this news! Behind The Thrills is proud to announce that HAuNTcon 2014 will take place in HOUSTON, TEXAS from JANUARY 25-27 at the George Brown Convention Center in conjunction with the Halloween and Party Show! This is the first time in over FIVE years that the H&P Show has teamed up with a haunt convention! There are some big changes that will happen as the show will not only switch to a new month, but also new days of the week!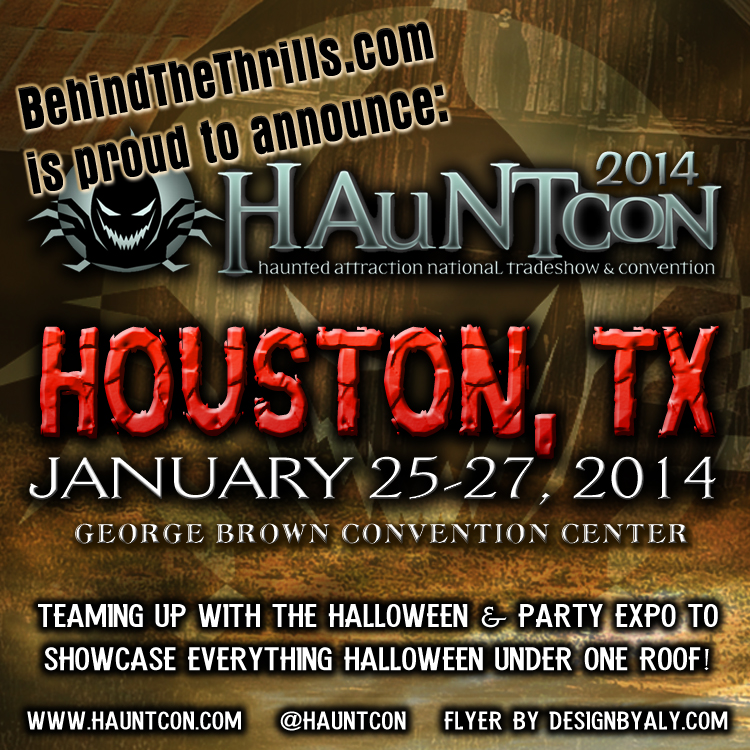 Although HAuNTcon has not officially announced this yet, here is what we know so far:
HAuNTcon stays on the cutting edge of what attendees want to see in the perfect Haunter Show. If you didn't attend last year's HAuNTcon in Dallas, TX, you missed a GREAT show! The good news is that HAuNTcon has bigger and better plans for 2014, so prepare to book your hotel and plane tickets!
After the exceptional reviews complimenting what a great show HAuNTcon already is, HAuNTcon board members took critics' suggestions to heart and made changes accordingly. The most noticeable change about HAuNTcon 2014 is that the show will now take place in the month of January. To accommodate the new venue, all activities will be pushed forward one day except the Costume Ball, which will remain Saturday night.
For now, the Hearse Rally and HAuNTcon Garage Sale will continue to be on Sunday.
The Tradeshow and haunter education will start on Saturday morning and run through Monday afternoon.
The All Day Workshops move to Tuesday.
The pre-show haunt tour will be Thursday and Friday.
Spotlight haunt tours on Friday night, Sunday night, and Monday night.
Results from a recent survey revealed that education is the number one factor why haunters attend HAuNTcon. With over 50 hours of business seminars, creative sessions, demonstrations, and hands on workshops, education IS INCLUDED with paid admission to show. 2014 will be no exception. In fact, HAuNTcon is stepping up their education game for 2014! HAuNTcon has increased the level of knowledge to a point that attendees are asking for more. In 2014, "more" will materialize as more advanced classes, by more accomplished speakers. Furthermore, some presenters are outside of the haunt industry, which will bring fresh, cutting edge information to attendees. The 2014 education program will be finalized and posted by mid November to give attendees plenty of time to make plans to attend the show.

A few respondents did remark in a survey that they wished the HAuNTcon tradeshow was bigger and that more of the larger industry suppliers would attend the show. The HAuNTcon staff has taken drastic measures to make that happen. In 2014, for the first time, HAuNTcon will be in an actual convention center (George Brown Convention Center) in Houston, Texas! The show will be detached from the host hotel, so free shuttles will run between the hotel and show during the conference hours, and for the Costume Ball that will also be at the convention center.
The show will be together with the annual Halloween and Party Show TRIPLING THE TRADESHOW SIZE and increasing the caliber of exhibitors! These are bold moves that will take HAuNTcon to new heights and to shake up the industry.
Ticketing, hotel links, and exhibit registration has not been posted yet but we assume it will all be up within a few days.
If you are interested in speaking at HAuNTcon 2014, they are currently accepting submissions. Remember that the HAuNTcon staff is looking for advanced classes, and those will take priority. Go to the HAuNTcon SPEAKER FORM to submit your topic.
On a side note, we would like to point out HAuNTcon still has some of the Limited Edition Retro shirts available while supplies last! Click here to purchase yours today!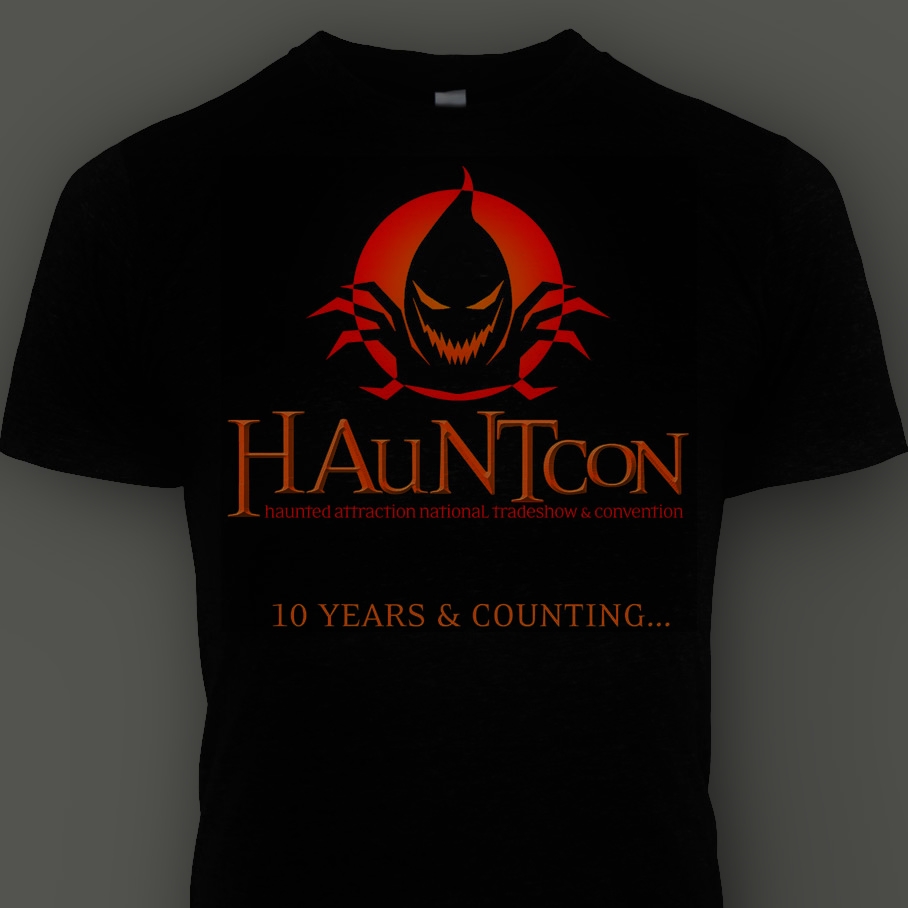 Although we have some insight on how things will take place, remember that nothing is official until it's announced by the HAuNTcon convention. Anything can change.. SEE YOU IN HOUSTON!
For more information on HAuNTcon please visit the official website at www.hauntcon.com
Follow the socials!
twitter: @hauntcon
facebook: facebook.com/hauntcon
BTT twitter: @BehindThrills