You didn't stick to the roads, you went into the moors. It's a full moon, and you didn't listen to a word I just told you did you. I'm sorry to be upsetting you, but I have to warn you. The next full moon will see something hideous coming to Halloween Horror Nights in Orlando. It has killed before, and will kill again until the blood line severed. Don't you understand what I'm telling you? An American Werewolf in London is coming to Halloween Horror Nights!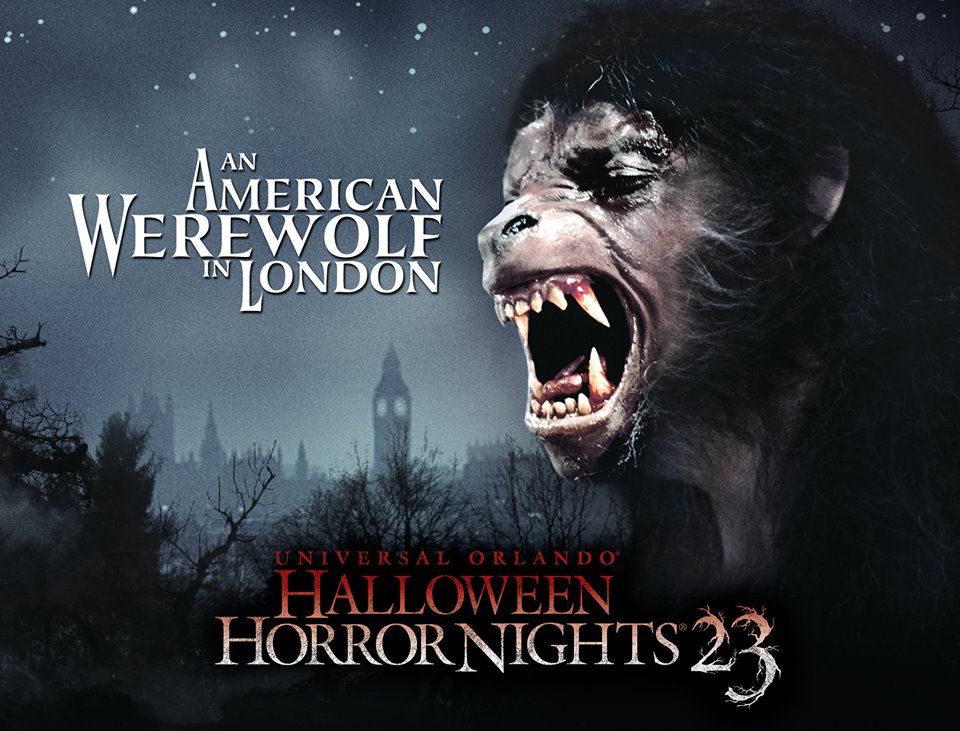 This year the 1981 classic film that changed horror make up forever, is coming to Universal's Halloween Horror Nights. The film told the story of David and his friend Jack, who were attacked on the English moors while hitchhiking across Europe. Jack died, but David wasn't so lucky. He was turned…well…into a werewolf.
The film used new technology at the time to make a really believable wolf transformation. It ranks up there with The Thing as far as grotesque goes.

This year fans will be face to face with the beast as they go against werewolf attacks. This isn't the first time that the streets of London, or werewolves have come to life at Universal's Halloween Horror Nights. In 2008, the park brought the streets of London to life with Body Collectors, in which they recreated grisly scenes from history. Then in 2009, The Wolfman was the subject of another house. This year they mix the two.
American Werewolf in London joins La Llorona, Afterlife:Vengeance, Havoc:Derailed, Cabin in the Woods, Evil Dead, and Walking Dead at this year's Halloween Horror Nights. With the inclusion of the John Landis classic, this house is sure to be the must see house of the year as the masterminds behind the event surely brainstormed with Landis to make sure that everything was just right.
From the official Twitter feed and Mike Aiello:
Any fan of this film is gonna live this one!! We've got it all! Slaughtered Lamb, Piccadilly, the theater! And an American Werewolf! It's many appearances in the maze are completely articulated puppets! These things are badass!! We went to the original audio source materials… We had to have it sound the same!!! The Howl!!! We even have Elmer Bernstein's score! The facade for this is the Slaughtered Lamb. Big as life!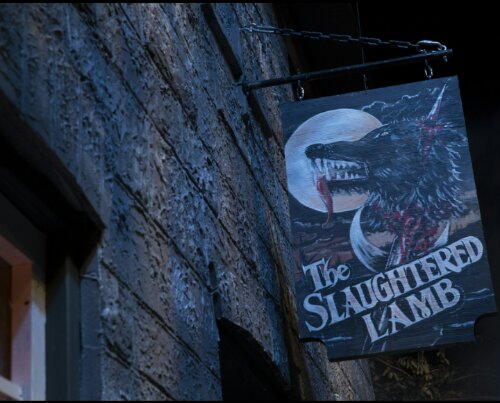 "It's terrific that guests will be able to actually experience some of the scarier scenes from the film," said John Landis, writer and director of "An American Werewolf in London." "I had fun working with the Universal team to bring one of my more insane movies to life."
"'An American Werewolf in London' is a must-see for any true horror fan," said Mike Aiello, Creative Director for Universal Orlando's Halloween Horror Nights. "The haunted maze mirrors John Landis' horrifying story and having him work with us in the creative process was really the only way this could authentically come to life."
This wraps up reveal week…but we're not done with the Horror Nights goodness yet! The fan sites are very quick to point out that 8 permits were filed. Also Mike Aiello left a lot of dots. While it may not mean anything to the rest of the world…this is horror nights! Everything has meaning! There are rumors of an eighth house, but if those rumors aren't true, then the line up this year is very solid with a good mix of movie based and original houses.
Follow along with us on Twitter @BehindThrills for all the latest HHN goodness!
For more information about Halloween Horror Nights in Orlando, visit the official website by clicking here!