Earlier this summer, Universal Orlando unveiled the all new Springfield area one piece at a time, beginning with Fast Food Boulevard. The second piece was the central park area of Springfield with it's citizens roaming around, and of course Duff Gardens and brewery. Now the final pieces has landed, and they are looking to take control of Springfield. And you're going to help! Kang and Kodos are here.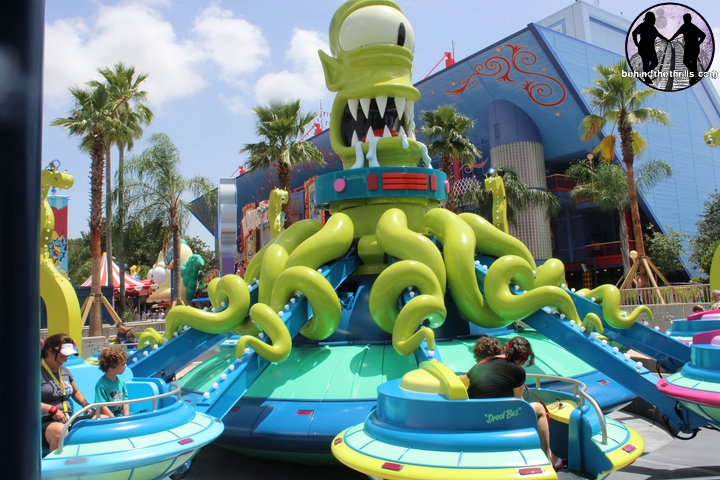 The Zamperla spinning flat ride, Kang&Kodos' Twirl N Hurl opened to guests, and like the rest of Springfield, is full of camp, humor and fun. The ride is very much like family favorites, "Dumbo" at Disney and One fish Two Fish at Islands of Adventure. The biggest difference is that unlike those rides, there is actually a goal….ENSLAVE SPRINGFIELD!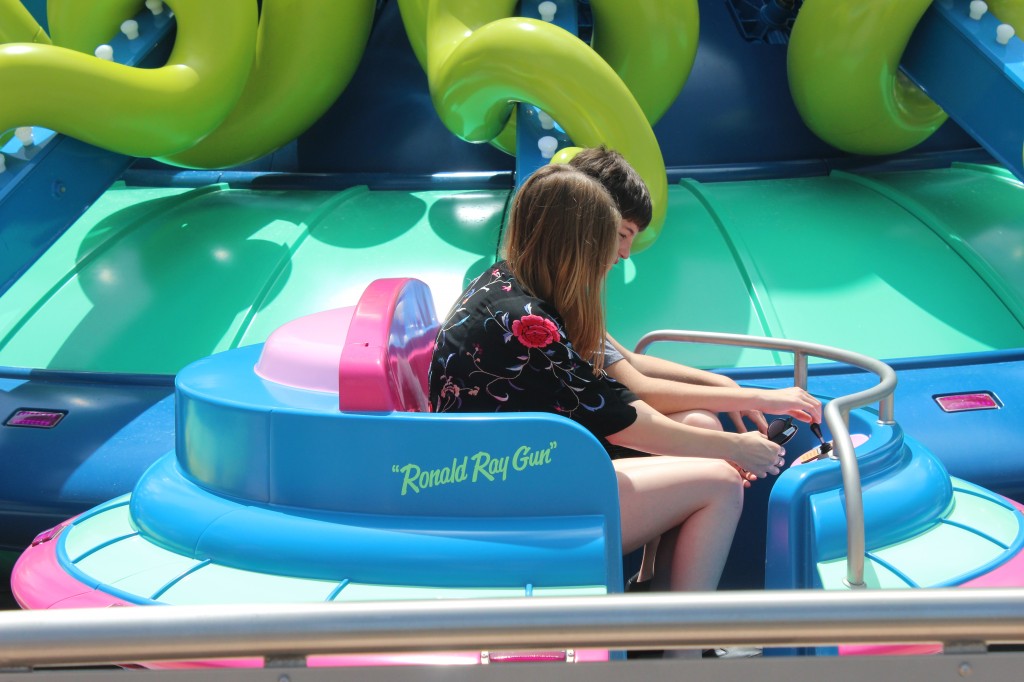 Guests enter through the gates after being greeted by one of the one eyed duo. The queue area is very simplistic, just a shaded area with TV screens. The TV's in Springfield each have something different, depending on the area. In Fast Food Boulevard you have a lot of clips about the food, in Moe's Tavern it naturally features Moe's Tavern. In Kang & Kodos, it's Treehouse of Horror. The alien duo both made their first appearance in the annual Halloween anthology Treehouse of Horror, and have become a staple ever since. The ride has a sense of humor, starting with the ships themselves. Each one has a different name such as "Ronald Ray Gun" and "Citizen Kang".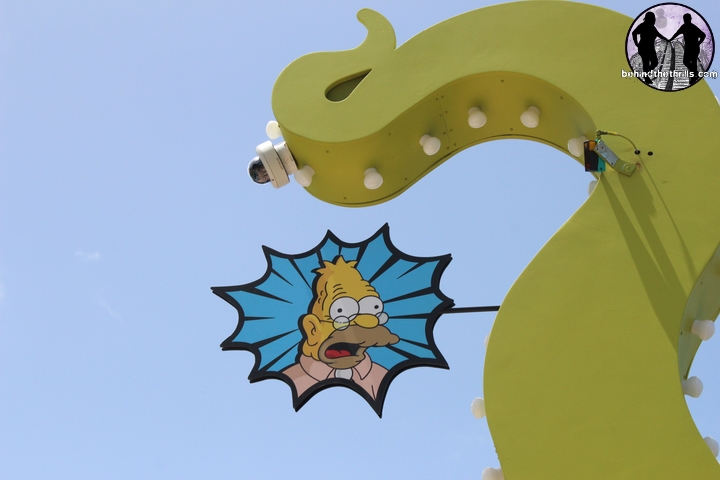 Once you board your ship, you are in control and must target the citizens of Springfield. It's a rather unique take on a simple ride. You simply pilot your ship up and down, and even with the different targets. If you hit them, you hear a response. The targets are triggered by infrared beams. You break the beams with your ship…it's so simple even Homer can do it.
The ride is perfect for families, and will feature an Express line. The bane of many of these types of rides are the wait time, with each ride like Dumbo taking seemingly forever to get off the ground. The seat belt system and the ride time on this attraction makes the ride load a lot faster than usual. Wait times never got over 30 minutes and the line constantly moved. If you're dreading the wait…you don't need to…it's pretty fast.
The ride is a very tongue in cheek fun attraction, and it doesn't take itself seriously at all. You shouldn't take it seriously either. It's not a major attraction, but it's the type of attraction that Universal majorly needs. The park does big rides amazingly, and they are great for the whole family. The gap is left, however, with not enough smaller rides that can be jumped quickly. Kodos and Kang is the change of that, as is Springfield. The area compliments The Simpsons ride perfectly, and brings everything to life in a very simple and fun way. Instead of being a hugely immersive ride, it immerses the existing ride into a world without ever leaving the path.
More pictures:

The Simpsons does perfectly what Disney has been trying to do for years, make something family friendly that the ENTIRE family can really enjoy in a completely immersive way. Universal is making the right decisions in bringing the properties to life entirely, and not just in a ride and gift shop form. Let's hope this trend continues and we see even more immersive storytelling through things like simple flat rides, food and even drinks!
Be sure to follow along with us on Twitter @BehindThrills for more theme park fun!
For more information about Springfield at Universal Orlando, visit the official website by clicking here!