After a long day of exploring Hogwarts with Harry Potter or fighting the Decepticons on the Transformers Ride at Universal, you will need a place to stay. Universal currently has 3 hotels on site for guests to stay at (with another opening up next year).The most luxurious hotel on property, however,  is hands down the Loews Portofino Bay Hotel. It takes the idea of La Dolce Vita (the sweet life) and brings it to a whole new level at Universal Orlando.
Themed to a real life Italian village, the hotel had help in being brought to life by legendary film director Steven Spielberg. When he was asked what the theme to a hotel should be, he suggested of one of his favorite vacation destinations-Portofino Italy. The people at Loews ran with it and recreated the Mediterranean fishing town, almost to a tee. The hotel  has many amenities and benefits perfect for couples and kids, and makes for a perfect get away after a long day of battling giant robots, and dinosaurs.
One of the biggest advantages to staying on property at Universal is early park admission to Islands of Adventure and a Unviersal Express pass, which allows park goers to skip the lines (which the wait times with the new Transformers Ride and the Wizarding World of Harry Potter is completely worth it). It also has  a free water taxi that drops off at Citywalk near Universal to help save time. If you don't feel like waiting for the water taxi, the parks are a short five minute walk away from the hotel.
This hotel is very romantic with many activities and events for couples. Each night (with weather permitting), there are opera performances on the Harbor Piazza. Portofino also boasts a  wine tasting and jazz event called Harbor Nights. Harbor Nights gives guests the chance to sample many different wines, sparkling wines, gourmet food samples, and even hand rolled cigars. The event takes place four to five times a year and is held in the hotel's Harbor Piazza, which makes for a perfect romantic getaway. The event is not included in your hotel stay, but is very reasonable.
The hotel has a small art gallery nestled inside the many shops, which at the time of visit had prints available from artist Madame Grand Pre (the illustrator of the Harry Potter Books), different works of art from Marvel and some fascinating works of glass. All of the works of art are for sale, and the artist and offerings change periodically.
The Mandara Spa on site has couples massages available if you need to relax after an eventful day. The 12,300 sq. foot full-service spa offers a wide range of services including massage, skin care, body treatments, hair and nail care, steam and sauna rooms and a full-service fitness center. Open daily at 6:00 am, it's the perfect way to spend the day, or get a quick rejuvenation.
Just because the Portofino is romantic, does not mean that there is nothing available for children- quite the opposite. The hotel has three pools, but the crowning jewel is the beach pool. It is surrounded by relaxing lounge chairs, white sand, a cave,a waterfall and yes…one of the best waterslides in Orlando. During certain times of the year, the beach pool  has nightly "dive in movies" for kids. The pool area also has an interactive kids water play area for those who don't want to swim.
There are also two other pools if you want to relax in a little bit quieter atmosphere. The Villa pool is a highly themed slower pool with tons of chairs, a changing area and cabanas to rent. Then there's the Garden Pool which is tucked out of the way, it makes for the perfect quiet spot. For more relaxing there are hot tubs, with waterfalls.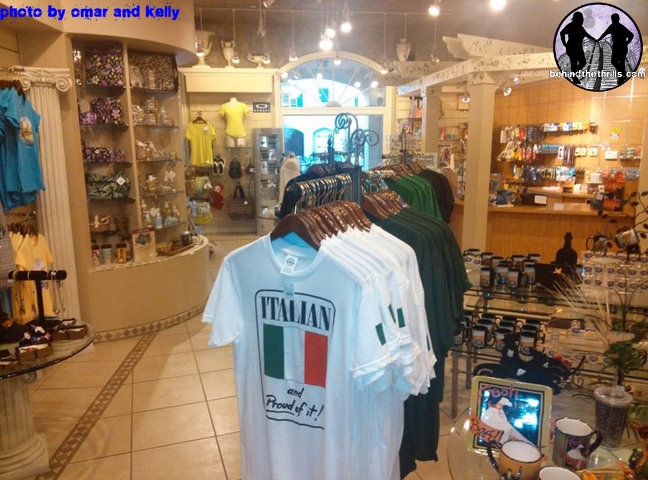 Another thing that Italy is known for is the shopping. Portofino Bay brings a little taste of that to Orlando with many gift shops and stores- with everything from Italian themed plates to swimsuits (in case you left yours at home).
 Food and family are a big part of any Italian vacation. At Portofino there are plenty of dining options available for every budget ranging from a modestly priced pizzeria to high end dining. There is also character dining available on select nights at the Tattoria del Porto restaurant. However the crown jewel of the restaurant is a highly themed family restaurant located just off the water.
Mama Della's Ristorante tells a story that you can only find in a theme park. Mama Della wanted to make her own ristroante you see, because food and family together is what made her happy. She couldn't afford to build her own restaurant, but she continued to cook for everyone in the neighborhood, making them so very happy. People from all over the village started to bring their own plates, chairs and tables, and just turned Mama Della's house into her very own ristorante, where she could cook for everyone, and bring them happiness through food and togetherness.
The story doesn't just end there, however. The restaurant itself tells the story as you go from room to room and see the different decor, as if it was her own house. At any time you could find roaming musicians serenading you as you eat with a romantic Italian ballad, or even a playful romp, getting everyone in the house singing. The food is also authentic Italian cuisine, ranging from your standard pastas, to chicken, seafood and steak. The restaurant consistently makes the best dining in Orlando lists, and is a definite fun spot.
If you're looking for other choices, there are plenty of different experiences.
Bice Ristorante (Bee chay) is a more elegant restaurant, great for families, perfect for couples.
Trattoria Del Porto is your typical family fare, with lots of choices, breakfast and of course character dining.
Sal's Market Deli brings you brick, oven pizza's, assortment of Italian meats, cheeses, antipasto, fresh fruit, fresh baked pizzas and salads
Gelateria serves some of the best gelato…what is gelato? It's milk and eggs ….. frozen and made into a creamy homemade treat. There's also espresso and cappuccino for those looking for something stronger.
Thirsty Fish is a quaint dockside bar that is family friendly and has a large selection of wines and appetizers
Take a tour around Portofinio Bay with even more pictures!
Slideshow not working? Click here to view!
Portofino Bay definitely lives up to the Loews luxury brand, as well as the Universal brand by taking a slice of Italy and transporting it to Orlando. The hotel has recently finished an upgrade in all the rooms, making everything state of the art, while retaining that old world Italian charm. The hotel offers several great monthly events, and the restaurants are all open to the public, so if you're not looking to stay the night, you can still take advantage of La Dolce Vita! The hotel is pet-friendly, has 24 hour room service and features so many things to do, you could almost spend the day lounging around the hotel without ever stepping into a theme park…almost.
Stay tuned as we walk through the other Universal Orlando on-site hotels, be sure to follow us on Twitter @BehindThrills for the latest updates!
For more information about Loew's Portofino Bay Hotel at Universal Orlando, visit the official website by clicking here!
This review was submitted by Kelly Brown and Omar Elkayoubie. Omar is an adventurer and expert on everything theme parks. Kelly is a mysterious theme park connoisseur with an elegant sensibility and thirst for excitement.