Six Flags Great America will be getting the world's fastest wooden coaster with the world's tallest AND steepest drop in 2014. The all new wooden behemoth will be the coaster park chains third wooden beast to take riders beyond the limits of conventional wooden coasters. By the end of 2014, Six Flags will have four wooden daredevil machines, with another beind built for Six Flags Mexico. Earlier this year, however, the first extreme wooden coaster was the home of a terrible accident, which has some asking, Is pushing the limits on wooden coasters such a good idea?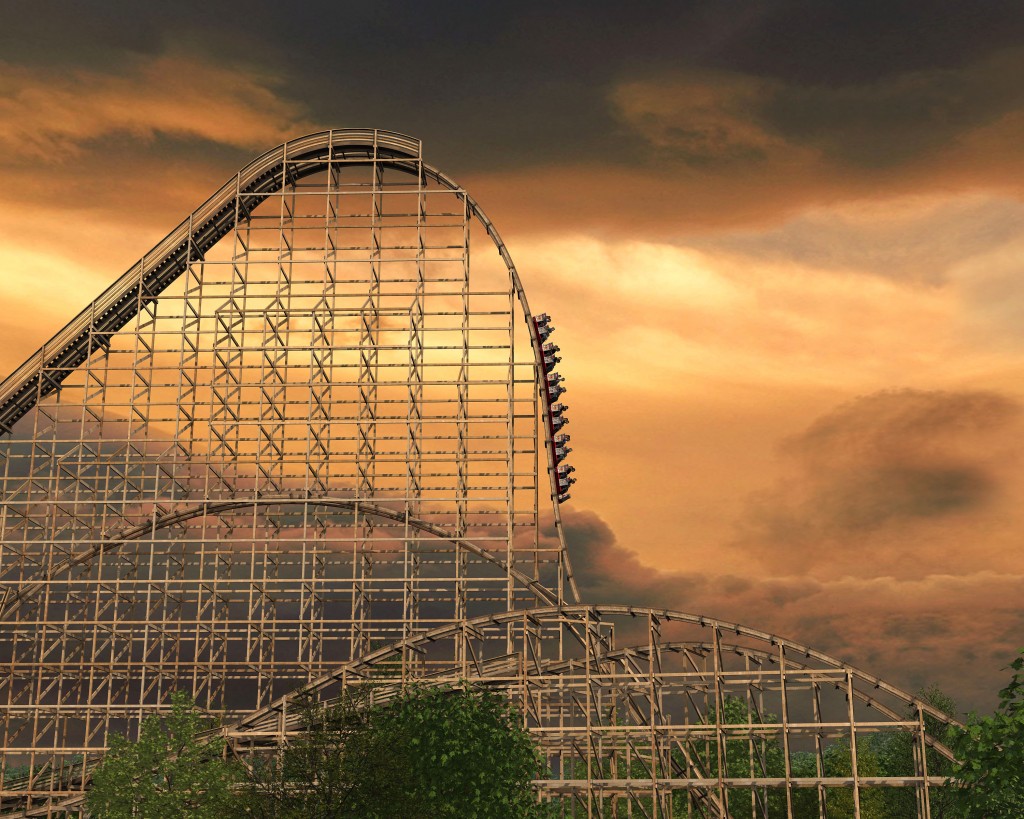 Goliath at Six Flags Great America in Gurnee, IL will be getting a three time record breaking coaster for 2014. Goliath, the chain's 7th coaster to hold the name, will be a wooden monster of mythological proportions. It will feature a 165 foot lift hill, before plunging guests 180 feet down a 85 degree drop, reaching speeds of 72 mph. If that's not enough, riders will go through two inversions, taking them upside down in a barrel roll and a diving loop (the first attempted on a wooden coaster). If that wasn't enough, the coaster will send them through two overbanked turns which brings them completely sideways.
Check out the animation of the awe-inspiring coaster below!
Six Flags Over Texas started the wood coaster revolution with The New Texas Giant a few years back. The coaster won several awards, as well as high marks from enthusiasts and paved the way for a new generation of scream machines that defy conventional wooden coaster dynamics. Earlier this year, however, those dynamics faced a set back when a woman fell to her death while riding The Texas Giant.
While no conclusive decision has been made, the coaster remains closed. To prevent any further incidents, and to squash any safety concerns, many wooden coasters, (both in Six Flags parks and parks like Silver Dollar City) were checked and even closed. Silver Dollar City instituted new size restrictions, while Iron rattler at Six Flags Fiesta Texas installed lap belts. While the measures are merely precautionary, it does call in to question the kind of precautions that Goliath will have in place. It's a first of it's kind coaster, so will it have to come up with first of it's kind safety measures?
While many parks are taking measures, it is prudent that we point out that more people are injured at home doing every day household tasks than they are while riding a coaster. In fact you have a greater chance of getting struck by lightning than sustaining a serious injury on a roller coaster.
Goliath will be a modern marvel of thrill seeking, but not before it undergoes several hundred tests, checks and inspections. Goliath is expected to be open at the start of the 2014 season at Six Flags Great America.
Are you excited for this monstrous marvel? Follow along with us on Twitter @behindthrills for the latest updates on this, and many other coasters!
For more information about Six Flags Great America, visit the official website by clicking here!