Kings Island in Mason, Ohio announced an all new record breaking coaster last week. When it opens, Banshee will be the tallest, fastest inverted coaster in the world. The coaster isn't expected to open until April 2014, but construction is already under way on the coaster. Land clearing and preparation began months ago, but now steel is being delivered.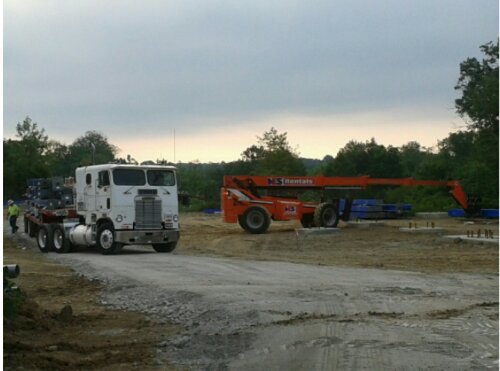 The official Kings Island Twitter page released an image of the all new coaster getting it's first shipment of steel as the sun came over the horizon. While the steel is for the station and the transfer, and not actual coaster track, Kings Island is making good on the promise of letting guests get a glimpse of construction while the park is still open for the season.
Banshee will feature seven inversions, and will be the second B&M coaster in the park.
The park released a teaser of the coaster last week showing Banshee destroying all the tombstones of coasters the park had in the past.
The coaster marks the single largest investment that the Cincinnati area park has made to date. The park already has merchandise available for Banshee in park.
Follow along with us on Twitter @BehindThrills for the latest information!
For more information on Banshee at Kings Island, visit the official website by clicking here!