It's the 13th, which means they are getting restless. It's been a hundred years, and they are ready to play. Are you ready? Ready or not, they're coming, and they are going to cause you a world of hurt. Howl O Scream at Busch Gardens Tampa is coming back September 17th, and this year they are bringing two new houses, an all new upcharge house, and three all new scare zones. It's being driven by The 13, so you have to ask yourself..Who are the 13?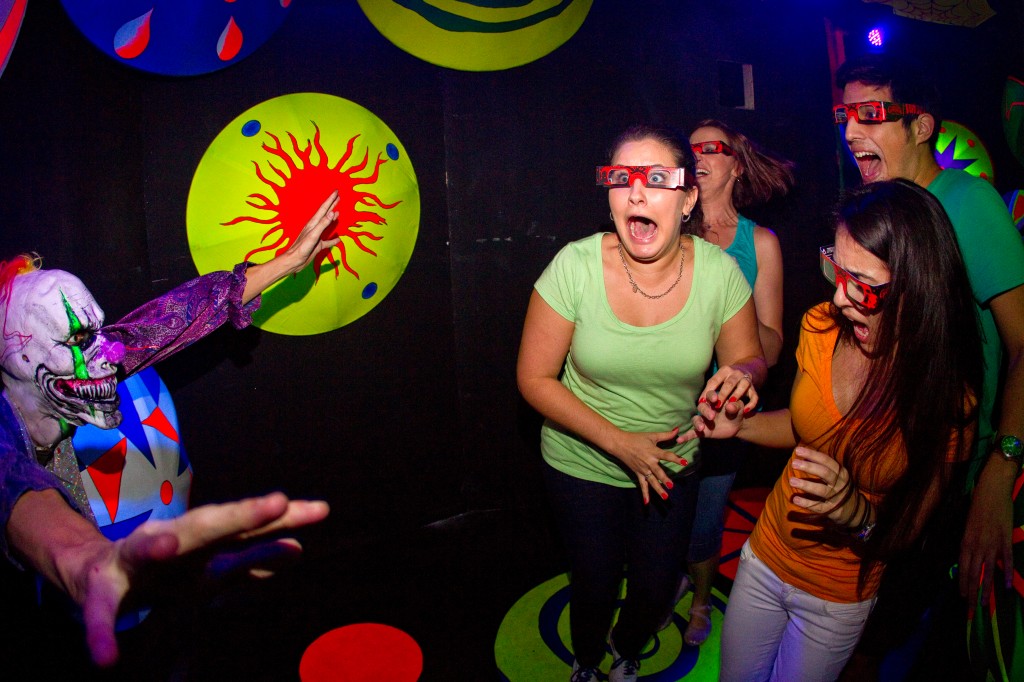 All the gory details have been released about this year's Howl O Scream at Busch Gardens Tampa. The yearly haunted attraction event is in it's 14th year of terrorizing. It's also the 13th year of the Millennia, so the park is rolling out the depraved souls who make up The 13. Every hundred years, they are unleashed and they come out to play, wreaking havoc on all who dare to cross their paths.
This year will see a few new houses, as well as new scare zones. Also, an all new upcharge house will be making guests squirm with fear.
Here's the rundown:
Houses:
·         NEW! The BASEMENT—From Momma's secret ingredient to Granny's bone-ground flour, Momma's Meats' award-winning recipe has always been a family affair that's only created in the BASEMENT. Escape the depths of the BASEMENT before she and #4 The Butcher turn you in to the secret sauce! She always said it took blood, sweat and tears!
·         NEW! Death Water Bayou—Deep in the bayou the #6 Voodoo Queen mystically transforms lost wanderers into her minions of evil with black magic. Here, her night servants roam with a zombie-like hunger and seek to grow her collection. The darkest evils lurk in shadows. Get out before you fall victim to her spell.
·         Circus of Superstition 3-D—You've tried to avoid black cats and sidewalk cracks, but all those years of bad luck caught up with you! The #13 Clown challenges you to survive 13 superstitions in their 3-D Tent of Terror, but it will take more than luck to escape this whole new dimension of fear.
·         Blood Asylum—As lightning rages and thunder crashes outside, "The Creature" escapes from his holding cell in a high-security asylum for the criminally insane. Now this sadistic deviant is running rampant, skinning his former cellmates and turning the mental hospital into his own torture chamber. This serial killer's bloody playground will drive you out of your mind with fear.
·         Zombie Mortuary—No one remembers how the epidemic started, but now, the #9 Zombie and his undead friends live here. They infest this small town funeral home and feed on the fresh flesh and brains of mortuary mourners to satisfy their insatiable hunger. Avoid the walking dead or you may find yourself deeper than six feet under.
·         Ultimate Gamble: Reversal of Fortune—Under sleek Vampire reign, the once-vibrant Ultimate Gamble casino glowed. Now werewolves have overthrown their mortal enemies and are running rampant in the casino. The carnivorous beasts have caught on to the scent of fresh blood inside the closed casino. Will you make it out alive before your luck runs out?
·         NEW! The Experiment—Researchers challenge your fear tolerance and mental endurance in this never-been-done-before Experiment. In this exclusive study, "test subjects" endure psychological tests and must face top fear-inducing elements, from roaches and snakes to needles and darkness. How far is too far in the study of fear? Will you survive The Experiment?
The line up sounds interesting. The two new houses are sure to be crowd pleasers. The biggest thing to note is that The Experiment is an upcharge house, meaning that you will have to pay extra and make a reservation to experience it. The Experiment is an additional $50 dollars, and you can get up to three friends to go through with you for an additional $10 dollars a piece. So for $90 dollars a group of four can see if you can take the challenge, and see how deep your fear runs. There is also no annual passholder discount for The Experiment.
Scare Zones
·         The 13—Once every century, on precisely the thirteenth year, evil comes out to play. Thirteen evils, to be exact. The #7 Surgeon, #4 Butcher, #11 Psychopath, #13 Clown, #6 Voodoo Queen and their demented friends will torment and terrorize you the moment you enter the gates. This your chance to find out: Who are the 13?
·         Harvester's Haunt—An unnerving soundtrack of banjos, fiddles and harmonicas fill the fields with haunting bluegrass music. Something just doesn't feel right. You realize you're not alone when you discover a hoard of sadistic scarecrows. They're looking to harvest a few lost souls. Will you escape their reach or be theirs forever?
·         Pain Lane—Torture, torment and pain line this sinister street as the #2 Torturer and #12 Hangman stalk their prey in the shadows of this dark and disturbing alley. Here, pain-inducing devices are the toys of the twisted and screams are surrounded by haunting silence. Will you escape this playground of pain before the #2 Torturer and #12 Hangman find you?
Extras
·         Fiends—The classic monster mash-up Fiends will be performing nightly at the Desert Grill in Timbuktu. Captivating creatures of the night will infect you with dance fever and keep your pulse pounding with their deranged dance party. But when Dr. Freakenstein's naughty nurses start operating, the diagnosis is always "code pink."
·         Club 13—Escape the hordes and head to the transformed Marrakesh Theater to drive yourself mad partying at Howl-O-Scream's dance club.  This nighttime dance playground keeps the energy pumping all night long with non-stop music, premium signature cocktails, drink specials and Taco Bus food.
·         Howl-O-Scream Shop of Horrors and Voodoo Village— This year, the Howl-O-Scream shop of Horrors has been transformed into The Butcher Shop. Find GOREgeous apparel and trendy tees featuring Howl-O-Scream favorites, including the 13 and the infamous Naughty Nurses.  You can also purchase or pick up your Front-Line Fear Passes here. Visit this year's new Voodoo Village Market, located next to The Experiment in the Egypt area of the park by Montu for even more Howl-O-Scream gifts.
This year's commercial has also been released, giving a "Directors Cut" look at the 13, and seeing more of the demented souls who make up this year's event:


In addition, the park's signature coasters will be open, including Cheetah Hunt, Montu, Kumba and Sheikra. This year the event is at it's shortest to date. It starts on September 27th and goes Thursdays-Saturday nights until October 26th. Your time is short, so you won't want to miss it. Tickets are now on sale.
For more information, including tickets, visit the official website by clicking here!