Universal Hollywood will be taking guests where they've never gone before this year during Halloween Horror Nights: into the heart of the Universal Backlot. Sure, Universal Hollywood does Backlot tours, but have they ever let guests just wander around back there? Probably not.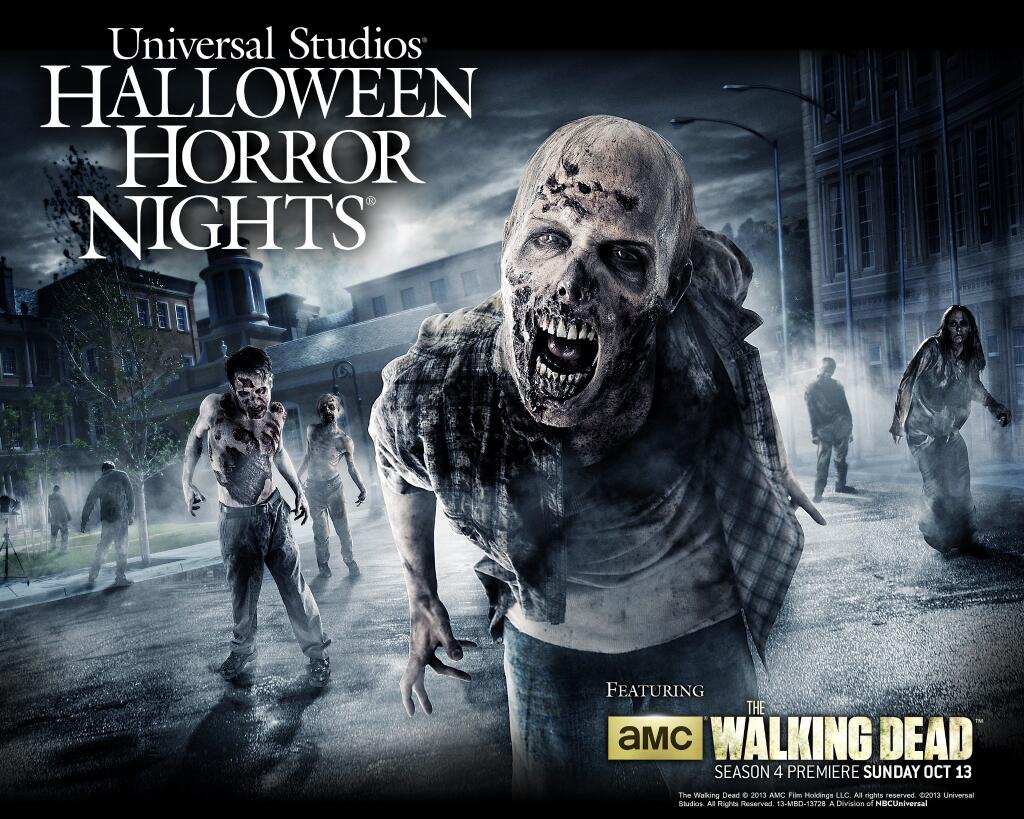 After guests go through the scarezone, they will enter the "hub" – the backlot, where they can hang out, get food, or take a breather. From the hub, guests will then be able to enter "The Walking Dead: No Safe Haven".
Check out this new video from Halloween Horror Nights Hollywood featuring Greg Nicotero, Executive Producer of AMC's The Walking Dead, and John Murdy, Creative Director of Halloween Horror Nights Hollywood:
What can we expect to see at Halloween Horror Nights Hollywood in terms of The Walking Dead?
Terror Tram will be themed to Season 3 of The Walking Dead. It will feature characters and environments from Season 3. Terror Tram will be themed around what happens outside the prison, while the house will be themed to the prison and other places too, like the Governor's mancave.
"'The Walking Dead' maze that Universal Studios Hollywood is bringing to life at this year's 'Halloween Horror Nights' event will take credibility to entirely new levels," said Greg Nicotero, Executive Producer, Director and Special Effects Makeup Supervisor for AMC's "The Walking Dead."  "Universal's creative team is painstakingly re-creating the world of 'The Walking Dead' for this year's maze and the level of authenticity will make guests and fans feel like they've stepped into Season 3. Located on the production backlot area of the studio, people will be able to experience iconic moments from the show up close and personal."
Murdy has confirmed that guests will see the Governor's mancave (the floating walker heads in the fish tanks), the "big fat walker" (the one that devoured Laurie), and the deer locker.
"Universal's backlot was deliberately created to mirror real life urban streets, metropolitan cityscapes and intimate European settings," said Steven Spielberg.  "As filmmakers, we strive to find the ideal, most authentic filming locations to legitimize our productions and make every scene as realistic as possible, which is why Universal Studios Hollywood continues to take creative risks by extending 'Halloween Horror Nights' to include the studios' backlot.  Theme park guests will be in awe when they have this rare opportunity to walk through the backlot's definitive Hollywood movie-making sets."
If that wasn't enough, once you've escaped the clutches of Walkers and survived Woodbury, your next stop is the clutches of Black Sabbath 13: 3D. The all new house will take you into the music and dark twisted worlds created and inspired by Rock Gods Black Sabbath. The house will feature classics like War Pigs, Iron Man and Black Sabbath. You'll come face to face with Lucifer and his bride, and even avoid pools of radioactive water.
"Since the early 1920s, Universal Studios' most infamous monsters took their first breath right here on the Universal backlot," said Larry Kurzweil, President, Universal Studios Hollywood.  This very studio that invented the horror film genre traumatized movie-goers with some of the silver screens most indelible characters.  Years later, it seems only fitting that the studio is making its urban production sets accessible to 'Halloween Horror Nights' guests as we bring nightmares to life with contemporary horror properties."
For more information about Halloween Horror Nights Hollywood visit the official website by clicking here.
Get social with us!
Follow us on Twitter @BehindThrills and like us on Facebook @BehindThrills.