Optimus Prime put out the call, and humanity answered. Universal Orlando reached a milestone today as they celebrated One million riders on the all new attraction. The attraction is the latest addition to Universal Studios Florida and is still looking for recruits to join the Autobots in the battle for the All-Spark against the evil Decepticons.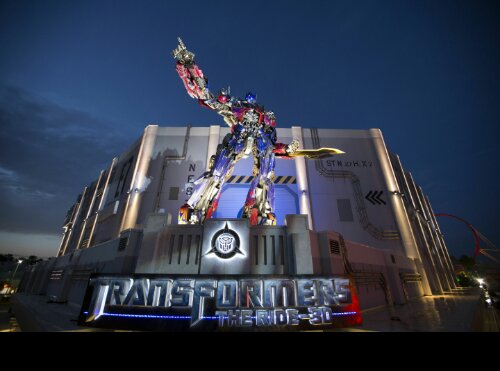 The attraction has broken all kinds of records for the park, including the fastest construction. Demolition on the site began in June of 2012, and the attraction opened on June 20th of 2013. That also makes it one of the fastest attractions at the park to get to a million riders, reaching the milestone in just over a month.
Check out our review and overview of Transformers:The Ride 3D
The ride is truly a spectacle with larger that life photo-realistic robots battling it out for the All-Spark. In addition to the attraction, Universal has created a whole atmosphere with the characters with the use of highly inventive costumes. The costumes allow guests to interact with Optimus Prime, Bumblebee and Megatron.
The battle continues on at Universal Orlando with Transformers:The Ride 3D!
For more information, including tickets, visit the official Universal Orlando website ny clicking here!