It's Alive! Again! Universal's Halloween Horror Nights Hollywood is going back to the grave…or rather into the future…to bring back the guest favorite from 2012, Monsters:Remixed. Last year the house used popular dubstep music, and mixed them with classic Universal Monsters. This year the house is back, and so are the monsters, but they've resurrected it, and it's brought something back to life with it.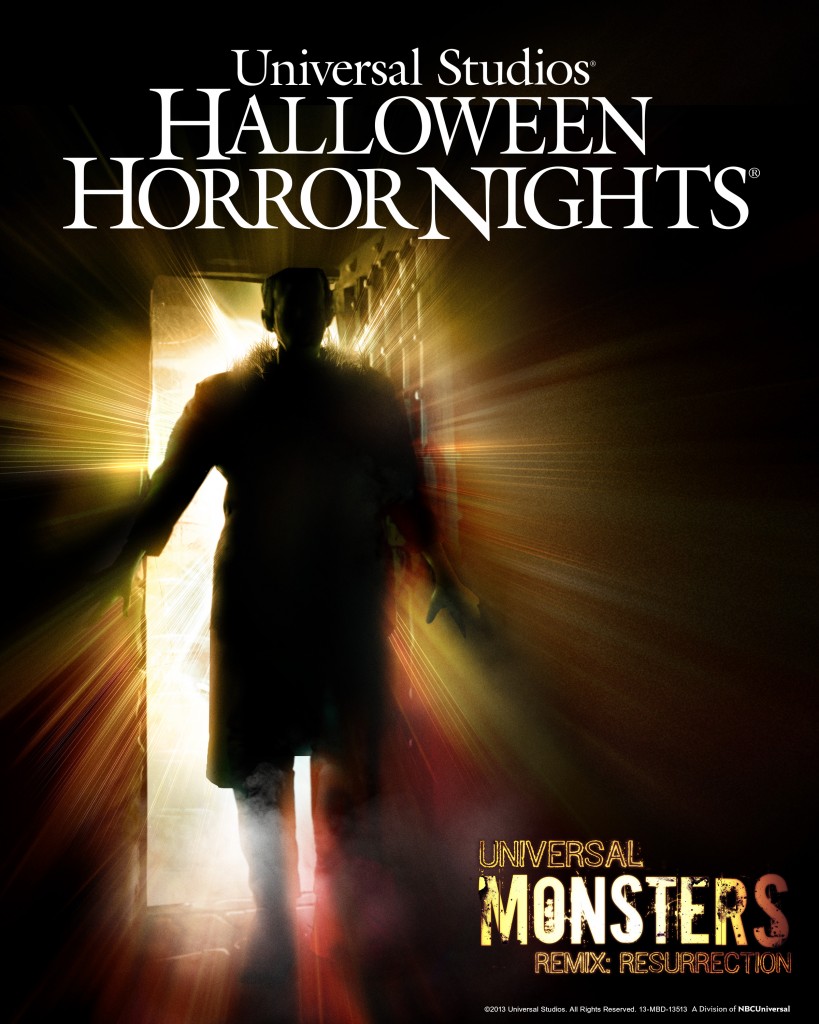 Universal Monsters Remix:Resurrection takes the old monsters and spins them around yet again. From the confines of Castle Dracula, guests will be able to see some of their favorites like Frankenstein and his Bride, Wolfman, and yes..Dracula. However, some of the monsters will have a little something different.
 "The Universal Studios classic monster movies of the 1920s, '30s and '40s defined the horror genre and inspired generations of filmmakers," said John Murdy, Creative Director, "Halloween Horror Nights." "For 'Halloween Horror Nights,' we reimagined classic characters and placed them in a rave-like environment – a present day 'Monster Mash.' It proved to be a fan favorite last year, and in 2013 there will be some exciting new twists."
Earlier this year Halloween Horror Nights Hollywood held a fan contest to design a new look for a classic character. The winner of the contest would be featured at Halloween Horror Nights Hollywood.  "Design a Character" winner Christopher Oosting's imagining of "The Invisible Man" will be featured in the maze this year. Oosting's character featured a new take on the horror classic that was simplistic, yet redefining.
On top of that, Frankenstein will have a bright new future as well. Futuristic Frankenstein and his bride, created by the winner of a "Future Frankenstein" episode of "Face Off," airing August 20 on SyFy will also be featured prominently in the house.
Last year, the house featured the music of many top dubstep Dj's, this year they're going with someone who specializes in horror dubstep. Figure has created dozens of mixes based on monsters and horror films in the past. This year Figure will create an all new soundtrack inspired by the classic Universal Monsters.

Monsters Remixed:Resurrection joins Insidious, Black Sabbath 13:3D, The Walking Dead, Evil Dead, and scare zones based on The Purge and the new Child's Play film.
For more information about Halloween Horror Nights Hollywood, visit the official website by clicking here!