Worlds of Fun in Kansas City Missouri is getting an amazing new ride that stretches to the heavens and lets riders soar like a hawk. The ride will take guests over 300 feet into the air where they will spin, and soar. It's an all new experience for Worlds of Fun that will open in 2014. Meanwhile, on the west coast, Knott's Berry Farm will be removing a ride that has given consistent problems and has even stranded riders while they attempted to soar above the ground at over 300 feet.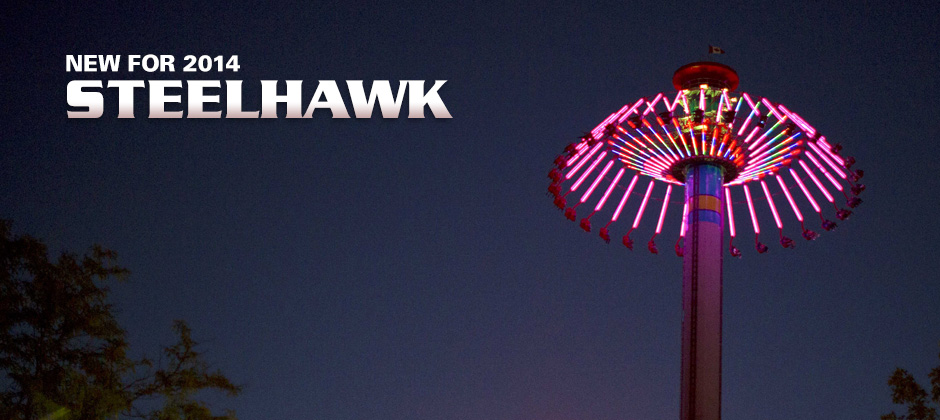 Steelhawk is coming to Worlds of Fun in 2014 where guests will ride high above the ground at 301 feet. A similar line of swing rides have opened at many Cedar Fair parks across the country. There are currently Windseeker attractions in six Cedar Fair parks across the country, and Canada. Canada's Wonderland, Kings Island, Cedar Point and Knott's Berry Farm all opened attractions in 2011, while Kings Dominion and Carowinds both opened their Windseekers in 2012.
"After combining Worlds of Fun and Oceans of Fun in 2013, we wanted to come back immediately with a major new ride for our guests. SteelHawk takes riders higher than any other ride currently at Worlds of Fun. SteelHawk will be a spectacular showpiece that will be seen for miles," says Frank Wilburn, Vice President/General Manager.
Meanwhile at Knott's Berry Farm in California, they have confirmed that they are removing their Windseeker attraction, which opened in 2011. The attraction has had several high profile failures, including one where riders were stranded on the attraction for over three hours, while news helicopters circled.
Wait….what?
Worlds of Fun is getting the troubled Windseeker attraction that is currently at Knott's Berry Farm. They will reassemble it and name it "Steelhawk". While it's not uncommon for parks within the same chain to close an attraction at one park, and reassemble it at another park, where it will get an all new life. It is uncommon for an attraction that has had as much trouble as Windseeker to get billed as a new attraction at another park.
Windseeker at Knott's wasn't the only attraction to have trouble, as the attractions at Cedar Point and Carowinds both had similar issues. In 2012, all five Windseeker attractions in the United States were closed as a precaution, in order for safety inspections to be performed. Read more about the closures here.
Regardless, it has to be assumed that many of the issues that plagued Windseeker in California have been (or will be) worked out by the time Steelhawk opens. That attraction is an amazing, family friendly thrill ride that can take your breath away.
Check out our footage from the Grand Opening of Windseeker at Kings Dominion
Worlds of Fun will open Steelhawk in 2014!
Be sure to follow along with us on Twitter @BehindThrills as we follow the transformation of Windseeker at Knott's into Steelhawk at Worlds of Fun!
For more information about Worlds of Fun, including tickets, visit the official website by clicking here!