Evil has taken root, but just how deep those roots go remain to be seen. By the looks of things at Universal Studios Florida, however, the evil runs pretty deep. In the final weeks of preparations, the landscape is changing for the opening of Halloween Horror Nights, sometimes right before your very eyes. What can we expect to see as the final roots come popping out of the ground? We take a look at the prepations, as well as some construction around the park.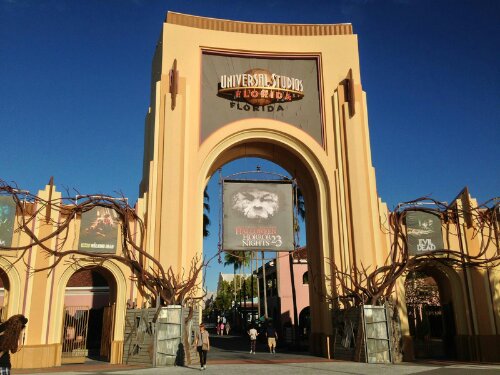 The front gate is taking root as huge roots begin to sprawl all across the front banners and archways over night.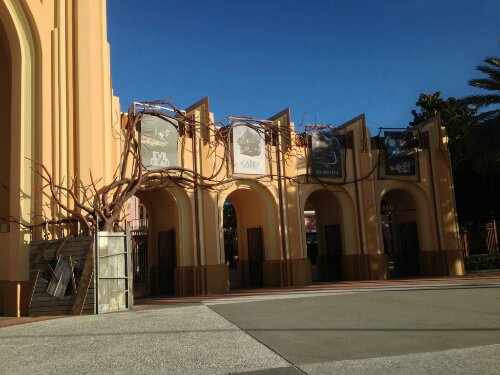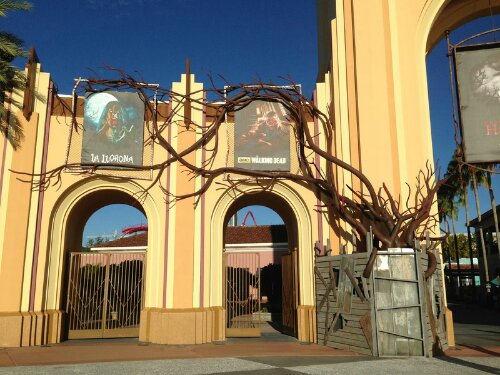 It looks like the front gate experience may actually use the Walking Dead as a derivative theme. Though roots have sprawled out across the archways, it has a very apocalyptic and desolate look to it. We aren't done just yet with this front gate. This year the Walking Dead is the street experience, as well as one of the huge key houses. It's very likely we could see a fortress set up similar to Woodbury. We could also see trees and roots hanging everywhere. We will keep you updated as the excitement builds.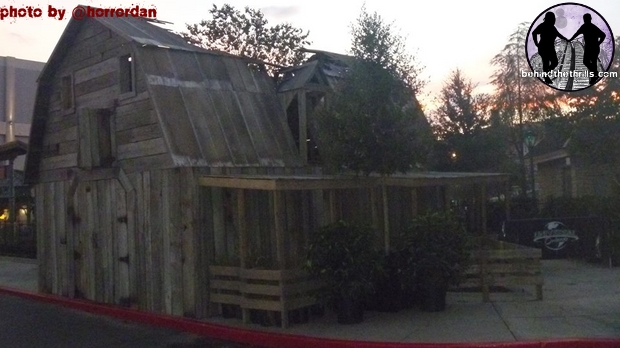 Once you're inside…the world of the Walking Dead is starting to flesh out more than ever. Guests will be able to walk through the burning barn from season 2, as walkers try to grab and attack you.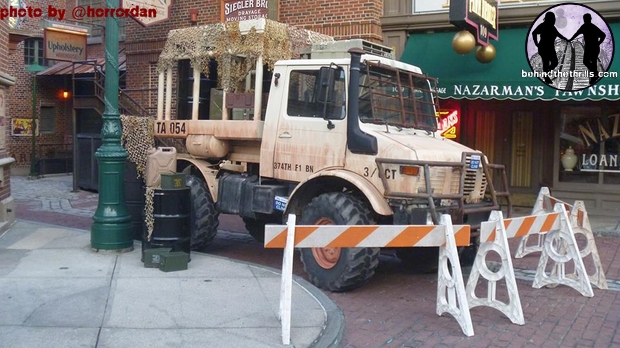 The battle of Atlanta will rage on as a huge tank is readied and blockades are made out of whatever is lying around. The apocalypse is raging on, and Home Depot is fresh out of supplies! Meanwhile other military transport is readied in Sting Alley. This year's event will be an all out assault from every single season of the hit AMC show-The Walking Dead. Meanwhile in the rest of the park, vendor booths are at the ready as merchandise should start rolling out any day now.
Check out even more pictures of The Walking Dead taking shape at Universal Orlando in our slideshow below. Also, construction on The Wizarding World of Harry Potter continues with the huge task of making all the steel look like London! Windows are being installed, and the whole site looks like it may start getting walls and paint at any point.

Having trouble viewing the slideshow? Click here for all the picture goodness!
Halloween Horror Nights at Universal Studios Florida is an extra ticketed event, meaning that it's not included with daily theme park admission. It features zombies, monsters, chainsaws and this year…bloody rainstorms. It is not intended for children under 13.
The Wizarding World of Harry Potter is intended for children of all ages, and Diagon Alley is slated to be open in 2014!
For more information about Universal Studios Florida, including tickets, visit the official website by clicking here!

Need to get tickets? Click the banner below to get your tickets today!