Halloween Horror Nights is literally just around the corner. The event kicks off this Friday and will run through November 2nd on select nights. With the event just around the corner, merchandise is beginning to pop up around Universal Orlando Resort. Not only merchandise, but also the finishing touches on the different zones, and different facilities that will be used for HHN when it opens Friday!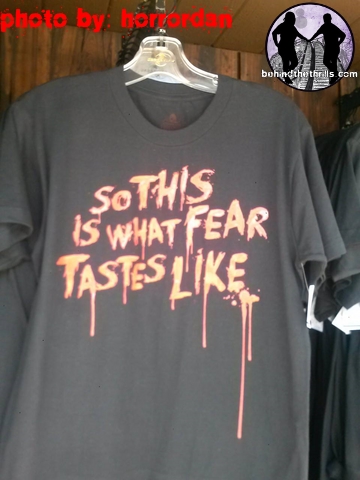 As usual, we are getting a look at the shirts and some of the smaller merchandise first. There will most likely be more merchandise released in the coming days, as they get closer to Employee Previews and opening night.
The feel of the house shirt reflects The Walking Dead once again this year, only more of a Woodbury feel. The merchandise rolled out is just a sample, from what we were told, of what's to come.
La Llorona is on her own shirt, which (if memory serves me correctly) is the first time that Universal has given an original house it's own shirt. The look of it is very much like a rock band shirt, and will be sure to have your friends asking what the latest song from "La Llorona" is…a very cool touch to what is sure to be a very good house.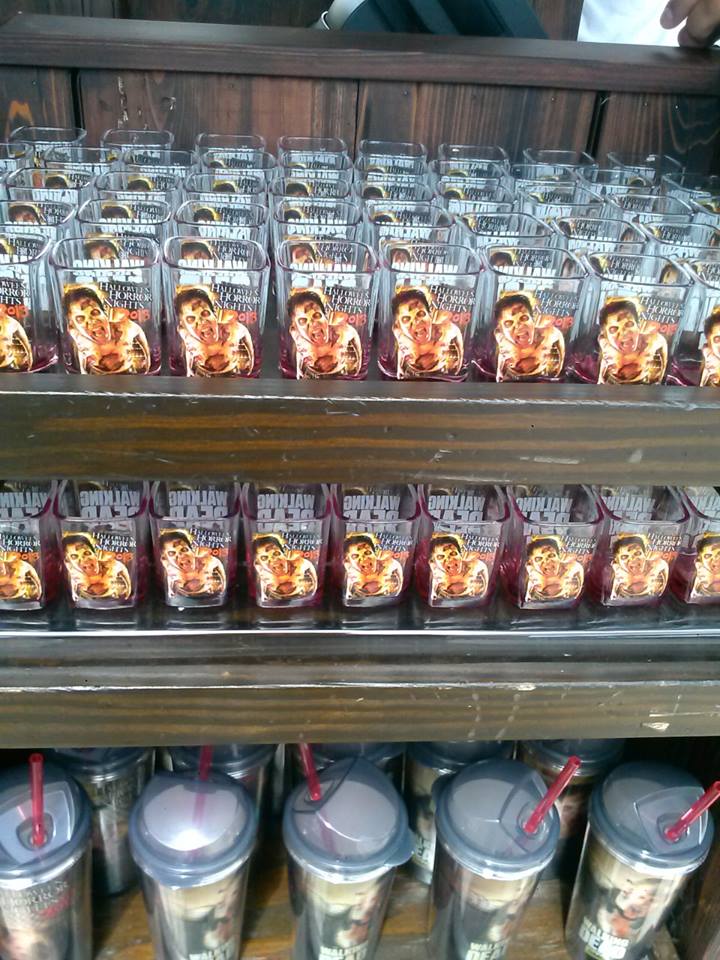 Merchandise is available for purchase now, although the event doesn't officially start for a few more days. These pictures in particular were taken from the cart just outside of Beetlejuice at Universal Studios, but we have heard of more carts popping up in CityWalk and other areas around the park! The theme of the merchandise should come as no surprise, as most (if not all) of last year's merchandise sold out. Like this year, the majority of the merchandise was themed to The Walking Dead. This year there seems to be even more of it, which comes as even less of a surprise on the heels of the huge announcement from AMC that there will be a Walking Dead Spinoff show coming very soon. The spinoff show will take place in the same world, but no word on whether or not it will include characters that we've seen or new characters altogether. It would be no surprise to see the new series pick up with Morales from the first season as they head to Birmingham, though it would be more fun to see West Coast locations, or even a prequel featuring Merle and Darryl. If the show is a hit, then expect to see The Walking Dead become a mainstay at Halloween Horror Nights events in the future.
Another cool batch of merchandise has been added on Tuesday, with another great array of Walking Dead inspired shirts, hats and…yes Flasks!
Here's something curious. AMC just announced they will be doing another show based in the world of the Walking Dead. Universal has rolled out a lot of different merchandise with the "Zombie Nation" logo on it. Could we possibly be seeing subtle hints to what the next show will be? Maybe, we'll just have to wait. In the mean time, you can get your Zombie Nation T-shirts, Hats, Hoodies and Flasks.
There is still more merchandise, from what we've been told, that will roll out even closer to the event. It's very likely that we will also see some Resident Evil merchandise, as well as Cabin in the Woods. We are still hoping for an American Werewolf in London shirt.
Unfortunately, Universal Orlando has told us they will not have Horror Nights merchandise available online. However, if you would rather order your merchandise online, they do have it available over the phone at Universal Orlando's merchandise store hotline. To order over the phone, call 888-762-0820.
Here's some more of the merchandise that's currently on sale, we have been told that more will go on sale in the coming days, with new pins, and other merchandise based on the properties:
Merchandise will be available in other stores by Friday, including the Universal Studios Store which is located near the park exit.
Universal has also launched an all new blog, this time dealing with the "Behind The Screams" of HHN. So far you can check out videos, pictures and even blog posts from Universal Creative member Mike Aiello! Check out the official blog by clicking here!
For more information about Halloween Horror Nights, including tickets, visit the official website by clicking here!
Get social with us!
Follow us on Twitter @BehindThrills and like us on Facebook @BehindThrills.
Need to get tickets? Click the banner below to get your tickets today!