Today the trend with food is to combine as many unique flavors as humanly possible. It's something that's started in gourmet restaurants all over the world, and has become so mainstream that things like "pretzel burgers" are making their way to fast food joints all over the country. Chicken and waffles are becoming household names. Hard Rock Cafe in Orlando has done what rock n roll has always done. They flip off the trends by taking something that's popular, and  amping it up to 11. Hard Rock Cafe's all over have a signature dish, they call it the Local Legendary. It's a different dish from location to location, but in Orlando it's a new twist on a few family favorites rolled into one.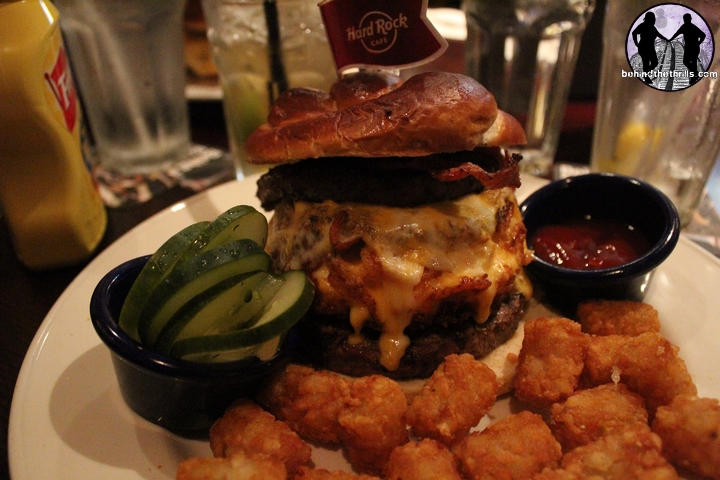 The menu at the Hard Rock Cafe in Orlando has undergone a few changes in the past few years, with the biggest being the departure of the items with Rock Star names, with the exception of the drink menu. The addition of new takes on family favorites have made it a great place to not only take in the sights of one of the world's largest collections of rock memorabilia, but also try some unique flavors. The Cafe has added things like Twisted Mac Chicken&Cheese, Shock Top Fish& Chips and a line up of choice cut steaks, fish and BBQ.
Our focus, however, was on what we had only heard about on the official Twitter account @HardRockOrlando. It was something that tantalized our curiosity so much that we had cancelled very expensive reservations, and changed celebration locations altogether. What was this life changing dish?
It's called the Local Legendary, and it differs from each Hard Rock Cafe location. In Hollywood Florida, it's a burger with Jalapeno's Carmalized Onions and named after Florida Panther's defenseman Ed Jovanoski. In Memphis it's topped with steakhouse marinade, lemon mayonnaise, melted pepper jack cheese, spicy pickles, shredded lettuce  two pieces of crispy Cajun bacon, all piled on top of a bed of smoked red onions, and roasted tomato. Essentially it's each Hard Rock Cafe's chance to get creative and reflect the local tastes. So what is the local taste of Orlando?
Orlando is a huge melting pot of many different cultures. That's thanks largely in part to the theme park industry, which takes ordinary life and makes it extraordinary. So how do you reflect that? You take ordinary food and shape it into a beast of extraordinary measures.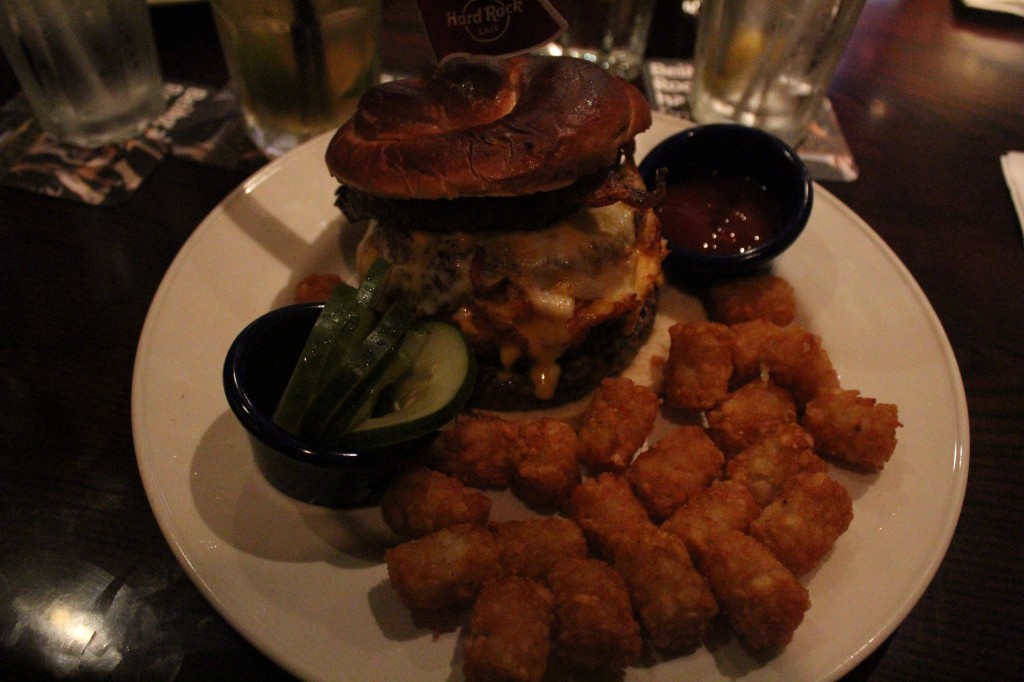 The Local Legendary at Hard Rock Orlando is two beef patties, with a slab of fried mac n cheese in between. If that's not enough, they top it off with a pretzel bun. Then they load it with whatever you want, such as lettuce tomato, mayo mustard. They serve it up with tots and Sriracha ketchup on the side.
Does it measure up to a legend? The short answer? HELL YES. The burger just oozes out with the fresh fried Mac n Cheese and the flavor of the meat just pops with juiciness. The pretzel bun wasn't so much a piece of bread baked with flavors of pretzels, but more an actual pretzel in the shape of a burger bun. Many fast food places have been trying to copy this flavor, and they fail miserably. The Mac n Cheese burger is also trying to make a name for itself in EPCOT's electric umbrella, but it falls way short of the Local Legendary in flavor, texture…and if you're going to go for it…fry your mac n cheese.
Here's our look at the burger and honest first bite reaction:
The Local Legendary Mac n Cheese burger clocks in at around $15 bucks. The calorie intake on this is huge, so if you're on a diet, just get your calories from the burger. While those seem like bad things, they aren't in the slightest. The burger is absolutely huge. Even for a larger guy, I couldn't finish mine until the next day.
The Local Legendary has become the official burger of BehindTheThrills.com and is an amazing way to complete the rock star experience at Hard Rock Cafe.
For more information about Hard Rock Orlando, including menu options, visit the official website by clicking here!