The 13 are coming out to play at this year's Howl O Scream at Busch Gardens Tampa. Only once every hundred years they are unleashed, during the 13th year. We just happen to be lucky enough to catch a glimpse of them this year as the doors are swung open wide, and Howl O Scream unleashes the 13 upon the helpless masses at Busch Gardens Tampa. We were lucky enough to have our very own Jason selected to go to Howl O Scream and meet one of the 13. Did he survive? What was he able to get away with? Take a walk with us now as we enter Death Water Bayou.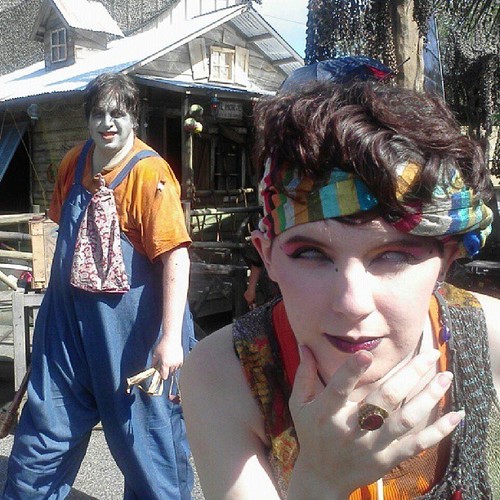 Death Water Bayou is one of two new houses included in admission at Howl O Scream this year. The new experience takes guests down to the swamp where voodoo is the law of the land, and you need to watch your step or you'll end up a servant..or as they like to call them in these parts, a zombie. It's all up to you, as you come face to face with one of the 13, the Voodoo Queen.
You walk up to an old house right in the middle of the Bayou, where someone is crafting a voodoo doll of you. Voodoo dolls are key to the black magic in voodoo, as they allow the holder to take control of the subject. In original tales, zombies weren't flesh eating monsters. Instead, they were something worse than dead. They were soul less slaves, and they were real. Well, maybe not the soul less part. In parts of the country and other countries where voodoo is practiced, it was possible to slip a drug to unsuspecting victims, that would bring them to an unconscious state. While it's not very likely to happen now, or in this country, in times and places where medicine wasn't what it is here it was very possible for a family member to mistake the person for dead. The person would be buried, and when the medicine would wear off, they would be standing in front of someone claiming to have brought them back from the dead. That "Witch Doctor" would then take that person and make them a slave.
It's that same theory at play here in Death Water Bayou, where the Voodoo Queen can help you with your life and love…for a price.
We were invited out to Busch Gardens today to take a sneak peek at Death Water Bayou. Jason, who was nice enough to help us out got to talk with Scott Swenson, one of the creative directors at Howl O Scream about the house. He also was able to get face to face with the Voodoo Queen. Did he survive? Find out in the video below!
That was just half of Death Water Bayou. It was also only one of the 13. What do you think? Can you handle all 13?
Here's a look at what guests can expect to see when Howl O Scream opens September 27th!

Howl O Scream runs on select nights from September 27th until October 26th. Also new this year is The Experiment, an all new upcharge house. The Experiment will test your limits and what you're willing to put yourself through before you call it quits. It tests the psychological aspect of horror. Do you have what it takes to complete the Experiment?
Be sure to follow along with us all Haunt Season for more gruesome, gory goodness. Follow us on Twitter @BehindThrills for the latest!
For more information about Howl O Scream, including tickets, visit the official Howl O Scream website by clicking here!