Reports started a few days ago of strange behavior, and violent outbursts in some areas of New York. The reports grew in number overnight as violent outbursts became all out attacks. The CDC tried to move in to contain the problem, but just like San Diego a few weeks ago, and Philadelphia earlier this year, New York is being over run with the infected. Luckily The Walking Dead Escape is moving to Pier 86 to help survivors this October.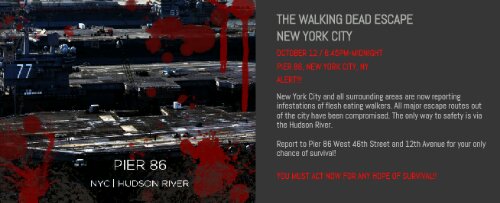 The high energy, zombie fueled obstacle course based on AMC's hit show The Walking Dead, has been making it's rounds all over the country. What started in San Diego at Comic Con in 2012 has become a phenomenon, with events in both Philadelphia, then again in San Diego during this year's Comic Con. Now the virus is spreading once again, and this time it's the Big Apple that's rotten.
The Walking Dead Escape will take over New York City's Pier 86 for one night only, Saturday October 12th. The event is the perfect kick off for Season 4 of The Walking Dead Sunday October 13th.
The Walkers are just the beginning of your daring escape. You must also weave your way through many different obstacles without becoming infected. Here's a bit of what to expect:
Evacuation Zone
You thought you were escaping the virus, but your military-guarded safe zone has been compromised. Break through the zombie chaos and begin the run to Survive.
Herd Highway
Herds of zombies have overrun a highway of abandoned cars. Hide and dash your way through the congested dead zone – but be strategic! Herds are attracted by smells, sounds and quick movement

Quarantine
Just when you think you're safe… FEMA teams must run highly confidential scientific tests on you to find out if you've been infected
Want to see a little more? Check out our look at Walking Dead Escape at San Diego Comic Con:
And Philadelphia:
Guests can experience the event three ways. Either you're a Walker, you're infected, or you just want to watch. Spots will sell out so act fast.
For the latest horror and theme oark goodness, follow us on Twitter @Behindthrills.
For more information about The Walking Dead Escape in New York City, visit the official website by clicking here!