Since July we've been asking the question, "What Evil Has Taken Root?" and while Halloween Horror Nights in Orlando doesn't officially open until next Friday, September 20th, we were able to get a preview of the roots that have spread at Universal Studios Florida. This year Halloween Horror Nights let's Evil Take Root with eight all new houses, an all encompassing street experience and two shows. Will you be able to survive? We take a sneak peek at some of the make up, and costumes coming to the event, and also talk to some of the masters of madness responsible for bringing the evil to light.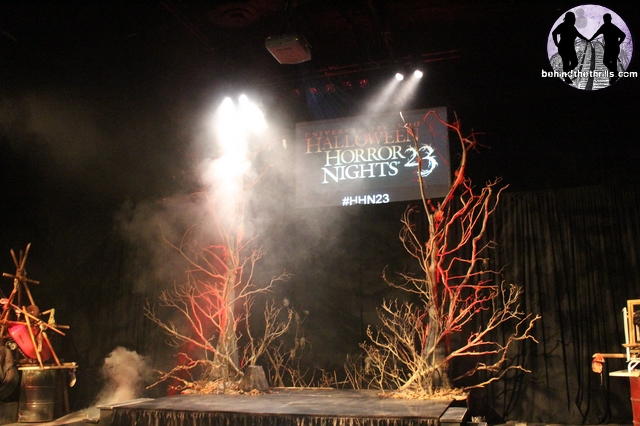 On a soundstage nestled deep in the backstage area of Universal Studios Florida, fog filled the room and the signature smell of the biggest Halloween event in the country wafted through the air. All around the room, displays showcasing a small amount of the terror from each of the eight houses sat, waiting for the first glimpse to public eyes. This year brings a very eclectic mix of houses to life, and while on the surface many of the houses share the same themes, each one will bring an entirely different theme to life.
Universal Creative member Mike Aiello takes us through every single house and explains what guests can expect from this year's event!

Let's take a look at each house and get a good glimpse of what to expect.
The Walking Dead-No Safe Haven
Last year was such a big year for Walking Dead, that it's no surprise the hit AMC show is returning. More Walkers, more characters and a bigger meaner maze. We actually were able to preview this house early. Click here to take a walk along with us through The Walking Dead-No Safe Haven.
Evil Dead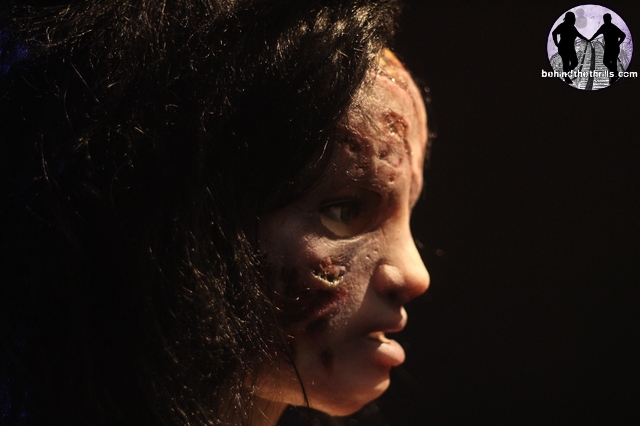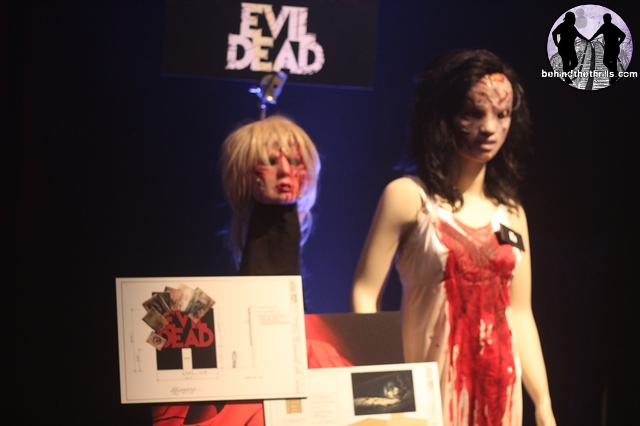 This house was a project, that for many involved in the Art&Design team, was a fantasy that finally came to life. For some, it comes from being fans of the original series, for Senior Designer Michael Burnett it comes from working on Evil Dead 2. However, this house is based on the ultra gory version that hit theaters this year. Michael told us that because so much of the film was done with practical effects, the design team was able to bring much of the film's signature scenes to life. Arm ripping, face cutting and even blood rain will be in the house.
Afterlife:Death's Vengeance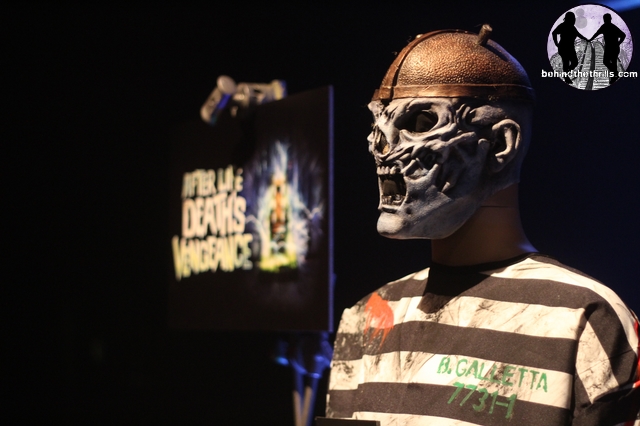 For the past few years, HHN has done amazing things with 3D houses, breaking the mold of traditional 3D mazes. Last year Penn&Teller took the concept and "Newk'd Las Vegas". This year, the 3D experience goes down a dark path and goes into the story of Robert "The Blade" a serial killer that is guilty as hell and is being out to death. Guests will walk in as he is being electrocuted and will go straight to hell with him as all of his victims are waiting for him in the afterlife. The house will use very rich colors, and a lot of unique designs to bring the torment to life.
Urban Legends: La Llorona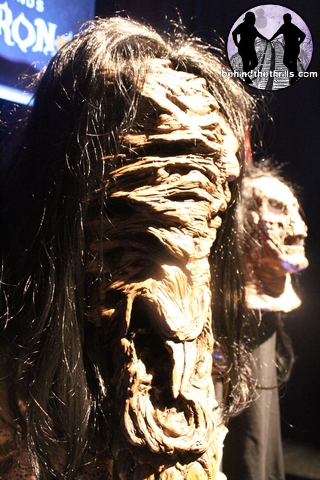 Universal hopes to start a franchise with the Urban Legends tag, and they are starting by educating the country with a West Coast legend. The first lesson…it's pronounced La Ya Row na. The house first came to life as a Halloween Horror Nights Hollywood creation. In fact, much of the first house is that same house. The back half, however takes you away from tradition and into the watery world of this stealer of children.
An American Werewolf in London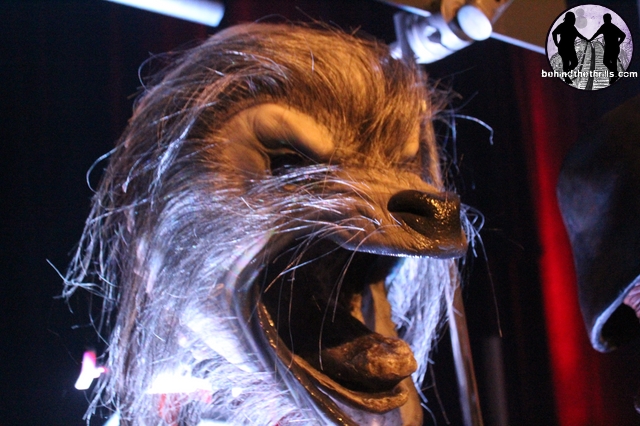 This is yet another dream project finally coming to life. The original film was the reason there is a Best Visual effects Oscar. They created it just for this film! It's a legendary production that has finally come to life. In fact, it's so authentic to the movie that the director of the film, John Landis, not only served as a consultant on the maze, but also rejected many wolf designs until the design team got it right.
Cabin In The Woods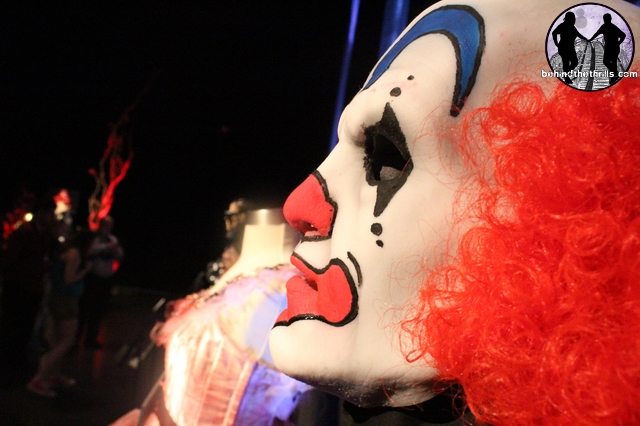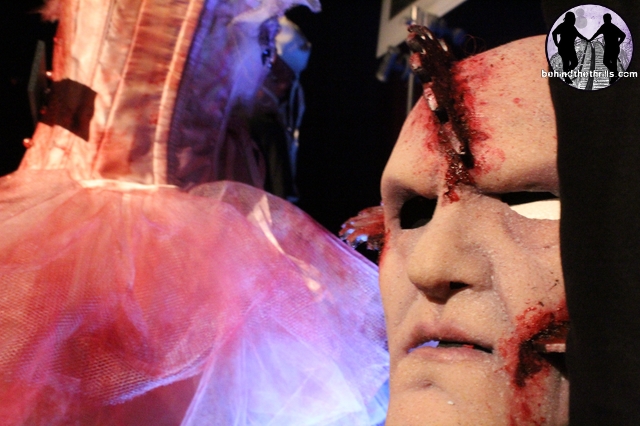 This is a film that looked like it had a recognizable formula..then they hit the purge button. It was a jolt for horror films, and it's going to be very unique for HHN. The elevator is there, there will most likely be aome creatures from HHN past. ..and possibly future…in the collection. There will be a merman..and you will see his blowhole! There will be a queue video, with an animation sequence. For monster fans, this could be a breakout hit.
Havoc:Derailed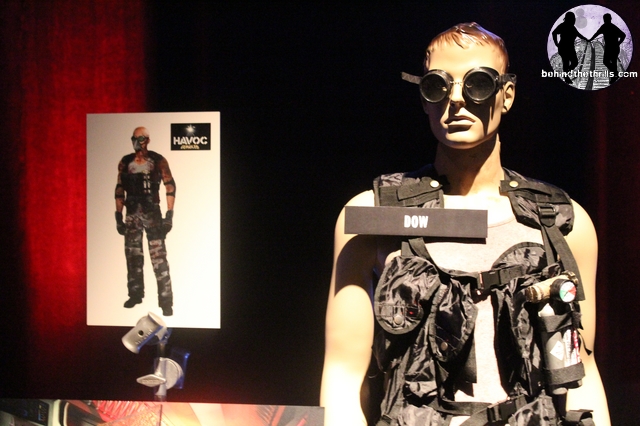 In 2010 the government had an incident in a top secret facility involving their war-bred suoer soldiers. This year they are shipping off their mess. The set will be huge. It will have the first half ofvthe maze dealing with the Dogs of War. The second half is total carnage as the train wrecks. You will see it happen in a way that has never been done before.
Resident Evil:Escape feom Raccoon City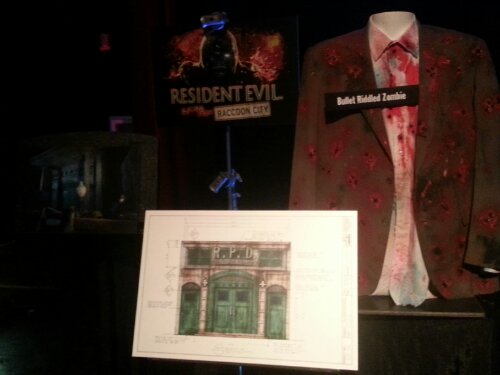 There is no movie tie in here. This is pure video game play brought to life from the 2nd and 3rd games in the series. You join Leon on a journey through the game. Lickers, Nemesis, and yes..some zombies will get in your way. There will even be a room in pause…where everything stands still. Don't know how it's going to work, but we're game to find out.
The creators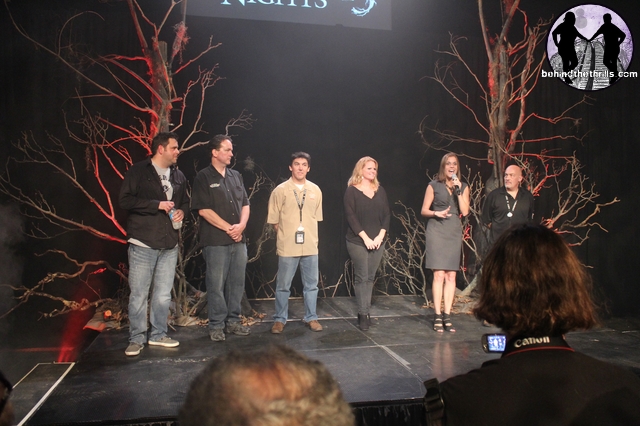 The creative team at Universal Orlando are some of the most inventive and enthusiastic fans we've ever met. First and foremost, they are fans and they love what they do.
Check out this week's episode of BTTWeekly for our very candid chat with Mike Aiello, Michael Burnett and TJ Mannarino about all things HHN!

Shows and more!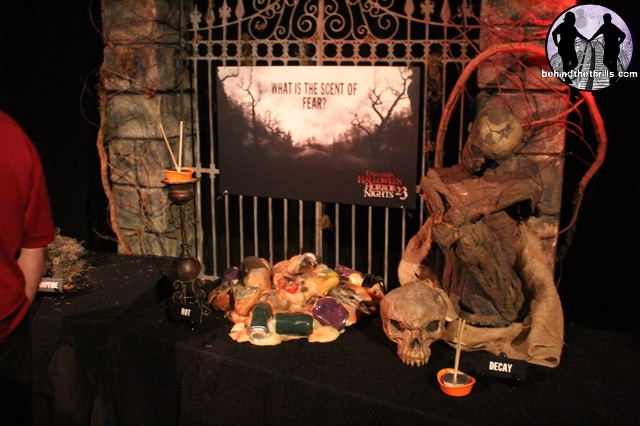 Just like in years past, HHN will be rich in atmosphere. Part of that atmosphere comes from the smells. The team goes into each house and each scene to figure out what it should smell like. Some houses are pleasant, and the smell just compliment what is happening in each scene. Other smells are the scene, and bring the point right across your face.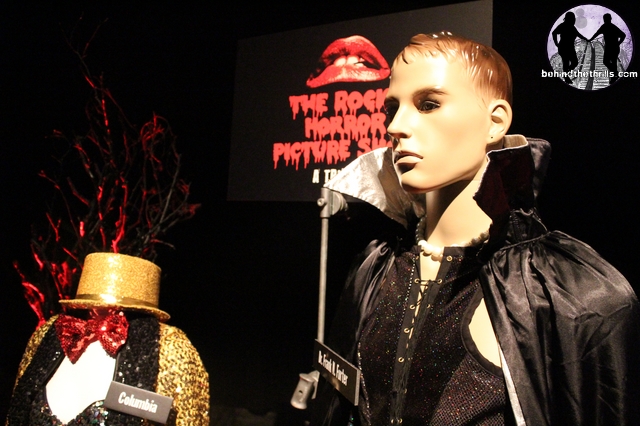 This year fan favorite Rocky Horror Picture show returns to HHN. It's a raunchy tribute show that features singing, dancing, transvestites (from Transylvania) and people in gold underwear. The audience that comes with this show can be even raunchier than the film, throwing callbacks, and lines along with the show.
It also wouldn't be Halloween without Bill n Ted's Excellent Halloween Adventure. The show takes a jab at pop culture over the past year and has everyone dance for no reason. It's an iconic tradition that spans 22 years. We don't know much about the show, but we do know that when a German meets a real life Sigfreid, it's kind of a big deal.
View even more pictures in our slideshow:
Having trouble viewing the slideshow? Click here for all the pic goodness!
Stay tuned throughout the week as we bring you even more HHN coverage. Be sure to like us on Facebook.com/behindthrills for the latest info.
For more information about Halloween Horror Nights at Universal Orlando, including tickets, visit the official website by clicking here!