Harry Potter authour JK Rowling is expanding the wizarding world that she created with the series of books about "The Boy Who Lived". The beat selling author has entered into a new partnership with Warner Brothers films to bring a new hero to life for the big screen. The natural question for us is, will it translate to theme parks as well?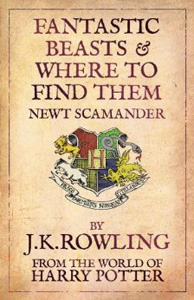 "Fantastic Beasts and Where to Find Them" takes place in the Potterverse, and first appeared as text books at Hogwarts throughout the Harry Potter series. They are written by an adventuring wizard named Newt Scamander. Rowling has already penned a series of stories, but now Warner Brothers has tapped her to bring the stories to the big screen where she will be acting as screenwriter on the project.
"It all started when Warner Bros. came to me with the suggestion of turning 'Fantastic Beasts and Where to Find Them' into a film," said Rowling. "I thought it was a fun idea, but the idea of seeing Newt Scamander, the supposed author of 'Fantastic Beasts,' realized by another writer was difficult.
The story is one that she liked so much that in the Harry Potter books, the character of Luna Lovegid married Newt Scamander's grandson. The films will follow Newt on his adventures beginning in New York as a young wizard some 70 years before Harry entered the world. If the first film is a success, there could be a huge franchise of films.  If that happens, would Universal expand the Wizarding World to include Newt Scamander?
The ideas for a "Fantastic Beast" section could be limitless. It's also not outside the realm of possibility either.
In a report by The Orlando Sentinel, NBCUniversal President and Chief Executive Officer Steve Burke told investment analysts that the goal is to make Universal Orlando a family destination that rivals Disney.
From the Sentinel:
"Our theory is, if we open the right kind of attraction — they have to be well-executed; they have to be things that are easy and clear to market — that we can really grow this business," Burke said.
Would there be anything easier and more clear to market than yet another addition of The Wizarding World madw popular by yet another huge film series? While it is far too early to speculate on a when, the what is much easier. The attractions could range from a magical menagerie to an all out adventure with fantastic beasts.
Stay tuned for more as the project is developed. Be sure to follow along with us on Twitter @BehindThrills for the latest.
For more information about Wizarding World of Harry Potter at Universal Orlando, visit the official website by clicking here!