When Kingda Ka opened in 2005, chickens everywhere collectively soiled themselves. While the coaster at Six Flags Great Adventure in New Jersey is the holy grail for many coaster enthusiasts, it has driven many others to seek new pants. Now the need for new pants is back as Six Flags Great Adventure has announced Zumanjaro:Drop of Doom. The new drop tower will be the world's tallest, and fastest drop tower when it opens in 2014. Will you be brave enough to tame it? Or will you need new pants?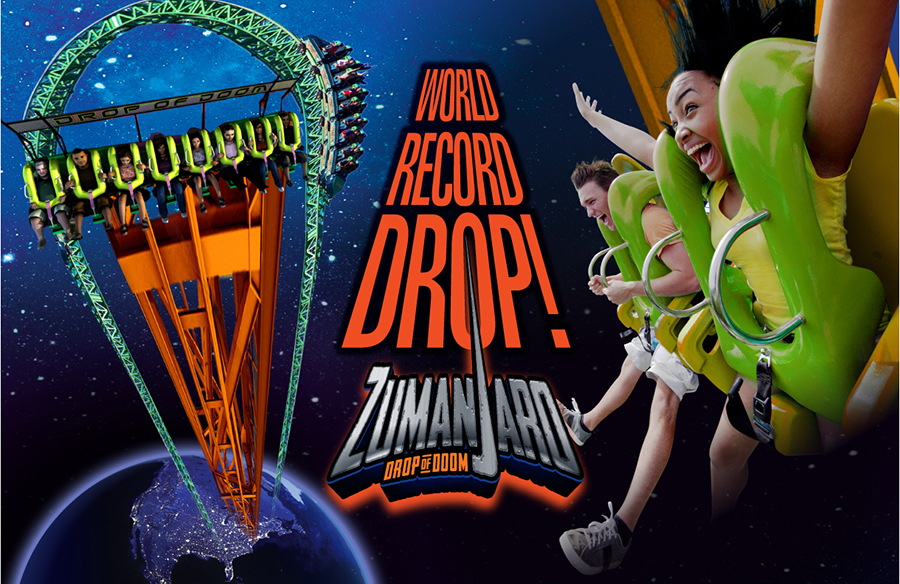 Zumanjaro:Drop of Doom will measure in at 415 feet tall, and will take roughly about 90 seconds to get to the top of the tower, which will be attached to the side of Kingda Ka-The World's tallest roller coaster. Once the ride is perched under the crest of Kingda Ka, it will be released, sending riders plummeting back towards the ground at 90 mph.
Take a virtual ride on Zumanjaro: Drop of DOOM!

The current world record holding drop tower is Lex Luthor's Drop of Doom at Six Flags Magic Mountain. It is also attached to the side of a huge coaster. It's a very easy way to build a great drop ride, by attaching it to the side of an existing coaster. However, in 2014 Busch Gardens Tampa will have the record for the world's tallest frees standing drop tower at 335 feet, when Falcon's Fury opens. Still, either way you look at it, it's a long way up and only one way to get you back down. The ride will become a legendary addition to the park's already huge line up of thrills.
For the latest about Zumanjaro Drop of Doom, be sure to follow along with us on Twiter @BehindThrills!
For more information about Six Flags Great Adventure, visit the official website by clicking here!